Offline Messaging on Your Phone With Firechat
Update: Firechat is no longer available. Check out this next article for more mobile chat apps.
Chat applications are a dime a dozen, covering almost any conceivable niche you could think off. But so far there hasn't been a chat app that focuses on local, "off-the-grid" communication. Such an application would let you chat with nearby people at sports events, concerts and the like without exposing your identity and without needing to be on the same Wi-Fi network. Firechat is here to fill that gap.
Firechat is an offline and anonymous chat application that runs on both Android and iOS. Firechat is built on the developers' own mesh network technology (as well as iOS 7's Multipeer Connectivity Framework), letting you chat with nearby users without needing an Internet connection of any sort.
Firechat is available for both Android and iOS. Note that Firechat requires iOS7 and above, and should work without any issues on most Android devices less than 2 years old. We'll be looking at the Android version in this article, but the two versions are almost identical in terms of interface.
Getting started With Firechat
Once you've downloaded the app and installed it, just sign in by providing your preferred username. No extra information is needed.
Firechat Features
Firechat has two different chat modes, accessible from the main interface.
"Everyone" is a global chat mode that lets you chat with up to 80 randomly selected users from the same country, and requires an Internet connection.
"Nearby" is the local, off-the-grid messaging option. The range for off-the-grid messaging differs according to platform: 30 feet for Android and 100 feet for iOS. However, the Android version supports Open Garden's multi-hop mesh network, so the range will increase with the number of users using the app (this feature will come soon for the iOS version).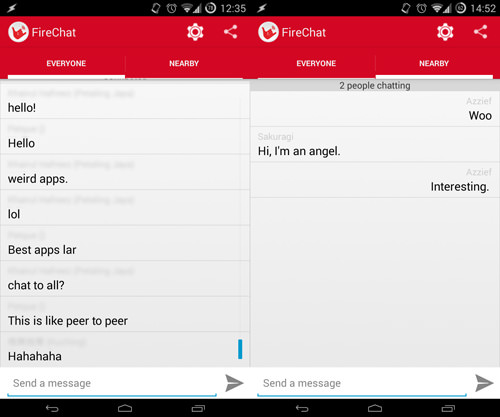 Like most messaging apps, you can send both images and text to other users (although it looks like the Android version doesn't have support for sending images just yet).
There's also a Settings screen accessible from the upper right corner of the interface in the Android version. You can change your display name, choose whether you get notifications for Nearby Messages, and Tell a Friend, which opens up the standard Android Share with friends menu. The Share option on the chat screen does the same thing.
Limitations
One thing to bear in mind is that the two versions are not (yet) compatible in offline mode. However, the developers are confident that they will be able to bring inter-platform messaging to Firechat eventually.
Firechat is a somewhat barebones chat application, but the novel focus on local, off-the-grid messaging should make it popular for a certain subset of users, particularly those looking to communicate with fellow attendees at sporting events, concerts and the like.
The big thing with Firechat, though, is the potential it shows. After all, if Google's interest is anything to go by, mesh networks might just be the thing of the future.