How LibreOffice Writer Streamlines Your Coursework Writing Process
Simplify coursework with LibreOffice Writer's user-friendly tools and features.
Writing coursework is a crucial task that students must undertake during their academic careers. It requires significant time and effort to complete, but doing so can lead to success and high grades.
However, many students turn to tools for help in completing their coursework. LibreOffice is a sophisticated, free program that aids students in organizing and composing their assignments.
It's never too late to start learning, and there's no shame in taking advantage of opportunities to learn new skills. For example, you might want to consider a free guide to learn how to use LibreOffice Writer.
Let's explore this in more detail!
Table of Contents
LibreOffice & LibreOffice Writer: An Overview
LibreOffice is a fully-featured, open-source office productivity suite that's free to use. It's simple to operate and compatible with other well-known applications. Many users prefer LibreOffice over Microsoft Word because it offers a competitive alternative. Recently, a growing number of students have switched from Word to LibreOffice, attracted by its increasing popularity and demand.
LibreOffice Writer is a part of the LibreOffice suite that enables you to create text documents. These can include pictures, tables, flowcharts, or graphs, making it a useful tool for coursework writing. You can save these documents in various formats, such as HTML, Microsoft Word's .doc format, and ODF or PDF.
With LibreOffice Writer, you can create everything from short essays, letters, and documents to lengthy books, theses, or dissertations, complete with reference lists and indexes.
Interested in learning more about LibreOffice Writer and how it can assist with your coursework writing? Here's a brief and straightforward guide on using LibreOffice Writer to simplify the coursework writing process.
LibreOffice Writer's Features for Coursework
LibreOffice Writer offers numerous features that can assist you in the coursework writing process, making it user-friendly. Here are some of the key features we'll be discussing:
Writing in Various Styles: Customize your text with different styles.
Access to Free Templates and Languages: Choose from a wide range of templates and language options.
Creating and Organizing Content: Easily create and organize your work.
Designing with Built-in Drawing Tools: Utilize the integrated tools for designing and drawing.
Adding Various Elements: Insert images, tables, columns, equations, and more to enhance your document.
Document Saving Options: Save your work in various formats.
Citation and Bibliography Tools: Add citations and design bibliographies effortlessly.
Desktop Publishing in OpenOffice Writer: Utilize desktop publishing features for professional layouts.
Calculations: Perform mathematical calculations within the document.
Drawing Pictures: Use tools specifically designed for drawing pictures.
Flexible Application Interface: Enjoy a user-friendly interface that adapts to your needs.
Drag and Drop Graphics Insertion: Easily insert graphics with a simple drag-and-drop function.
Help Features: Access help and support features within the application.
These features collectively contribute to a more efficient and enjoyable writing experience.
Starting LibreOffice Writer: A Guide
Download & Install
Visit the official LibreOffice website to download the software.
Once the download is complete, install it on your device.
Open LibreOffice and select the template you want to use, such as an open writer document, to assist you in your coursework writing process.
You can easily write, create, and save a new document within the program.
Customize Toolbars
Choose the toolbars you want to use in your coursework. You can do this from the 'View Menu'.
The 'Standard' toolbar and the 'Formatting' toolbar are the two toolbars that students most frequently use.
Learn how to use the features of the 'Standard' toolbar. It enables you to:

Add text, links, and drawings to the document.

Use the features of the "Formatting' toolbar properly for editing within a page. It helps you to:

Align your writing.
Add bullet points and tables.

Create toolbars that reflect your choices during the coursework writing process.
Use Menus for Writing
You can benefit from eight types of menus in LibreOffice Writer while working on your coursework writing process. These include:
File Menu
Format Menu
Edit Menu
Insert Menu
View Menu
Tables Menu
Tools Menu
Windows Menu
Understand Status Bar
The 'Writer Status' bar provides useful options for quickly adjusting certain document elements, as well as offering information about your coursework writing. Here's what you can do:
Change the status of a document.
Check the number of pages.
Check the word count and character count.
Select a specific page style.
Choose the language of the text that you will adhere to in your coursework writing process.
Utilize insert and selection modes.
Add your digital signatures.
Select view layouts, such as single or multiple pages, or a book layout.
Use the zoom feature to zoom in or out, and to maintain the zoom level at a specific point.
Change Document View
LibreOffice Writer offers three different methods to view your coursework writing document, and you can select any one of them during your coursework writing process. These methods include:
Normal View: The default view, also known as Normal view, displays how your coursework writing will appear when printed or converted into a PDF. By clicking on 'View' > 'Show Whitespace' from the menu, you can hide or show the headers, footers, and space between pages in this view.
Web View: When creating HTML documents, Web View is helpful in coursework writing. The Zoom slider is the only tool available in 'Web View'; the 'Layout View' options are inactive, and some other options in the 'Zoom & Layout View dialogue are also unavailable. Page boundaries are not visible anywhere.
Full-Screen View: When viewing a document in 'Full-Screen' mode during the coursework writing process, neither toolbars nor sidebars are visible. Instead, the document fills the entire screen, using the previously chosen magnification and layout options.
Use Styles for Formatting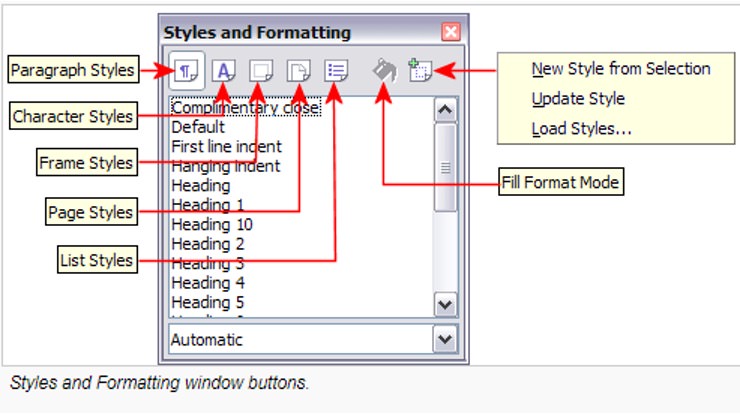 Direct formatting is the standard method of formatting your documents during the coursework writing process. In other words, you press a button that applies a specific characteristic.
With styles, you can group together several attributes, such as font size and weight, and assign them a descriptive name, like a heading. The benefits of using styles over direct formatting include the following:
It ensures a unified appearance for your pages, sentences, and lists.
It simplifies the process of regularly adjusting the formatting later on.
It allows for the importing and reusing of styles from different documents.
It enables changes to the style, and those changes are automatically applied to all instances of that style (referred to as its "offspring").