iOS 7: 30 New Features and Tips
Apple has without a doubt done the boldest overhaul to its user interface, switching from a skeuomorphic design that has become its identity from the get-go to flat design. Apple's latest operating system for mobile/touch devices, iOS 7 (the stable release) is due to be available for download in a few hours from now.
We've been playing and exploring this latest iOS ever since its first developer seed was available in the iOS Dev Center. In the following post, we will be looking at all the new features we've discovered.
Do drop us a comment if you found anything we missed.
38 iPhone Tips & Tricks You Should Know
38 iPhone Tips & Tricks You Should Know
Your iPhone is nothing less than a magical device that can do hundreds of functions and substitute many... Read more
#1
Spotlight has been moved. Instead of swiping to the left in iOS6 (and before), you now swipe down from any home screen for quick access.
#2
iPhone-only apps installed on iPads running iOS7 will have its interface maxed out. [iPad only]
#3
Apps that require updates will now be downloaded and updated automatically. Go to Settings > iTunes & App Store > Automatic Downloads to turn it on.
#4
Your panorama photos and videos will be each have its own folder inside Albums.
#5
The Photos app allows you to access and navigate through your photos by Years > Collections > Moments.
#6
Notification Centre adds a 'Today' tab, which gives you a summary of everything that has happened or is happening today.
#7
Photos in Moments are grouped by date and location. You can share all photos in a specific Moment by clicking Share > Share this moment.
#8
Shared Photo Streams get a new Activity view option.
#9
The 'Edit' function is added to Photos app. You can now rotate, enhance, crop, correct red-eye or add filters to any photo.
#10
iOS7 added AirDrop, allowing you to share files directly with devices connected to the same WiFi connection.
#11
Messages app now includes Contact on the top right, allowing you to call, Facetime or even check the caller's information right away.
#12
Control Centre allows you to quickly access the following by swiping up from the bottom of the screen. You can also do it on a locked screen. For apps marked with *, the screen will resume as locked when the app is closed.
Airplane mode
WiFi
Bluetooth
Do not disturb
Portrait orientation lock
Screen brightness
Music navigation (next/previous songs, play/pause, volumn)
AirDrop
AirPlay
Torch Light (camera flash on)
Clock app*
Calculator app*
Camera app*
#13
You can now block a caller. To block someone, go to Contacts > Select a contact > Block this Caller. Users on the blocked list will not be able to contact you via:
phone call
text message
Facetime
#14
To check users under your blocked list, go to:
Settings > Phone > Blocked, or
Settings > Messages > Blocked, or
Settings > Facetime > Blocked
#15
App Store removes Genius and added the Popular Near Me section with recommendation of popular local apps.
#16
The Camera app adds options to take square shaped photos, Slo-mo photos (only on iPhone 5S) and puts the Panorama option on the same screen for easier accessiblity.
#17
You can now search through your Purchased Apps, whether they are installed or not on your current iOS7 device. To search for a specific app, go to App Store > Updates tab > Purchased > Search.
#18
To exit/quit an opened app, double click home screen. Drag the app up to remove it. Apps on the sides (left and right) are draggable too.
#19
Ladies, Siri now has a male voice option. If you don't fancy the current female voice, here's how you change it. General > Settings > Siri > Voice Gender > Male.
#20
To view conversation timestamp, swipe left from the right side of the chat screen.
#21
World Clock now tells you how many hours your local time is behind/or ahead of each timezone added. No more timezone headaches.
#22
Apps with Dynamic Type will adjust its font size to your reading preference. To change this, go to Settings > General > Text Size.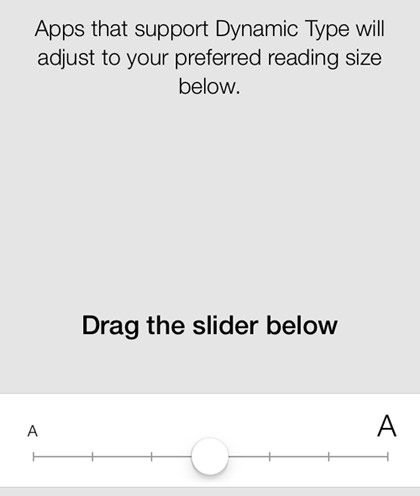 #23
Camera app now supports Grid to assist photo taking. To turn it on, go to Settings > Photos & Camera > Grid.
#24
Accidentally archived an email? Shake your phone to bring up the Undo Archive dialogue.
#25
Password is required to turn off Find My iPhone.
#26
You can remote erase a lost iPhone via iCloud.com and have it display a message with your phone number on the Lock screen.
#27
Maps app's turn-by-turn navigation is now more accurate.
#28
'Slide to unlock' works on any part of the screen, as long as you slide from left to right.
#29
Radio is added in iTunes, allowing you to add and play radio stations of your choice.
#30
You can close a Safari tab by clicking on the x button, or simply swipe it to the left.
#31
The Clock app icon reflects the exact local time.