20 Inspiring Ideas For Minimal Home Living
The common idea most of us have when it comes to living space is that we are quickly running out of it. Rent and land is expensive in areas of vast opportunities and yet there are very creative people who went ahead and took the little space they have and made the most out of it.
We're talking about smart micro-living where home owners make use of smart, stowable furniture, multi-purpose home fixtures, clever architectural designs or a combo of all three to cut down on the size of homes, without eating into the comforts we have grown accustomed to.
In this post, we will be looking at 20 amazingly tiny houses, some at less than 200 sq ft area, that will make you ask yourself if you really need all that space in your home right now. From studio apartments to vertical houses, these designs showcase the amazing architectural feats that redefine how much space we actually need for comfort living.
Mini Dwelling Tower
Located in Nada, Japan this 3-story high house contains a parking spot, living room, 2 children's room, one bedroom and plenty of storage space – all within 398 sq ft.
River Side house
The house is build right at the end of a road, next to a river, and holds 312 sq ft area of living space. The 2-story house has 2 bedrooms, a bathroom, a living room, dining room and kitchen.
Gap's House
So this architect found a space between 2 houses – okay, he found a gap, a 97 sq ft gap which he turned into a home with a kitchen, bathroom and bedroom spread across 3 story. Talk about extreme home designs.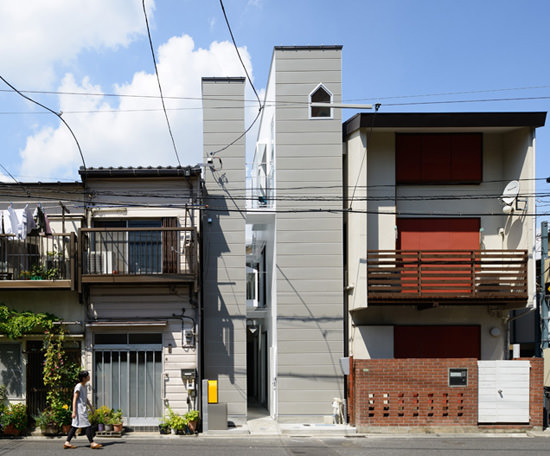 Keret House
This is probably the narrowest house you can find. With an area size of only 46 sq ft, this double-story house connects from one space to the next via ladders yet looks comfortable and homely enough for a home owner who doesn't mind a daily vertical ascent.
The Tiny Tack house
Prefer a rustic, more countryside style of living? Try the Tiny Tack House. At only 140 sq ft, every necessity and comfort expected in a home is compacted into this house in Snohomish, Washington.
Tiny house On wheels
In only 207 sq ft, this tiny hOMe project fully embraces the sustainable living lifestyle with a propane heat source and compost toilet. Inclusive of appliances, cabinetry and furniture, this is available for a little over $33,000.
Cedar Park Tiny house
Made of bamboo, this tiny house fits a kitchen, bathroom, bedroom and living room inside 250 sq ft. It is located in Texas, and if you are interested, you can buy it for $25,000 while it is still available.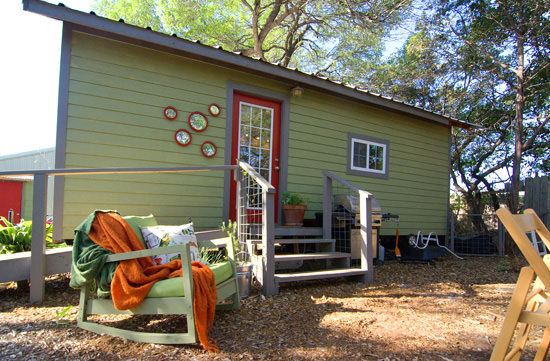 Rhossili Shepherd Hut
This beautiful looking shepherd hut is a holiday house that you can rent for days or a week. The hut is located near Rhossili Bay, and inside you can find 2 beds, a kitchen, and a small living room. The only bad news is you need to share an outdoor toilet with other campers at the campsite.
Tiny Project
If you think that rent is killing you, why not build one on a flatbed trailer like this guy Alek Lisefki, the proud owner of this tiny house. His house area size is only 8 feet by 20 feet, but it is a 2-level house complete with a kitchen, bedroom, shower, and living room.
Tiny Vertical Madrid Apartment
If you don't have enough space to go horizontal, then why not go vertical. This apartment has a 200 sq ft area and is found in Madrid. To get from one space to the next, expect to do a lot of climbing.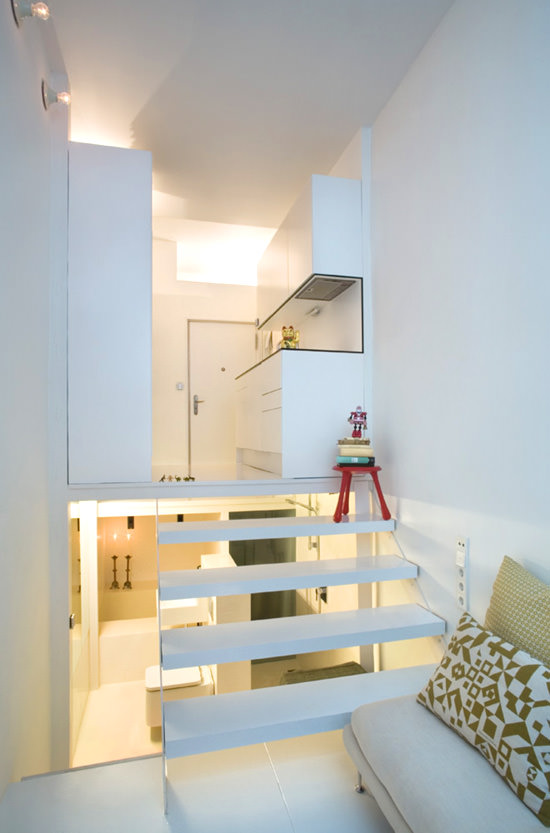 130 Square Feet Micro Apartment
130 sq ft is close to Ikea level micro-living and yet this micro apartment still has enough space to house a workspace, a kitchen, a bathroom plus a rolling bed. Even the stairs and tables include hidden storage to fully utilize the space.
Didomestic Apartment
Know any apartment that is full of trapdoors and moving walls? Well, now you know of at least one. This 621 sq ft has many slots to store away furniture and storage spaces inside the walls and ceilings. The tables and benches can be lowered via handles on the wall then stored away for extra space.
Harbour Attic
This apartment is located somewhere in the fishing village of Camogli in Italy, a nice-looking 377 sq ft apartment that is smartly designed to make use of every available space. The quaint place known as Harbour Attic has enough space for 2 bedrooms, a studio, living room, bathroom and kitchen. Each room can be stored away for extra space.
AP 1211
AP 1211 is an apartment of 398 sq ft area that has been turned into 2-story apartment with almost all the necessities included. The lower floor has a large daybed, kitchen, refrigerator and some cleverly designed cabinets. The floor is connected via a black spiral stairway to the second floor where you can find the bedroom and the bathroom.
Barcode Room
This Barcode room can transform into many spaces: a bedroom, a workspace, a kitchen – all according to the needs of the resident. Thus, if you want to have a guest over, you may change the room layout according to your wish because the walls are on a track that you can move freely.
East Village studio Apartment
This studio apartment has 500 sq ft of space to play with and the amazing architect team changed the once-cramped home to a high-class, cleverly designed home complete with high-gloss cover over its wall and storage spaces. The place has a workspace, living room, kitchen and bed.
Multi-functional Studio
Talk about storage central. This previously cramped apartment of 215 sq ft has been transformed into a multi-functioning studio to store the owner's 2D art collection. There is a foldable bed and cupboards for storing books, photos and the likes.
240 Square Feet Apartment
A homely and comfortable design of 240 sq ft, this apartment in New York contains a bedroom, kitchen, living room, mini-library, plenty of storage space and even a hidden washing machine.
237 Square Feet Micro Apartment
This beautiful micro apartment of 237 sq ft can house a family, and quite comfortably too. It has a kitchen, shower room, dining table and plenty of storage space kept high up, accessible by ladder. There is also plenty of storage space underneath their beds, talk about compact living.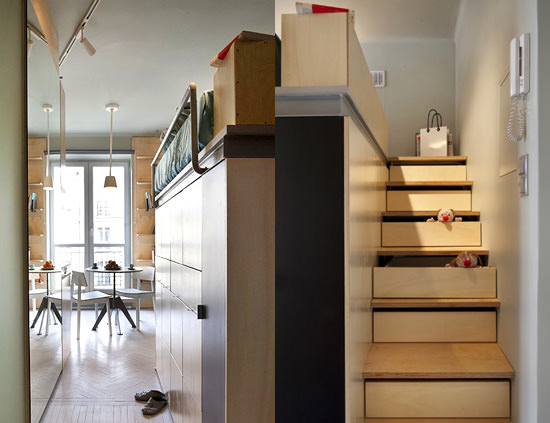 Mini Studio Apartment
129 sq ft of space is more than enough for a single person, if you know how to transfrom your furniture from say a sofa into a full bed or to turn your staircase into makeshift storage space. In spite of the small size, this studio apartment has a kitchen, a dining place and a shower room.