10 Valentine's Day You Probably Didn't Know
Valentine's Day is coming soon and the obligatory exchange of roses, chocolates, dinner and date rituals will begin come mid-February. Meanwhile I get thrown a challenge to write about 10 interesting things I didn't know about Valentine's Day.
The bad news is I can't write about the usual stuff like how Valentine's day got its name or what the color or number of roses in a bouquet symbolizes. The good news is I get to extend the scope to cover love, February 14th, traditions, weird facts and quirky deviations. Whether you're 1/2 of a couple or if you're living up the single life, there's actually quite a bit about love that most of us don't know.
Here are 10 nuggets of info about the Day Of Love you can share with your better half over candlelit dinner.
1. The Phrase "Wearing Your Heart On Your Sleeve" Came From A Real Event
The saying "wearing your heart on your sleeve" is a common expression used to indicate the feeling of love. We've heard this so many times before but do you know its origins? There are plenty of different stories but my favorite is the one that takes places during the Middle Ages.
There was a Roman festival held anually in honor of Juno, the queen of Roman gods and goddesses. Men would draw names to determine who would be their potential sweetheart. These men would then wear the name on his sleeve for the remainder of the festival. This makes it quite similar to being a lady's champion during a jousting match.
2. Chocolates Is Synonymous With Valentine's Day Gifts Because Of Cadbury
Chocolate and Valentine's Day go together like Peanut Butter and Jelly. It's an image that many of us are used to seeing but just where did this tradition come from?
Richard Cadbury from the Cadbury chocolates family is responsible for the earliest box of Valentine's Day chocolates. In 1868, he gave chocolates to his beloved in a heart-shaped box. He apparently also made the boxes more unique by using his own paintings to decorate the box lid.
3. The Longest Marriage on Record Spans 8.5 Decades
If you have come across more breakups and divorces than everlasting love and successful marriages, this might cheer you up. The official world record for the longest marriage for a living couple belongs to Herbert and Zelmyra Fisher, who were married for a total of 86 years and 290 days, before Mr. Fisher passed away. Talk about a marriage that lasts a lifetime.
However, there is a couple in the UK who have been married for 88 years, it's just that the marriage betwen the 108-year-old and his 101-year-old wife wasn't officially noted. But who's keeping score?
4. Pets Can Be Your Valentine Too
There are very few things that we can say that we really love in this world. For most of us, pets aren't just pets, they are family. So, it's really not surprising to find out that come Valentine's day 2015, pet owners in the US will be spending $703 million on their gifts for their pets.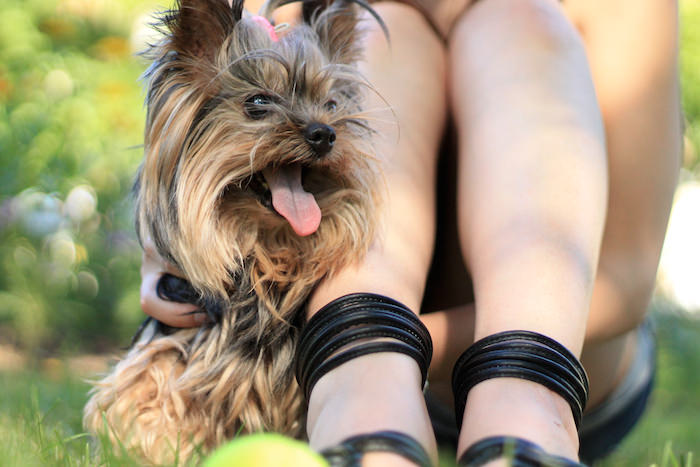 If you think that is a lot to spend on a pet, it's only a fraction of what couples will be spending on each other — USD18.9 bilion's worth — for Valentine's Day.
5. There Is Such A Thing As A Record-Breaking Kissing Event (And There Is More Than One)
Here's a little interesting fact: kissing increases a person's pulse to at least 110 beats per minute (bpm). Well, people in the Philippines came together to get their hearts pumping by locking lips at a particular event called Lovapalooza.
More than 5300 couples came together in a mass kissing record attempt back in 2004. This was to beat the previous Guiness World Record of 4445 couples held by Chile. Unfortunately, this record was beaten by a similar attempt in Hungary where 5,875 couples kissed at the Elisabeth Bridge in Budapest in 2005. Not to be outdone, 6124 couples locked lips in Pasay to reclaim the record back for the Phillipines in 2007.
6. Vengeance From The Jilted Got This Valentine's Day Custom Banned
In France, there used to be a Valentine's Day custom called "The Drawing For Love".
Single people of various age groups would enter into houses that were opposite each other and call out through the windows till they paired up. If a male wasn't happy with his partner, then he could leave her and pair up with someone else.
The women who were left single would build a large bonfire and conduct ceremonial burning of the pictures of men who left them high and dry — cursing was included. Of course, it's easy for feelings to spiral out of control (whether good or bad) and when things got out of hand (as expected), the custom was eventually banned by the French government.
7. The Chinese Has An Alternative Valentine's Day Inspired By Lost Love
It is better to have love and lost than never to have love at all. The Qixi Festival is a celebration of love that is based on the love story between a weaver girl and a cowherd. The weaver girl was actually a celestial being; the cowherd, mere mortal. They fell deeply in love and had two children together before they were forced to part, separated by a river until the end of days.
Magpies took pity on the two and form a bridge for them every year on the 7th day of the 7th lunar month of the Chinese calendar, reuniting the two and their children for a brief but special moment. Today, the festival is also known as the Magpie Festival as well as the Chinese Valentine's Day. It inspired similar celebrations in Japan, Korea and Vietnam.
8. South Koreans (Sort Of) Celebrate Romantic Holidays Every Month
In South Korea, the 14th of every month marks a romantic holiday of some sort. That's 12 presents to prepare. Here's a quick list of what's celebrated every month in order: Candle Day, Valentine's Day, White Day, Black Day, Rose Day, Kiss Day, Silver Day, Green Day (seriousy), Music Day, Wine Day, Movie Day, and Hug Day.
Black Day, celebrate on April 14th is the one aimed primarily at single folks. Singles will come together and eat Jajangmyeon, a noodle served with a black bean sauce (like this one below).
They also dress in black, wear black accessories as well as black nail polish. It isn't all gloomy though; think of it as an annual support group where people eat and talk about their singlehood… until they pair up and become a couple.
9. Singles Get Their Own Day In China
If you didn't know, Valentine's day is also Singles Awareness Day. But we're going to talk about China's single's day instead. Celebrated on Nov 11, Singles Day (aka Bachelors Day) is more famously known for online shopping, than it is for moping around because you don't have a partner to buy you roses.
Nope, rather than wallow in self-pity, singles (and even those who are part of a duo) sit behind a computer and shop till they drop with China's version of "Black Friday" sales.
Scratch that, it's way bigger than any Black Friday sale you know of. In 2012, China spent $3 billion on Single's Day; by 2013, that rose to $5.75 billion. In 2014, China spent $9 billion on online shopping bargains — all within 24 hours. Who needs love when you can shop from the comforts of home instead?
10. You Can Help End Gender Violence Via The Other V-Day
Valentine's Day is a day to show the people around you that you care for them but how about this year, you show the world you care? V-Day is an activist movement that helps raise awareness to end violence against women and girls. It started out as a benefit back in 1998, in New York, inspired by the work of Eve Ensler, the playwright and activist behind The Vagina Monologues.
Since 2012, V-Day had been organizing major campaigns all over the world to help put a stop to gender violence, particularly on February 14th. This year it is no different. You can join or contribute to their efforts, and find out more by checking out their page: 1 Billion Rising Revolution.