20 Spook-Worthy Halloween Apps for iOS and Android
Halloween's just creeping around the corner, and what better way to celebrate it than with some spooky fun Halloween apps? Got to spruce up the season with a matching wallpaper.
Halloween cards or even better, a virtual jack-o-lantern! Besides, having a Halloween game or two installed will keep your children busy while you enjoy the event yourself.
So here's 20 Halloween-themed apps for your iOS and Android devices – have fun experimenting and playing around with them. Happy Halloween!
Halloween Wallpapers (4K)
Halloween Wallpapers (4K)
Halloween, which falls on the 31th of October is a holiday that normally associated with symbols like "Jack... Read more
Halloween Card Creator lets you customize your own Halloween cards with widgets, touch gestures and more.
Choose from the array of spooky but cute Halloween backgrounds, fonts and clip arts, or use photos from your own album as decor.
You can easily save or share your designed card on Facebook or via email from the app itself.
Platform: iOS (iPhone and iPad)
Price: Free
Develop and rule your very own Halloween City: where the undead roam. Cross-breed the different Halloween characters: vampires, werewolves, mummies, zombies and witches to get unexpected results.
Don't forget to check out haunted houses and spooky lairs, and snap a shot or two to show your friends the city you reign over.
Platform: iOS (iPhone and iPad)
Price: Free
Halloween isn't just about pumpkins and spooky things, it's also about trick-or-treating and sweet things!
Like the cute name suggests, this is a simple game even for young children, where they try to guide Pumpkin to as much candies as they can while avoid bumping into other trick-or-treaters.
Platform: iOS (iPhone and iPad)
Price: Free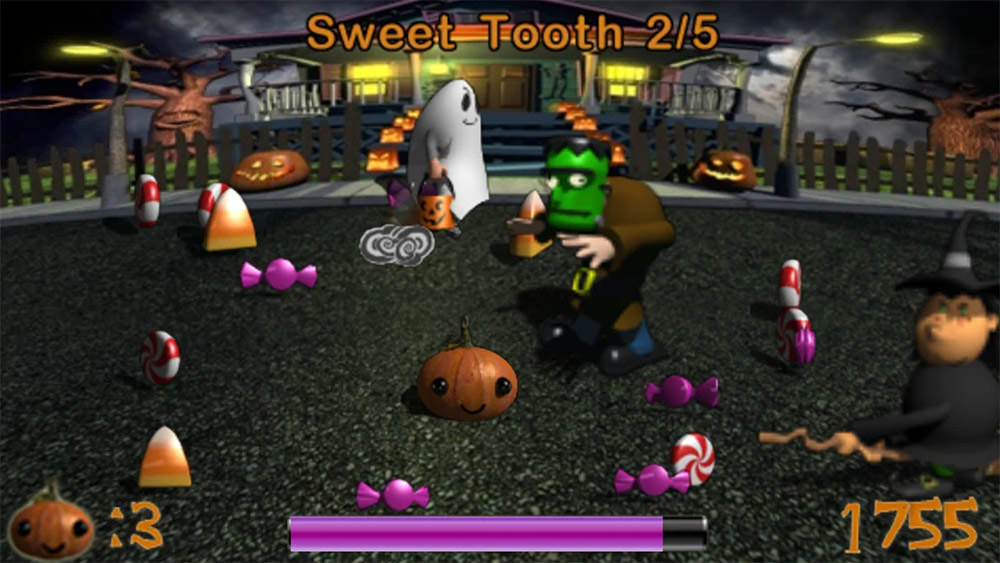 Why not raise your own pet zombie this Halloween? Create your own zombie by putting together unique hairstyles, heads, eyes, torso, clothes and other body parts.
You can create more than one with this app, and unleash them on Twitter and Facebook, or even make cut-oto life.
Platform: iOS (iPhone and iPad)
Price: Free
Connect blobs together in Connect'Em Halloween. It may sound like a no-brainer, but it takes careful strategy to solve the puzzle as each blob can only connect for a set number of times.
Your Halloween mission is to make sure they're all connected to each other correctly.
Platform: Android
Price: Free
Another puzzle for your Halloween, Dr Bubble Halloween is a classic: shoot bubbles to form groups of three identical Microbes/Pumpkins before they drown you.
Simplistic but be warned, it can be really addictive.
Platform: Android
Price: Free
If you're not into trick-or-treating or wild Halloween parties, then you might want to curl yourself up with friends and families listening to horror stories.
With Creepy Tales, choose from different short stories to entertain each other for the evening, and see who's the bravest of all.
Platform: Android
Price: Free
A soundboard app for playing all kinds of scary sounds and Halloween-themed effects. You can use these sound effects to spice up your Halloween party.
There are many features and options to choose from. Just tap on a sound to play it, double tap to play it in a loop, and long-press on a sound to get more options.
Platform: Android
Price: Free
When everything else is having a Halloween theme, then why shouldn't your phone screen too? You can use the KWGT custom widget app to modify your homescreen and create your own display design.
And if you want your Android launch screen to get into the Halloween theme, use the KLWP app for live wallpapers. You can personalize your screen to show your favorite Halloween wallpapers that keep updating.
Platform: Android
Price: Free
Here is a fun app that allows you to carve a pumpkin into an awesome jack-o-lantern with your kids in the safest way possible.
All you have to do is to choose a carving style from the library or make one yourself, add a custom message to it and send it to your friends and family.
Platform: iOS (iPhone and iPad)
Price: Free
An intuitive face app that turns you into a 3D animated scary vampire. With this realistic face-morphing technology, you can apply a variety of cool effects like blink, snarl, bite, grow fangs, add bloody tears, and even burn your face.
Your vampire face photos and videos can directly be shared on your Facebook, Twitter, or Instagram account and can even be sent via email.
Platform: iOS (iPhone and iPad)
Price: Free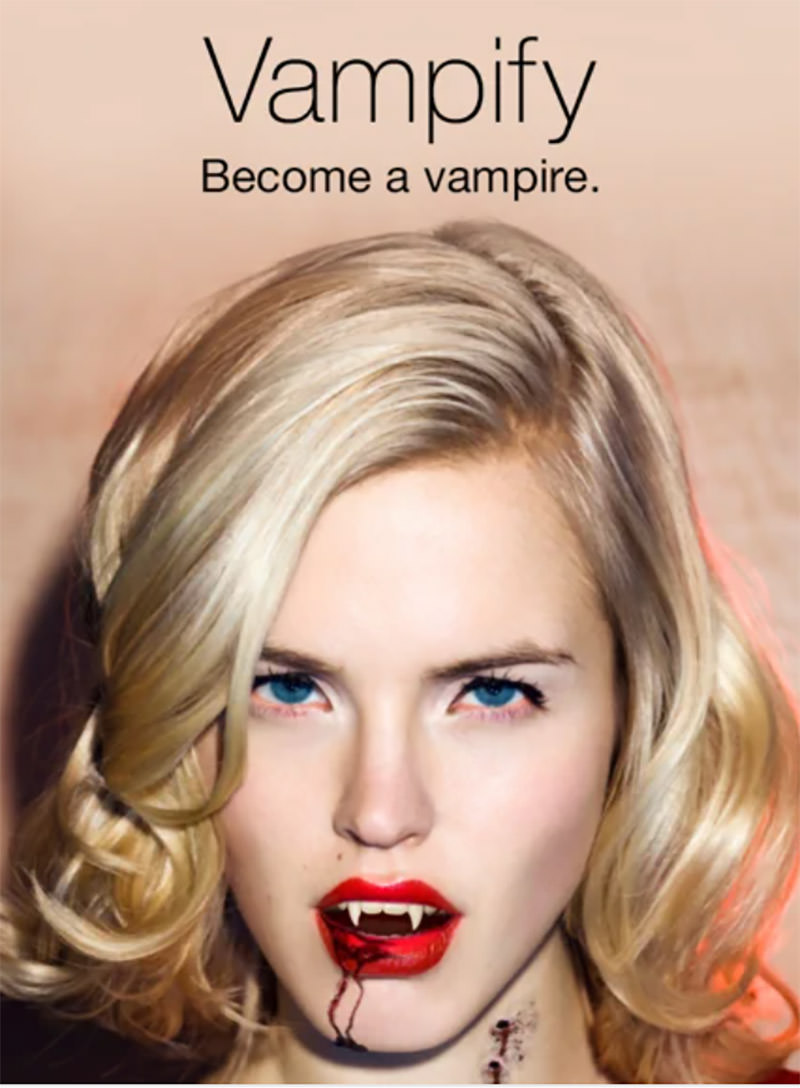 This amazing ghost detector app will surely scare the wits out of your friends this Halloween. The app finds and shows ghosts lurking around you in an ultra-realistic way.
You can even communicate with a ghost by selecting a question and then wait for the spirit to answer it.
Of course, the app can't detect real paranormal activity because there are no such a thing as ghosts… or is there?
Platform: iOS and Android
Price: Free
An ultra-realistic run-and-play mobile game that gives you a total immersive experience of adventure and fun that comes from running away from zombies. In the game you're the hero of a zombie apocalypse with full dramatic sound.
The game offers you different mission to accomplish in order to be a winner based on different background stories for each mission.
You can also view and share your runs, scores and maps with your friends.
Platform: iOS (iPhone and Apple Watch)
Price: Free
An interesting and gruesome puzzle game based on the famous Friday the 13th movie. You get full-fledge blood-soaked adventure with 8 gut-wrenching episodes and dozens of kill scenes.
The game will surely quench your thirst for adventure and puzzle-solving.
Platform: iOS (iPhone and iPad)
Price: Free
An action-packed game with interesting background storied based on a survival story during zombie apocalypse. The story keeps evolving as you achieve goals and finish stages. You can use powerful weapons and ammunitions with realistic immersive environments.
The best thing about this game is that it's free and you can play it offline with daily special events created for users. Just take up your challenge and start slaying zombies.
Platform: iOS (iPhone, iPad and iMessage)
Price: Free
Another zombie killer game but in this one you get your own army of powerful plants. This is an action-strategy game that challenges you by sending some hilarious zombies your way.
So what you do is you amass a force of different plants like Lava Guava, Laser Bean, and Peashooter etc. and keep those crazy zombies abay.
Platform: iOS (iPhone and iPad)
Price: Free
If you're into physical puzzle game with mind-bending challenges, then you'll have lots of fun playing this one. The puzzles start easy and get harder as you proceed.
You get several roadblocks that make it really hard for a puzzle-lover to put it down. The game features realistic graphics, intuitive finger controls, and multiple layers of complex mysteries. Sounds interesting right?
Platform: Anrdoid
Price: Free
Wish you could see a ghost around? Well, this game will let you experience just that through amazing augmented reality ghosts lurking in your surroundings.
You can use your camera to detect a ghost and the app will tell you the ghost's age and type, and translate what the ghost is saying.
So, this halloween, you get to be a ghost hunter and this app will be your medium.
Platform: Anrdoid
Price: Free
Get some awesome halloween-themed really spooky ringtones for your phone with this app. You can use these ringtones for your phone calls, notifications or alarm sounds.
You can even set separate ringtones for specific contacts on your phone. And the best part is that the app is totally free.
Platform: Anrdoid
Price: Free