30 Creative Fruit-Turned-Animal Photos
Who doesn't love fruit? They're the perfect appetizer and a delightful way to start or end a meal. But some artists take their love for fruit to the next level by transforming them into adorable animals!
In today's post, we'll showcase incredibly charming 'fruit animals' that are almost too cute to eat. So, let's admire these works of art instead of munching on them!
These 30 fruit carvings, toys, and digital art manipulations will not only amaze you with their intricacy but also change the way you view fruit forever.
So, why not grab some fruit from your fridge and get inspired by this collection of juicy creativity? Let's dive in!
#1
Allipotamus. First up is this intriguing watermelon creature that's a blend of an alligator and a hippopotamus. The artist calls it an Allipotamus, and it's as mysterious as it is cute!
Image source: ljlh*designs
#2
Watermelon Shark. The National Watermelon Promotion Board has outdone themselves with this intricately carved watermelon shark. The attention to detail, especially in the teeth, is simply astonishing!
Image source: National Watermelon Promotion Board
#3
Hippo Safari. This playful watermelon hippo is sure to be a hit with both adults and children alike. And the best part? The National Watermelon Promotion Board provides step-by-step instructions for each of their carvings!
Image source: National Watermelon Promotion Board
#4
Watermelon Turtle. Who says you can't carve an entire animal out of a watermelon? Check out this adorable turtle as proof that it's entirely possible!
Image source: National Watermelon Promotion Board
#5
Watermelon Pig. Bring this adorable watermelon pig to a party, and you can bet the fruit garnish will disappear in no time! Want to make one yourself? Follow the source link for carving instructions.
Image source: National Watermelon Promotion Board
#6
Watermelon Dragon. This mythical creature carved from watermelon is too magnificent to ignore. Perhaps this is the inspiration behind the name 'dragon fruit'.
Image source: carvingnations
#7
Banana Doggy. This adorable banana dog may be a digital creation, but it's so cute that you'd wish it were real. And who knows? Maybe it's possible to recreate it with an actual banana!
Image source: Enryco
#8
Banana Dragon. Created by the talented Keisuke Yamada, this banana dragon is a fleeting masterpiece. The photo was taken quickly before the sculpture began to brown and decay.
Image source: Keisuke Yamada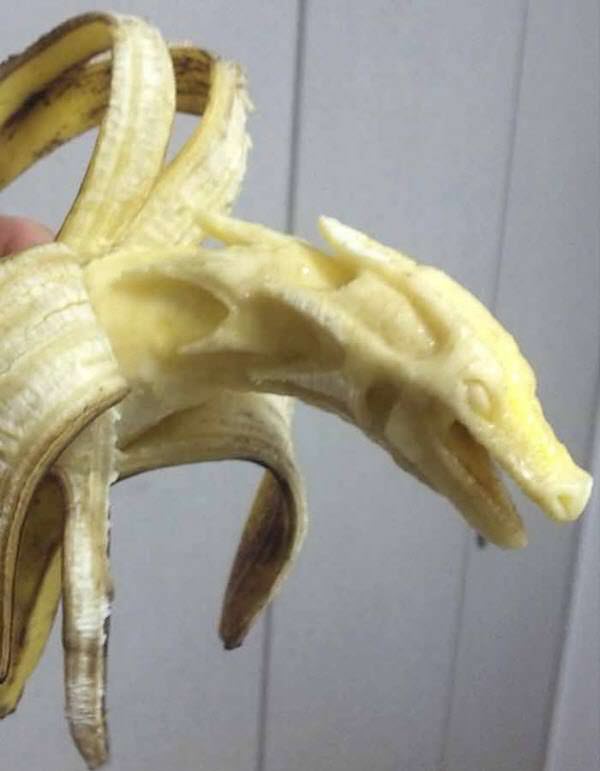 #9
Banana Poseidon. This is undoubtedly the most epic banana sculpture you'll ever see.
Image source: Keisuke Yamada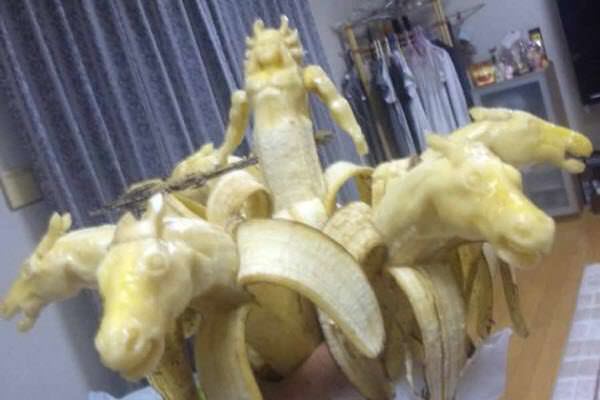 #10
Banana Puppy. Struggling to find the perfect birthday gift for your girlfriend? This banana puppy toy might just win her heart—or give her a good laugh!
Image source: Chocolate-Covered Katie
#11
Orange Tabby Cat. Crafting this orange tabby cat requires a blend of creativity and meticulous attention to detail, right down to its individual body parts.
Image source: 20th Century Glass Pottery Collectibles
#12
Kiwi Koala. This isn't your typical kiwi; it's a kiwi transformed into an irresistibly cute koala. The colors are simply stunning!
Image source: 20th Century Glass Pottery Collectibles
#13
Strawberry Bear. Show this adorable strawberry bear to your female friend, and she'll likely want one for herself! You can actually purchase these cute fruit toys via the source link.
Image source: 20th Century Glass Pottery Collectibles
#14
Strawberry Cat. Warning: The cuteness level of this strawberry cat is off the charts!
Image source: The Meta Picture
#15
Pineapple Porcupine. This pineapple porcupine is so cute it's almost unbearable! It's a masterful creation from Home Grown Veggie.
Image source: 20th Century Glass Pottery Collectibles
#16
Fruit Hoot. "I've collected numerous fruit photos for my creative projects, but my own pineapple lacked the texture I desired. So, I sourced this pineapple online, flipped it upside down to mimic feathers, and used the crown as a feathery tail."
Image source: KomodoEmpire
#17
Owl. It takes a special kind of creativity to craft an owl like this from fruit. Can you guess how many different fruits were used?
Image source: rabidscottsman
#18
Orange Fish. These delightful orange fish are so charming that you'll want to take them home. Kudos to the artist for creatively using the orange's natural shape!
Image source: amyjayne10
#19
Dog. Imagine having this juicy fruit dog liven up your feast. It's a surefire way to add some zest to any meal!
Image source: Tya226148
#20
Guitarist. While it's hard to pinpoint exactly what this creation is, the combination is undeniably captivating. The guitar and hands are particularly noteworthy.
Image source: sailorbabe80
#21
Animals Assemble. All your favorite starter Pokémon are here in fruit form. Pick one and embark on your own adventure!
Image source: lovintherain
#22
Underwater. At first glance, you might mistake this for a real underwater scene. A closer look reveals the artistry behind this fruit-based marine world.
Image source: rbj330
#23
Apple Fish. Is it an apple that looks like a fish, or a fish that looks like an apple? Either way, hats off to Mandrak, the Photoshop wizard behind this creation.
Image source: Mandrak
#24
Apple Turkey. Intrigued by this complex apple turkey? Don't worry, there's a tutorial to guide you through the process.
Image source: Chica and Jo
#25
Apple Duck. Simple yet elegant—this apple duck captures the essence of art in its purest form.
Image source: gelatoglace
#26
Apple Swans. These apple swans are a feast for both the eyes and the palate. They're as delicious as they are stunning.
Image source: lana_star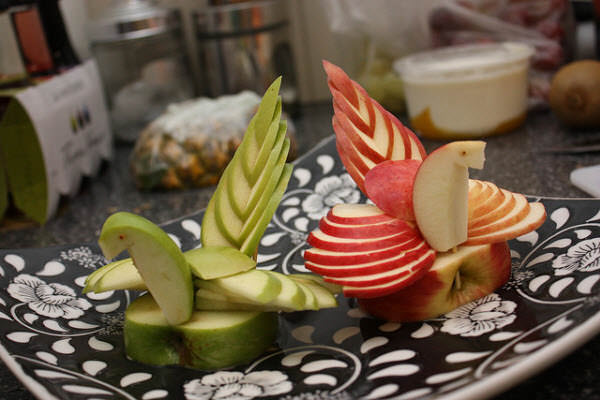 #27
Kiwi Duck. Carving an apple might seem straightforward, but crafting a beautiful duck out of a kiwi requires a special set of skills. Kudos to Adrastia217 for this masterpiece.
Image source: Adrastia217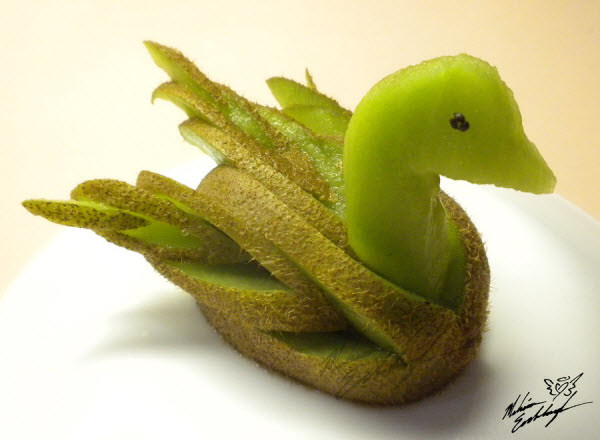 #28
Acorn. As the saying goes, "You are what you eat." This acorn creation embodies that sentiment perfectly.
Image source: ufosgalore
#29
Animal?. While the combination is visually appealing, even the creator isn't sure what it represents! It looks like a pig to me; what do you think?
Image source: James R. Clark
#30
Bananalisk, Grapeling, Applelord. When evolution takes an unexpected turn or if the Zerg were to invade, you'd get creations like these. Inspired by the high-quality game series StarCraft, these fruit animals are truly out of this world.
Image source: Blizzard