15 Free Android VPN Apps to Surf Anonymously
Every Internet user should access all kinds of online content. Unfortunately, this may not be the case, as some websites and services are either blocked by authorities or geo-restricted by service providers.
As an Android user, you do have a way around it that involves using VPN apps. Though there are hundreds of them available in the market, this post lists some of the best and free VPN services for Android. You can read about each item and its particular feature in the following.
Atlas VPN gives you seamless access to the internet on your Android device with complete anonymity and privacy of users. Supported by a number of servers worldwide, you can be assured of the speed and privacy of online browsing.
You can use an unlimited number of devices with a single account and use different features like split tunneling, strong encryption, ad-free VPN experience, global access, and no logs.
With approximately 330 million downloads around the globe, Hotspot Shield is at the top of the list. Apart from traditional features found in any VPN app, it provides banking-level HTTPS encryption to secure the WiFi connection so that the outgoing data can be protected from eavesdroppers.
SecureLine VPN is a nice app developed by Avast. They are famous for developing one of the best antiviruses worldwide. The private VPN Tunnel of SecureLine VPN encrypts the data using IPsec protocol which makes it really tough for hackers to snip the data through public WiFi hotspots. The app will perform all this work for you with just a click.
Speed VPN is an app that allows one to connect to the Internet through servers located at multiple geographical locations. It is designed for web browsing by unblocking geographically restricted sites and viewing low-resolution videos. Each session of Speed VPN lasts for 60 minutes and it can be reconnected with a click.
Super VPN is an easy-to-use Android app with approximately 5 million installs around the globe. It encrypts the traffic to keep transmitted and received data safe from 3rd party tracking without having to register or configure the device's settings. Just a single click will enable you to use the Internet and browse websites anonymously.
The main feature of Hideman VPN is to secure the transmitted data as much as possible, and for this purpose, the algorithm uses a 256-bit encryption key. This scrambles the original data so that if anyone is monitoring it, they wouldn't be able to understand it without the key. The app offers five free hours per week, although premium hours can be earned via in-app ad networks.
The app offers five free hours per week, although premium hours can be earned via in-app ad networks.
Touch VPN encrypts data using a Secure Socket Layer (SSL), which maintains a secure and encrypted link between server and client. The app also helps conserve the battery of the device in comparison to other VPN Apps. This makes it great for those looking for an app that offers these two features.
The Flash VPN Proxy app provides a secure and encrypted VPN network to make sure that all your incoming and outgoing data remains intact from hackers and data stealers.
The best thing about it is that you can use it smoothly because it offers a decent amount of bandwidth for communication, which is only often offered by premium apps. On top of that, there is no limit to how long you can connect.
CyberGhost is a nice app that provides banking-level security. Usually, people have concerns that the apps might access their personal information that's available on the device; CyberGhost respects the privacy of its users and does not access any personal information.
The free version of the app provides access to 23 servers located in 15 countries, while the premium version gives access to 300 servers in 23 countries.
One-Click Android VPN is an app to protect one's privacy and hide the source IP address. It offers up to 500MB of free-trial traffic upon signing up.
Psiphon provides a simple way to easily access everything available on the Internet with a secure VPN tunnel. Users can also explicitly define whether to tunnel everything or just the web browser.
Zero VPN is an app that allows you to use VPN services at zero cost with no difficulty. The interface is easy to use, which facilitates surfing the Internet anonymously.
VPN Master is one of the top VPN apps for anonymous Internet usage that doesn't require registration. It also allows you to choose any server in America, Europe or Asia with 99.9% uptime.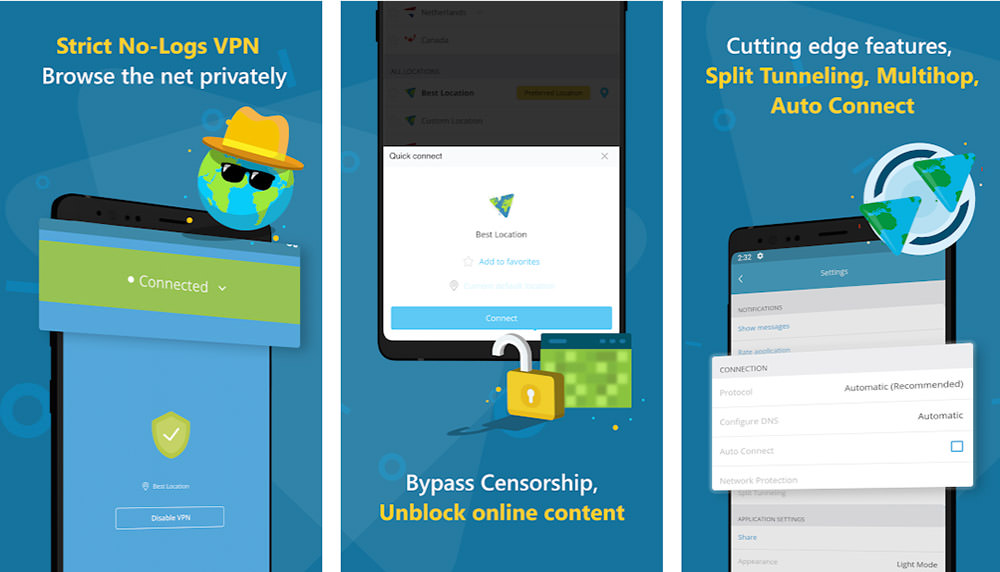 Hide.me VPN offers high speed, strict privacy, and reliable security to Android users. You can use it to bypass hurdles like online content censorship and geo-restrictions for a seamless browsing experience.
The app does not store online activity logs and offers a Multihop double VPN feature that ensures better speed and connection to 2000+ fast and secure servers worldwide. It is also really easy to set up and use.
An easy-to-use VPN app, Windscribe helps you unlock most geo-restricted or censored online content. Its main features include Split Tunneling, Data Encryption, and different protocols to choose from.
The app doesn't make you mess up with the settings and you just need to turn it on to block ads and trackers, encrypt your online activity, and connect to servers in over 63 countries.