7 Best Ways to Track Flights
Flight tracking can be helpful for anyone from frequent travelers and their families, pilots, and flight crew to simple aviation enthusiasts. Just with the help of flight number, airline, or destination, you're able to get a lot of information on a flight's arrival/ departure or delays.
There are different methods to track flights, and in this post, we are going to list some of the best ways to do that. These include tools, a search engine, and one of iOS's built-in apps. Let's take a look at these in detail.
99 Airport Tips to Travel Like a Pro
99 Airport Tips to Travel Like a Pro
For the tired and weary, a vacation always sounds like a good idea. But getting to that beautiful... Read more
A platform that gives you everything on flights, Flightradar24 has a live view of every possible flight on the world map. You can get statistics, flight information, real-time maps, weather forecasts, etc.
You can sign up for an account on the Flightradar24 site and get tweets, blog posts, and news on the subject of flights and airlines. Plus, there is an iOS and Android app available for your phone.
What's more interesting is that through this platform, you can buy an ADS receiver that can track any flight and can get access to a comprehensive knowledge base to build your own receiver.
PROS
Great overall view of the flight map.
Supports mobile apps (android and ios).
CONS
Map customization is not free.
FlightStats is a flight tracker with many other useful features. Apart from being able to look for any flight information by airline, route, airline or flight number, you can look for flights more than three days in the past through the historical flight status.
There's also an option to see on-time performance reports, updates, and articles on any airline. Plus, there is a huge knowledge base on the subject of aviation which people might find interesting.
PROS
Easy-to-use website.
Various ways to find flight information.
CONS
Need to pay for flight alerts.
Not all features are free.
Mobile apps not available.
FlightAware is a comprehensive online flight tracker that provides several tracking alternatives. You can search for flights based on their origin and destination airports in addition to using the flight number of a specific flight to narrow your search.
This is helpful if you don't know the flight number or want to check all the flights coming at or departing from a specific airport. Several factors, including flight type, status, airline, departure and arrival days and times, alliance, and even the exact aircraft, can be used to filter the search results.
FlightAware can also show you delays and cancellations. Also, they have a tool named the MiseryMap that graphically shows delays vs. canceled flights.
Additionally, there is also a real-time live flight tracker for all planes in the air at the moment.
PROS
Various ways to find flight information.
Easy-to-use interface.
Flight email alerts are available.
Delays and cancellations information available.
Supports mobile app (Android and iOS).
CONS
Some features reserved for paid users.
Flightview is a flight tracker tool that lets you track as many flights as you want. Just enter the name of the airline or flight number and you will get all the available flights between different locations.
The tool also gives you additional information, like a list of closed airports (around the US only), airport parking charges, the weather around the airport, and an airport delay tracker for airports around the world.
Apart from the site, you can get Flightview on mobile, available for both Android and iOS. The app sends you notifications about your flight's status and if there are delays.
PROS
Live flight map available.
Flight email alerts are available.
CONS
The website overwhelmed with ads.
Unable to access the website if adblocker is turned on.
Lacks mobile apps.
Track arrival and departure information of any flight in real-time through FlightArrivals. You can search flight information by the airline, flight number, airport, or destination.
Other features include flight maps, aircraft information, seat map on specific aircraft, complete information on any airline, as well as airline, aircraft, or airport statistics.
PROS
Provides various ways to find flight information.
CONS
The website has many ads.
No mobile app.
The website does not support HTTPS.
The flight map does not refresh automatically.
AirNav RadarBox gives you flight information in real time. You can see information on any flight on the map or enter the particulars of a flight and get detailed information.
You can also buy an ADS-B receiver box in different variations and get its complete setup information. Plus, there is an API for developers to add it to any app or service and iOS and Android apps for users on mobile.
PROS
Easy-to-use interface.
Standalone page with more information about the specific flight.
Has mobile apps.
CONS
Only supports finding flight information through flight number.
Some features are locked, only for paid users.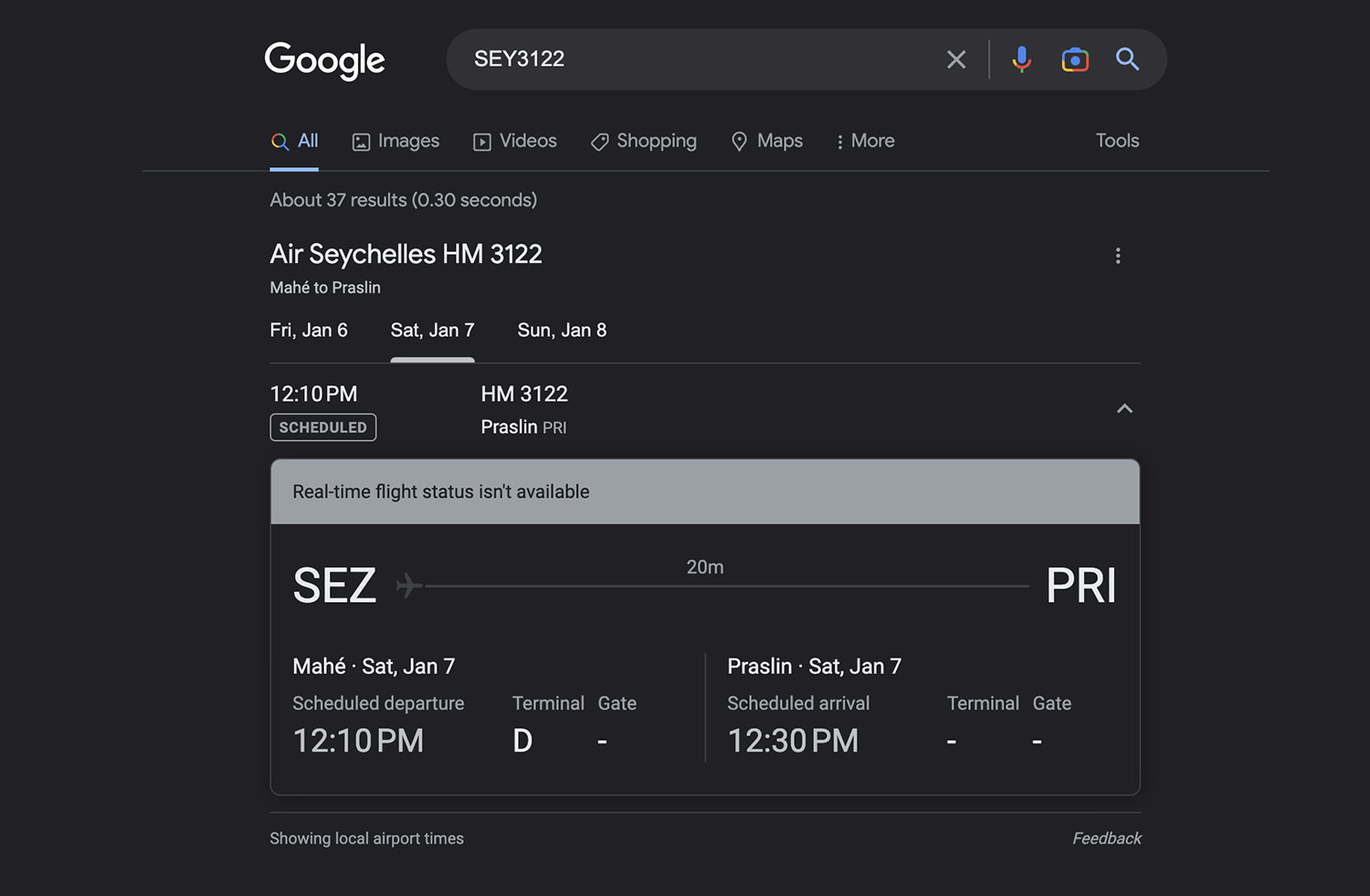 Through Google's flight tracker, you can look for information on any flight by entering its flight number, destination, or time. It provides information like when the flight is reaching and information on the arrival and departure airport.
However, the information that Google provides is obtained from other flight trackers, some of which are mentioned above.
PROS
Easy to use, and simple interface.
It is ads-free.
CONS
Does not come with a flight map.
Bonus: Track with iPhone or iOS
There's an option to track flight information through your iPhone as well. Just enter the flight number in iMessages and send it to yourself. Then click on the sent flight number, and you should be able to see its associated information.
This method of tracking flights through iMessages can help you get a lot of information on a particular flight, including arrival and departure times, flight duration, baggage claim information, and delays.
PROS
No need to depend on apps or websites.
Simple and easy-to-understand user interface.
CONS
Need to know the flight number beforehand.
Only works for Apple devices.