10 Firefox Add-ons For Safer Browsing Experience
Today's internet is no longer just a source of information and entertainment, but also a place of treachery and theft. Hackers, trojans, spam, and phishing scams are just some of the problems and dangers that exist on the World Wide Web.
But there is no need for this to stop us from fully utilizing the web. This is especially true for Firefox users who have an arsenal of great Firefox add-ons that can help ensure that their browsing experience remains protected.
Here are 10 Firefox add-ons (or plugins) that can help give you a better and safer browsing experience while on the Web.
HTTPS Everywhere is a project started by the Electronic Frontier Foundation, an organization that fights for your digital rights.
This tool will help secure your browsing experience by making the browser load the HTTPS version of any site you visit.
Under HTTPS mode, the data sent from your computer is SSL-encrypted, safe from prying eyes and man-in-the-middle attacks.
WOT stands for Web of Trust. It is an online community that aims to identify untrusted or spam websites and maintain a list of trusted websites.
The WOT plugin safeguards your online activity by informing you whether the website you are about to access is safe to visit or not. The plugin displays a trust meter for websites and search results, as well as warns you when you are about to access an untrusted or spam website.
You can contribute to the WOT community by rating websites you have visited and helping others browse safely.
As the name suggests, Adblock Plus blocks all types of advertisements shown on websites. Apart from being annoying and detrimental to the user experience, ads, when misplaced or misused, can also track your online activities by locking down the links you click or visit.
However, if you stop these ads from showing on all the websites you visit, your favorite sites will stop receiving ad revenue and lose their financial backing to keep the site running.
The solution provided is that you can allow non-intrusive ads that you don't find annoying to continue showing with Adblock Plus, while avoiding ads from, for example, malware-spreading websites.
NoScript is a powerful add-on for Firefox that allows you to block JavaScript, Java, Flash, and other executable content present on the web pages you visit.
You can create a whitelist and allow some trusted websites (such as your home-banking website) to run executable content on the browser.
By blocking executable content on unknown websites, this plugin protects you against cross-site scripting attacks (XSS), cross-zone DNS rebinding or CSRF attacks (router hacking), and Clickjacking attempts.
Websites on the whitelist are allowed to run content, which will enable you to browse your favorite websites without any problems.
Ghostery is a useful add-on for protecting your privacy and online activities from being tracked, particularly by advertising companies who are interested in obtaining information about you for marketing purposes.
Ghostery scans the web page and detects trackers, web bugs, pixels, and beacons.
After identifying who is tracking you, Ghostery will give you options to learn more about these companies.
It provides links to their Privacy Policy and opt-out options. With Ghostery, you can also block scripts from companies you do not trust, delete LSOs, and block images and iFrames.
Privacy Badger is a helpful plugin that sniffs out websites that secretly track your activities on the Internet and blocks them.
Once you install this plugin, you do not need to provide a list of websites to block. Instead, it automatically identifies and blocks websites that may be tracking you online.
In addition to tracing and blocking privacy-invasive websites, the plugin removes any link clicks that may track you down to your Facebook or Google account, keeping your digital footprint private.
If you're concerned about advertisers and corporations tracking your online activities for their own use, then Privacy Possum may be helpful to you.
It blocks websites and blogs from tracing you through common commercial tracking methods such as cookies and digital phenotyping.
Privacy Possum is a reliable plugin that works by reducing and falsifying the data that advertisers and search engines may gather on you, ensuring that your online activities remain private.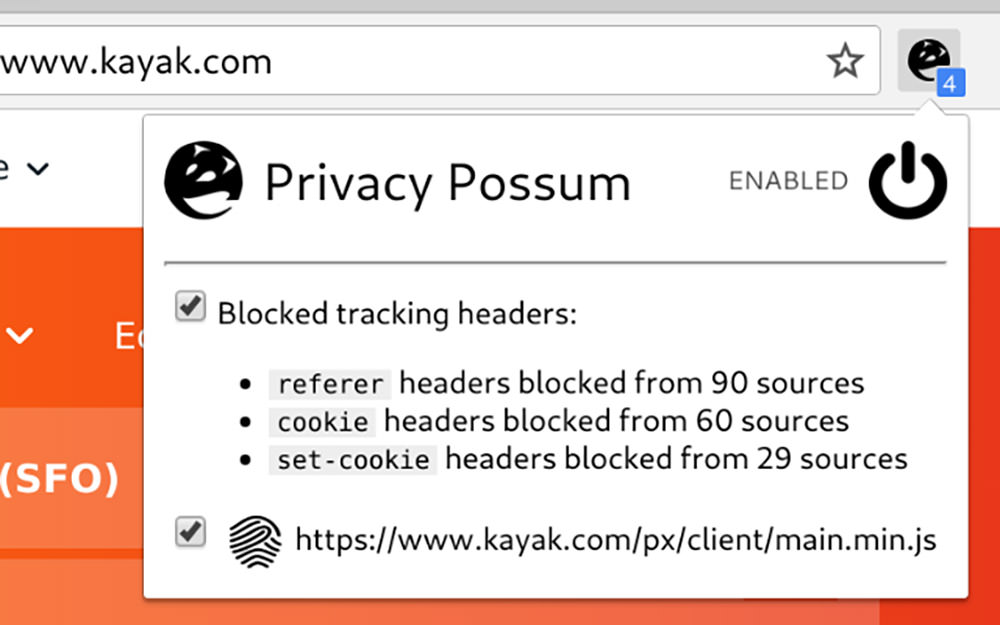 Take control of your online privacy with DuckDuckGo Privacy Essentials. It is an intelligent plugin that allows you to trace and block any and all websites that track what you're doing online.
The plugin provides you with the privacy essentials for your online presence. It keeps you safe from tracking by using smart encryption and tracker blocking, so your personal information remains personal.
If you're annoyed by frequent captcha challenges to legitimize yourself as a user, then take help from Privacy Pass. It is a useful add-on that allows you to bypass filling out captchas and other internet challenges to access a website or service.
The add-on significantly reduces the number of captchas displayed to the online user. This is especially helpful for users who use VPNs or who are assigned an IP address with a bad track record.
Bookmarks add a lot to your productivity when using a browser, but they also need privacy protection. The Private Bookmarks plugin provides this privacy to your bookmarks folder in the browser.
You can encrypt your private bookmarks with a password that you can lock and unlock whenever you like. You can also add or delete any of the private bookmarks.
However, by default, the private bookmarks can only be accessed in the private browsing mode (this can be changed in the settings).