Find User Interface Design Inspiration with UIDB
Free inspiration gallery with different types of UI element including logins, pricing tables or dashboards etc.
With thousands of inspiration galleries online there are plenty of sites to gather ideas. But not all galleries let you search by interface elements like forms, logins, pricing tables, or dashboard UIs.
That's where UIDB stands out. It's a free inspiration gallery focused on types of interfaces with a category for almost everything.
You can browse through web UIs for user onboarding, custom account pages, "meet the team" pages and a whole lot more.
Read Also: Find Daily Interface Design Inspiration with Collect UI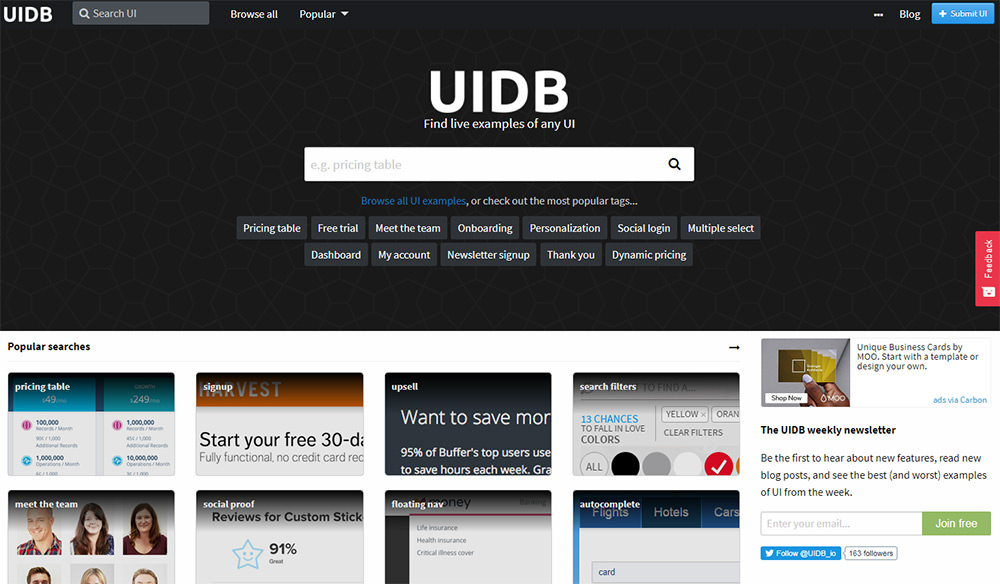 From the homepage, you'll find a search bar in the top-left corner. Start typing anything you want and the search suggestion field should appear with related keywords of popular categories.
Let's say we're looking for design ideas for an FAQ page. In the search bar type "faq" and click on the suggested result.
You can then browse FAQ interfaces from all kinds of websites. Super easy to do and you'll even find suggested interface elements in the left-hand sidebar.
Many of these suggestions are common UI elements that designers use frequently.
Modals.
Gallery filters.
Autocompletes.
Search pages.
Admin dashboards.
Retail product pages.
The majority of the content in UIDB covers website design with ideas for single page layouts and more complex layouts.
Click any of the search results to see a larger screenshot of the page UI with a link to visit the example online.
Most of the time the live page has either moved or been totally redesigned. But the full-screen preview is large enough to study and gather ideas for your own projects.
Take a look at the main site and see what you think! You can also submit a UI request to add something into the gallery, or you can share your thoughts directly with the team @UIDB_io.