15 Best Products to Dropship in Australia
Dropshipping has much potential in the Australian market. Of course, there are some pros and cons of dropshipping in Australia, but if you know the right dropshipping suppliers and products, it can be turned into a profitable business.
So in this post, we are listing top products to dropship in Australia. You can read about the detail of each product and certain useful tips in the following.
Here, we'll uncover the best product ideas for dropship in Australia. Here are the top 15 products that will help us achieve substantial sales:
1. Pool Floaties
As versatile products, pool floaties are perfect for outdoor fun or therapeutic exercise. When dropshipping this item, ensure to offer fun styles and designs, such as donuts, unicorns, playhouses, and more. Of course, remember to sell variations fit for all ages and genders in your Australian dropshipping stores.
2. Double Sided Tape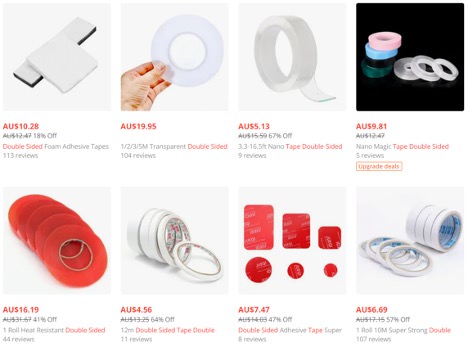 Double-sided tape is a simple yet functional item that deserves a spot in our dropshipping product catalog. As an all-around adhesive, double-sided tapes come in different thicknesses, colors, and types. Also, some variations come with holders or dispensers for more convenient use.
3. Seamless Sports Leggings
Next up, seamless sports leggings are in-demand, finding the best dropshipping product to sell in the Australian market. This item is available in several sizes and colors, fit for every customer's needs. With a wide range of varieties, like nylon, spandex, and polyester, we'll surely rake in sales selling this item.
4. Cable Clips Organizer
Another valuable product to dropship in Australia is the cable clips organizer. Essentially, this item comes in different capacities, colors, and designs. In addition, variations of the organizer include self-adhesive, screwed, or clip-on.
5. Heavy Duty Outdoor Australian Flag
Many people love to support their motherland, and Australians are no different! That's why, many customers will flock to our stores to buy a heavy-duty outdoor Australian flag to proudly hang on their front porches. So, we can offer flags in different sizes and durable materials for our Australian mates.
6. Handheld Bidet Sprayer
Another top product to dropship is the handheld bidet sprayer. This item comes in many styles and designs to fit any washroom interior. Moreover, consider bidet sprayers that have adjustable water pressures and temperatures.
7. Inflatable Camping Pillow
Notably, the inflatable camping pillow is a versatile item to dropship in Australia. As an outdoor must-have, we can sell pillows in different sizes, shapes, colors, and designs. In addition, we should sell easy-to-clean, moisture-proof, and durable camping pillows.
8. Neck & Shoulder Relaxer
As a trending dropshipping item in Australia, the neck and shoulder relaxer helps release muscle tension and ease body pain. This ergonomic item comes in several designs and colors, depending on our customer preferences.
Moreover, some variations have adjustable massage options that offer comfort and relief to users.
9. Digital Indoor Thermometer
To ensure a controlled room temperature, a digital indoor thermometer is a must-have. When selling this item, we can offer battery-operated or electricity-connected types. In addition, we should include remote-controlled or touchscreen options in our dropshipping stores in Australia.
10. Indoor Hydroponics Growing System
What could be better than a natural air source, even indoors? With the indoor hydroponics growing system, our customers can build indoor gardens while enjoying the fresh air. When selling this item, offer different styles and sizes that fit any indoor setting.
11. Surfboard Bike Carrier
With the surfboard bike carrier, surfers and beach enthusiasts can conveniently transport surfboards anywhere and anytime. So, remember to offer varying choices, including rear-mounted, side-mounted, and trailer carrier types.
Also, we need to consider different sizes of carriers suitable for all kinds of bikes and surfboards.
12. Swimming Goggles
Undoubtedly, swimming goggles are the top dropshipping product choices in Australia. When selling this item, include options with adjustable and snug-fit straps. Furthermore, we should offer different designs and sizes for all types of swimmers.
13. Milk Frother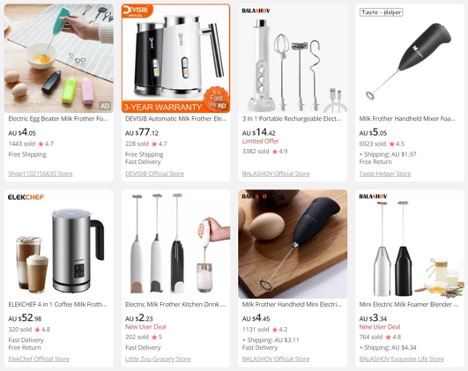 Typically, a milk frother helps add flavor and texture to coffee, making it one of the highly demanded products to dropship in Australia. Moreover, a milk frother generally comes in handheld, electric, multipurpose, and manual options.
Besides that, we need to sell food-grade and dishwasher-safe milk frothers for the safety of users.
14. Quick Dry Sport Towel
Interestingly, the quick-dry sports towel helps maintain the heat while drying out moisture from the body.
This top-selling dropshipping item in Australia can be made of skin-friendly fabric, such as polyester and microfiber. Thus, remember to add towels in different sizes, prints, colors, shapes, and thicknesses when offering this item.
15. Long Sleeve Wetsuit
Providing thermal protection while wet, the long-sleeve wetsuit is a trending item in the Australian dropshipping market. To maximize our sales, we must offer wetsuits that come in different sizes and designs. When selling this item, ensure to add soft, flexible, insulating, salt-resistant, and ultraviolet ray-protected variations.