How to Download Instagram Stories to Your Device (4 Ways)
Download Instagram stories with 4 easy methods, including archiving, screenshots, online tools, and iOS shortcuts.
Instagram Stories, distinct from Reels, are pieces of content you can share on your Instagram profile that remain visible for 24 hours and can be seen by your followers or anyone who visits your profile. There may be times when you create a story without saving a copy, or you come across an engaging story that you'd like to download. But how exactly do you download an Instagram story?
This guide will walk you through few methods for downloading Instagram stories, whether you want to save them for future reference or share them with your friends.
Note: Stories shared on Instagram belong to the original poster and should not be used for unauthorized purposes. This guide is solely for educational purposes, teaching you how to download stories. We do not endorse any illegal activities involving the use of others' Instagram stories.
1. Find Your Instagram Stories Inside the Archive
Whenever you share a story on Instagram, it doesn't get deleted after 24 hours. Instead, it's stored in a special place known as the archive, organized by the date of posting. This feature allows you to revisit your past stories or download them to your device.
To download your old Instagram stories, follow these steps.
Navigate to your profile page and tap the '3-line icon' located at the top right.
Select 'Archive' from the dropdown menu.
Ensure that 'Stories Archive' is selected.
The stories here are sorted chronologically by date. To download a specific story, tap into it, then tap the triple dot button on the bottom right and then select 'Save photo'.
2. Screenshot Them
Now, what if you want to download Instagram stories from others? Well, the simplest way would be to take a screenshot.
Taking a screenshot works well for static image stories, but to capture an Instagram story that includes video and music, you may need to screen record it. Both Android and iOS come with a native screen recording feature, so it's not necessary to download and use a separate screen recording app.
3. Use an Online Service
You can also use an online tool to download or save an Instagram story. This typically means you will need to get the story's URL, paste it on the said service's website, and then click a download button to save it to your device.
Navigate to the story, tap the 'Share' icon located at the bottom right and then Select the 'Copy Link' option.
Once you've copied the link, visit one of the online tools listed below. Paste the link and follow the on-site instructions to download the Instagram story.
Once more, it's important to remember that if the Instagram story doesn't belong to you, refrain from engaging in any unlawful activities such as disseminating or sharing it in a way that could violate someone else's copyright.
4. Download Using an iOS Shortcut
Finally, there's an incredibly handy method for downloading any Instagram story of your choice, provided you're an iPhone user. All it requires is a one-time setup of an iOS shortcut, which then enables you to do just that.
Check out our tutorial on setting up this shortcut.
After the shortcut has been created, simply tap the 'Share' icon.
Next, select 'R Download' from the options.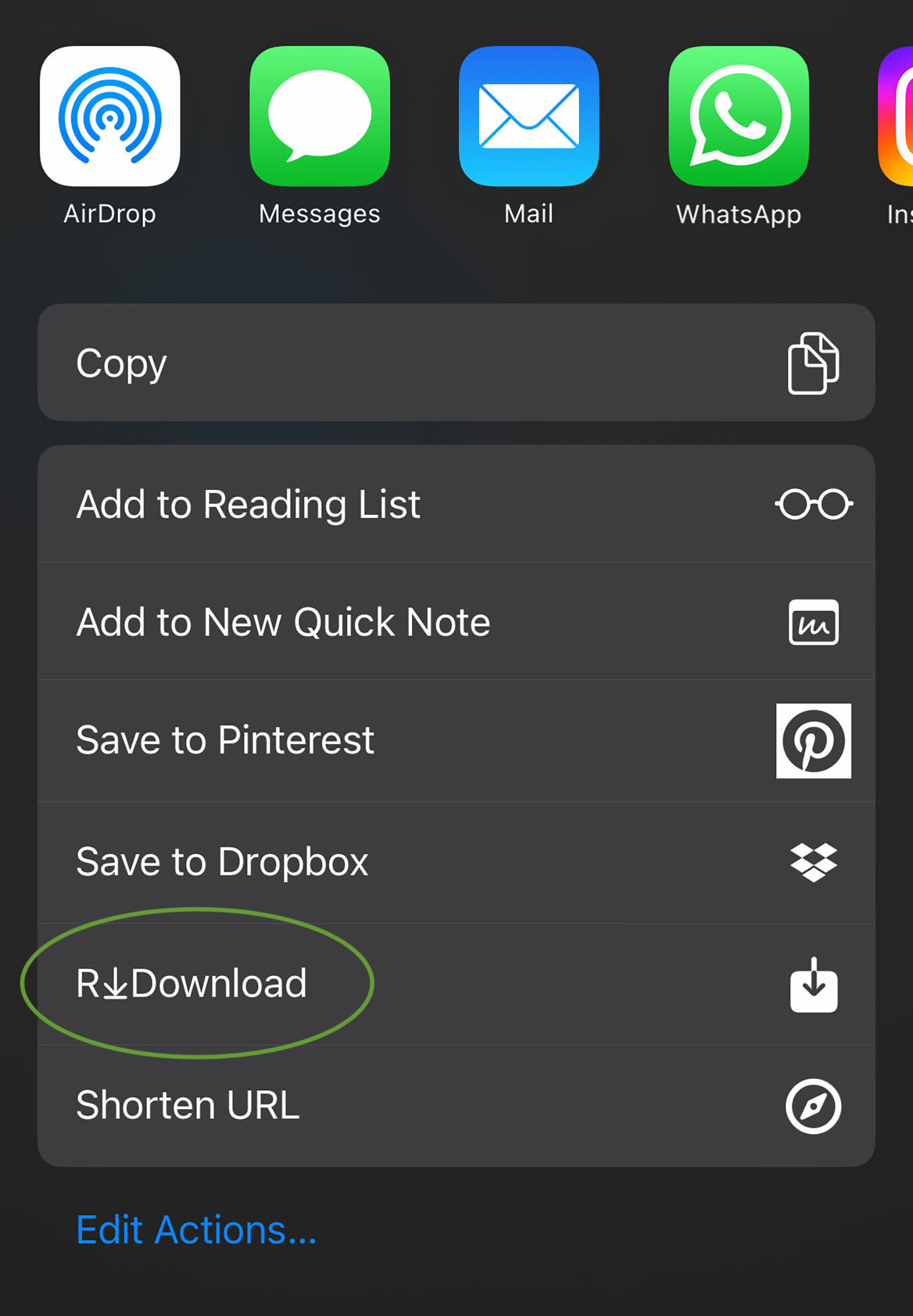 The Instagram story will then be stored inside your Photo Album.