10 Tips & Tricks to Setup And Customize Microsoft Surface RT
Once you get it out of the box, you need only do a handful of things to set up your Microsoft Surface RT: select a language, accept the terms and conditions, name your device, connect to your home Wi-Fi and tweak some privacy settings. After going through this 'welcome process', you'll be able to start using your device.
It's likely that Windows RT is a whole new experience for you so we figured that you might like some tips and tricks to get you started. If you are interested in the swipes and gestures bit, take a look at our earlier post on A Guide To Windows 8 Metro Start Page Navigation before checking out how you can setup and personalize your Surface RT.
Surface RT Setup & Personalization
Here's a few things to get you started on using your Surface RT.
1. Update Windows And Apps
First and foremost, you should update Windows and the apps that are pre-installed into the system.
To update Windows, go toCharms Menu > Settings > Change PC settings. Scroll to the bottom and you'll see Windows Update, download and install the updates and restart the device if prompted to.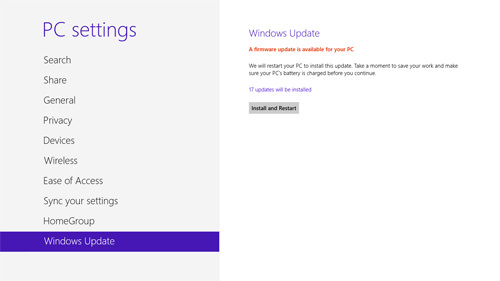 To update pre-installed apps, go to the Store app and tap on the green word, Update at the top right corner.
2. Easier Login With PIN
Since the Surface RT is linked to a Microsoft account, you'll have to input your account password to unlock the device. Your preferences linked to the account will be synced into your Surface tablet. You will be prompted for the same password every time you want to use your device, but ther eis the option to set a 4-number PIN lock as a login.
To do this, open the Charms Menu > Settings > Change PC Settings > Users > Sign-in options > Create a PIN.
3. Enhance Security With Picture Password
If you think the 4-number PIN is not secure enough, then you can try the new 'Picture Password' as a way to unlock your device. You'll find it at the same place you used to create a PIN, or just follow this path: Charms Menu > Settings > Change PC Settings > Users > Sign-in options > Create a picture password.
It will then take you through the steps and show you the gestures you can use to create a Picture Password. Do note that you have to use your own picture and not one that is available within the device.
4. Setup Your Personal E-Mail Account
By default, the Mail app will show emails from whatever email address you used to log in. If this is not your main email address, you can use other accounts from Hotmail, Outlook, Google or your own domain.
To add an account, open the Mail app and then activate the Charms Menu > Settings. Then tap on Accounts. You will see Add an account on the right sidebar.
If you don't want emails from your Microsoft account to be displayed on the live tiles, you can open the Charms Menu > Settings > Accounts, tap on the email account you do not want shown, and untick 'Email' under Content to sync.
5. Choose Modern UI Color Schemes
Don't like the color scheme you are dealt with? Good news, you can change the color scheme and the background design of the Modern UI. Open the Charms Menu > Settings > Change PC settings > Personalize to pick a different color scheme.
You can also change the lock screen picture here.
6. Managing Modern UI Tiles
You would probably prefer one app over the other, so it makes sense to personalise your tiles to reflect that rank of importance. Rearrange your app tiles by tapping and holding a tile to move it around.
The tiles can be made bigger or smaller to suit your personal needs, but note that smaller live tiles will display less information. If, however, you don't want your information to be showing on the tiles, you can disable this temporarily via Charms Menu > Settings > Tiles then tap on Clear.
7. Naming your UI Tiles
You can also name groups of tiles by pinching with 2 fingers to zoom out of the Modern UI view. Flick downwards on any of the groups to bring up the menu on the bottom (or right click on your mouse). Tap on Name group and throw in a cool name, click Name and repeat for all other groups that need renaming.
8. Share Photos
To share photos or screenshots through the Photos app, select the photo and bring out the Charms Menu > Share. From there, you can share it by Email, upload it to SkyDrive or through other apps that support in-built sharing.
9. Enable Faster App Switching Multitasking
Swiping in from the left edge of the screen will show the multitasking bar, where you see all your recently used apps. However, you can set this gesture to take you directly to the last app you were using.
To do this, open the Charms Menu > Settings > Change PC Settings > General and under App switching, turn on the second option.
To show the multitasking bar when this option is enabled, swipe inwards from the left edge of the display then swipe back to the left.
10. Social Integration
The People app is a great way to receive multiple feeds of your social networks simultaneously. You can connect your Facebook, Twitter and LinkedIn accounts to see your feed.
Add your Hotmail, Outlook or Google account by going to the 'People' app and following the path: Charms Menu > Settings > Accounts > Add an account. Sign in to have your contacts transferred over.
There is also the native 'Messaging' app which not only connects to contacts linked to your Microsoft account; it can also connect to Facebook chat which allows you to receive chat notifications and reply straight to the to the chat thread.
To set this up, go to the Messaging app and open the Charms Menu > Settings > Accounts > Add an account and login with your Facebook details.