Microsoft Surface with Windows RT (Review)
This article was first published on: Dec 29, 2012
2012 is ending with a bang… when it comes to tablets. For one thing, many new tablets are making its way into (or are already in) the market, tablets such as the Nexus 7 (32GB with data), Nexus 10 and Apple's iPad Mini. One of the most publicized tablets of the year is none other than the Microsoft Surface tablet.
In the past, Bill Gates had introduced the Tablet PC or Slate which had little impact in the tech consumer industry back then, but luckily for Microsoft, Surface is doing way better than its predecessors. The Microsoft Surface tablet has been catching a lot of media attention, together with the Windows 8 launching. And it's about time we took the Surface for a spin.
This review will cover the Microsoft Surface with Windows RT in terms of design, hardware, operating system, ease of setup and price.
A Kickstand With 22 Degree Edges
The Microsoft Surface is probably the only tablet that comes with a built-in kickstand; unlike other tablets where you'll have to buy a separate case or stand to make it sit on your table top.
This study kickstand is much like that hinge that connects a laptop's body to its screen. Having it built-in signifies a need for the Surface to be used on a table top together with its Touch Cover keyboard available in 5 different colours.
But when you take leave from the desk and puts in on your lap, that's when things start getting awkward. The kickstand puts Surface at an awkward angle. While in landscape mode, the keys on the keyboard are too far apart, and honestly, it is too long and bulky to be held in portrait mode. Not very good news for something built for mobile users.
However, it makes up for this with a lot of other features. It is the first tablet to be built with a magnesium alloy back, which makes it only 1.5 lbs light in spite of its size, and the edges are angled – unlike the more common curved sides we see in tablets – for a better grip.
The kickstand places the tablet at a 22-degree angle view, but its back camera is also adjusted 22 degrees so that at rest, the camera feed does not look angled or need further adjustments.
Hardware Design
The new Windows 8 logo at the front is upright when the kickstand is flipped out; it also acts as a capacitive Start button that vibrates when touched. You'll find the power button and 2 microphones on top, a volume rocker on the left together with a 3.5mm headphone jack and left speaker.
On the right, there's a full-sized USB 2.0, micro HDMI out, right speaker and magnetic charging outlet. The micro SDXC card slot is also located on the right but hidden behind the kickstand.
At the bottom there is the Cover Port that at this time only works with its Touch Cover keyboard.
So is it a tablet or a laptop PC, a tabtop maybe? We feel that it will solely be used on a table top more than on your lap or in bed. In terms of design, it is clean and minimalistic and it looks great with our black Touch Cover.
USB 2.0, 16:9 Display & Quad-Core Processing
It's good to see a full-sized USB 2.0 port on this tablet which gives it access to plug-and-play devices and flash drives. We tried using a cheap 4-port USB hub on the Surface and it was able to power a mechanical keyboard, Logitech G400 optical mouse and a SanDisk 16GB Cruzer Blade flash drive. It doesn't work with an external hard drive though.
The USB port also works with plug-and-play wireless devices like Logitech's M950 Performance mouse that comes with a Unifying USB Receiver that can power up to 6 Logitech devices. However, we cannot confirm that it will work with more than one wireless Logitech device other than the M950.
Its 16:9 ClearType HD Display only flaunts a 1366×768 resolution, the same screen resolution found in many entry level laptop displays. Although the Surface is not comparable with a Retina display iPad, the colors and clarity is (surprisingly) great when viewed at a 'table top' distance.
| | | |
| --- | --- | --- |
| Tablet | Resolution | Display Size (Inch) |
| Microsoft Surface | 1366×768 | 10.6 |
| iPad with Retina Display | 2048×1536 | 9.7 |
| Nexus 10 | 2560×1600 | 10 |
| iPad Mini | 1024×768 | 7.9 |
| Nexus 7 | 1280×800 | 7 |
It's front and back cameras are marketed on their website as 720p HD LifeCams but are really just 1 mega-pixel cameras. This results in low quality images, but are good enough for basic video conferencing. We doubt you'll want to hold its massive frame 172 x 274.5 x 9.4mm to take scenic photos anyway.
Finally, there is the very thin Touch Cover keyboard. The thickness of the keyboard is made possible by having the keys only slightly raised from the keyboard surface. Every registered stroke releases key tap sounds you hear from the speakers and nothing else from the keyboard which leaves plenty of room for typos. At times, we had to hit the same key more than once for the stroke to register. This will get some getting used to.
The touchpad has swipe gestures, a great step up for easy scrolling: double-finger tap for right clicks; double-finger swipes for scrolling. Alternatively, you can tap on the area below the touchpad to simulate left and right clicks.
Besides being a keyboard, the Touch Cover puts the tablet to sleep when it covers the screen and wakes it up when you 'open' the cover. The Touch Cover can also detect if you're using the keyboard, and if you are, the on-screen keyboard won't be shown.
Windows 8 RT Experience
Windows 8 is built for touchscreens and utilizes a lot of gestures. Expect a lot of swipe-enabled features coming up.
Unlike other operating systems where you would tap on a Gear icon to go to the settings, on Windows 8, you swipe in from the right to open the Charms menu where you can search, share, view app settings and device settings (brightness, Wi-Fi, power).
Swiping in from the left lets you multitask and shows apps you recently opened as well as lets you switch to the previous app (enable in settings).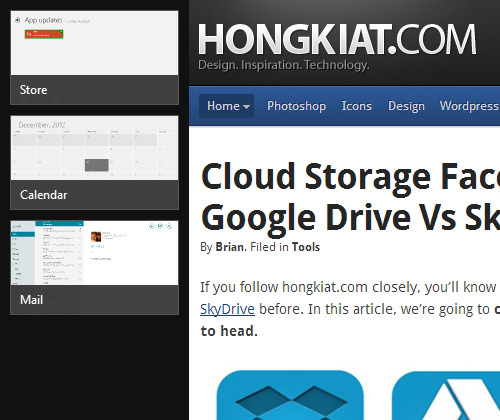 Swiping in from the top or bottom shows the address bar and tabs in Internet Explorer. Swiping from the top all the way to the bottom also allows you to close an app, removing it from multitasking entirely.
The apps that came with the Surface work smoothly with it's Quad-core NVIDIA Tegra 3 processor and 2GB RAM. Pinching and zooming in on webpages respond quickly with no sort of lag.
Multitasking between apps is also smooth with no animation jerks and there is no performance issues when using the multitasking method Windows have incorporated in its operating system.
To set things straight, Windows 8 RT is not the Windows 8 you might find on a PC as RT is built for ARM processors. At this moment, the only programs you can run on the desktop of RT are Internet Explorer, and Microsoft Office Previews of Word, Excel, PowerPoint and OneNote (Paint and Notepad too).
Programs that work on Windows 8 Pro will not work on Windows 8 RT; so you won't be able to install the classic Windows Start Menu replacement or customize the Modern UI like you can on your desktop.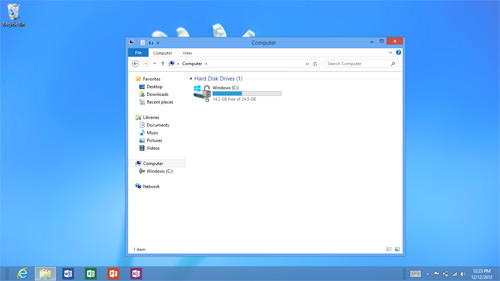 Instead, you would find yourself using the Modern UI, (aka the new Windows 8 Start Menu aka formerly known as Metro UI). On the Modern UI, you can install apps found in the Windows Store which, we're sad to report at the moment, is limited to very few apps. Microsoft says there are more on the way.
In terms of file support, common document files like PDF, TXT; movie files like AVI, MP4, WMV, and common music and image files are supported. Any file not supported by apps found on the device will prompt you to search the Windows Store for a supported app.
As for a simple battery test, playing a 1080p movie from a 2.5-inch external hard drive with full volume and brightness for 20 minutes resulted in a 9% battery drop.
Ease Of Setup And Syncing
If you're an existing Windows 8 for PC user, all your settings for the Windows 8 Calendar, People, Mail apps and SkyDrive files will be synced the moment you login with your Windows account, which takes your desktop experience right into your brand new Surface in a matter of seconds.
If you're not using Windows 8 yet, you won't benefit from this ease of syncing.
Heavyweight Price For A Tablet/PC
Surface with Windows RT starts at $499 for a 32GB model, adding $100 to that gets you a Touch Cover, but if you add another $100 and you cab get a 64GB model with Touch Cover. Here's a tablet to put the price range into perspective.
| | |
| --- | --- |
| Tablet | Price |
| Microsoft Surface (with Touch Cover) | $599 |
| iPad with Retina Display | $599 |
| Nexus 10 | $499 |
| iPad Mini | $429 |
| Nexus 7 | $249 |
For the average user, 32GB should be sufficient as you can just add a microSD card for more storage or use SkyDrive cloud storage. However, take note that the 32GB model, unboxed only has 16GB of free space; the rest of it is taken up by Windows RT, the pre-loaded apps, and the restore feature found in Surface. Unlike iPads where you have to download the new iOS file from iTunes, the Surface allows you to restore factory settings without bypassing a desktop first.
Final Thoughts
Many people in the corporate world use Microsoft Office products, mainly Word, Excel and PowerPoint. An Android or iOS tablet might not be a laptop replacement for travelling as you need to rely on third party apps to open and edit Microsoft Office documents. In situations like this, the Surface with Windows RT comes in handy. It is preloaded with the still necessary Microsoft Office products to open, edit or present your documents.
The protective cover is a keyboard and it has a full-sized USB 2.0 port which makes transferring files to clients hassle-free via USB flash drive. Then there is the Micro HDMI port, with a compatible cable, which makes it easier to connect your presentations to projectors.
Other than these benefits, it definitely won't keep a child as occupied as an iPad or Android tablet would. The lack of engaging and necessary apps (by today's standards) in the Microsoft Store is also a big drawback.
Summary
Here's a final summary of our Microsoft Surface with Windows RT review:
Pros
Easy setup and syncing for Windows 8 users
2-in-1 protection Touch Cover and keyboard
Microsoft Office products pre-installed
USB 2.0, micro HDMI and micro SDXC slot
Cons
Windows RT limitations
App store needs repopulation
Pricey for 16GB storage, despite 32GB label
Not for entertaining kids