20 Creative Ideas to Make Use of Spaces Under Staircase
Fans of the Harry Potter saga would know that he slept in a room under the stairs, a place where normal folks use as closet space. As these 20 examples will show you, there is more than one way to use the space under the stairs, and while they are not to house a teen wizard, that space, no matter how little, can be put to more practical use.
You can reinvent it as a place for reading, storage, work or a quiet nap (with an excellent view). There are surely more great ways to save space in the home and if you know more of these inspiring ideas, let us know.
More related posts:
Green Urban Housing in Philadelphia
Have no room to keep your bicycles outside? Just hang them up under the staircase.
That's a nice place to chill out and read a book or two.
Source: Laurey W. Glenn.
Open Plan Living Space
Fancy a mini library? Just place a chair there and you have your own reading corner.
Source: Kia Sunda.
You can also put together a nice shelf for exotic things you get from your travels.
Source: Ehrlich Architects.
Copake Lake House
Here's one that has been turned into a small kitchen with a sink and shelves for tableware.
Source: Thom Filicia.
Twin Peaks
Here's another reading corner with a touch of motherly love. It also looks like a great spot to unwind (and for mom to hide from the kids).
Source: John K. Anderson Design.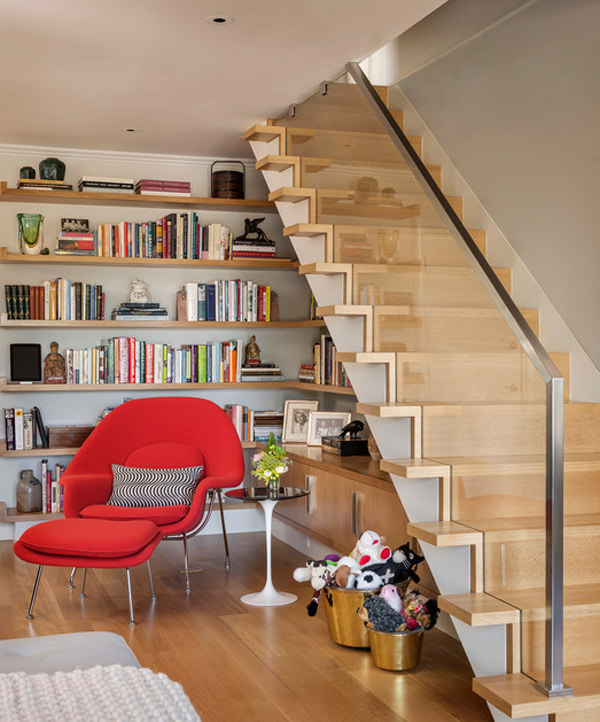 Add a window, a sofa and you have the perfect place to nap under the warmth of the sun.
Source: Rhodes Architecture + Light.
Aside from storing books, you can also use the space under the stairs to store wine bottles.
Source: Randal Kurt Photography.
Grant Park Interior Renovation
You can always choose to turn it into a study room or play room for the kids. At least the toys and lego bricks stay in there!
Source: Renewal Design-Build.
Put a few drawers in and you have places to store your umbrella, golf clubs, shoes, bags etc.
Source: Specht Harpman Architects.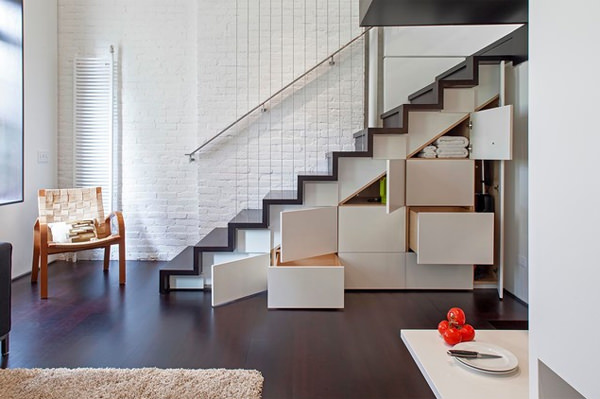 Home Desk
So long as nothing falls through the cracks between the steps, this home office idea is pretty cool.
Source: Hus & Hem.
One more home library under the stairs idea, this time with a comfortable reading spot near the window sill.
Source: Hand Werk.
The space under the stairs in some homes can be big enough to house not only a library but a whole living room. Perspective FTW.
Source: Fantastic Frank.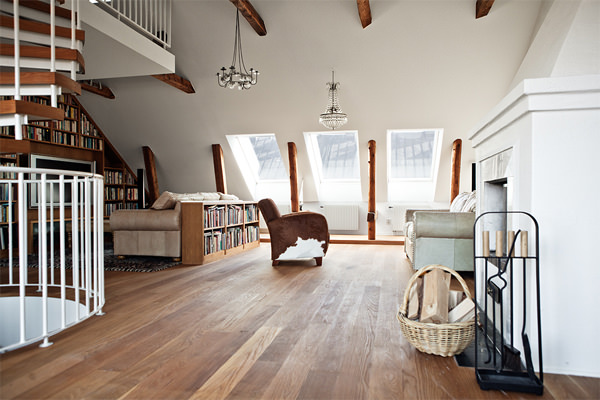 Need a spot to put the TV?
Source: Juliana Lahoz.
Waukesha Lower Level
For the bulk of the area, working sink; for the smaller wedges, wine!
Source: Brillo Home Improvements.
I'm not sure which came first, the storage spaces or the staircases.
Source: Scrafano Architects.
At the first glance this understairs niche seems to be a wall, but in fact it's a hidden storage. Love the detail they put on the doors to suit the staircase design.
Source: Billinkoff Architecture PLLC.
Annie Street House
This small office nook looks pretty cool and cozy to work, and get some quiet time to yourself.
Source: Tom Hurt.
A warm spot to marvel at the scenery (and snow) outside.
Source: John Maniscalco Architecture.
Harris Powder Roomdwell
Why waste the space when you can turn it into a powder room?
Source: Hugh Jefferson Randolph Architects.