60 Creative Public Awareness Ads That Make You Think
They Also Need Your Help
People with disabilities deserve concern and coverage equivalent to those given to endangered species.
They Don't Have A Childhood
You might be able to get them one.
They Will Pick It Up
It's not too late for you to realize that you can save an animal's life by not throwing rubbish everywhere.
We Can Help You
"Small problems may turn into big for senior citizens."
We Transform Sadness Into Hope
Sadness can always be transformed into hope, so don't give up. Creative, charming, positive.
What Goes Around Comes Around
Delicious? No? Then stop throwing rubbish into the sea.
What They Do Happens To Us
By blending 2 images into 1, we can actually see the consequences of pollution directly. Simple but effective!
When They Speak, We Listen
What should I say? Brilliant idea, impressive art, great execution. For sure this kind of advertisement is shared more often than less creative ones.
Workers Are Not Tools
What's the difference between a worker and a human? None, they deserve human rights too.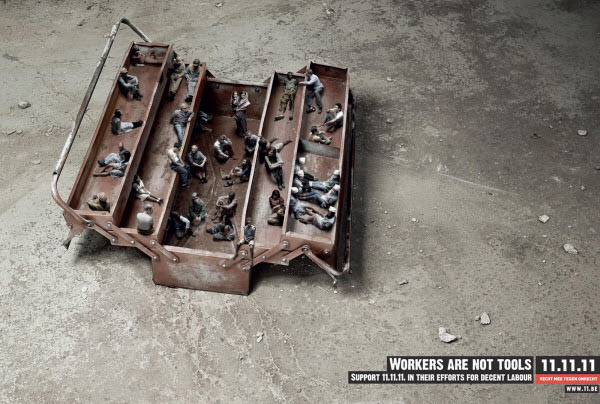 Worst Predator Comes From Land
And this is what we humans look like in the eyes of a sea animal.
Would You Care More If I was a Panda?
Every species on Earth should be loved equally, not just the cute ones.
You Can Help
The best way to let people know the situation is to let them see the truth.
Your Body Is Your Home
For smokers, direct visuals are the best way to persuade them.
Disclaimer: The advertisements listed in this post are handpicked directly from Ads of the World, all the credit goes to the site and the advertisement's respective creator(s). Our heartfelt thanks to all the creators who crafted these creative advertisements to good cause!
Reflection
I was quite surprised that there are so many things that I wasn't aware of, when it comes to what people who are living in the same world where we are are suffering through. For sure I learned a lot from these ads, and I think the best thing I have learned is to be graceful about my life. I hope you feel the same way too.
But gratefulness alone cannot save another life! So if you're willing, share this post or share these ads out! Let everybody know about it, and together we can bring hope and salvation to those who're experiencing difficulties. Be part of the solution, thank you.