60 Creative Public Awareness Ads That Make You Think
Life is More Thrilling Than Drugs
There is more to life than drug-induced ecstacy. You deserve to experience them, drug-free.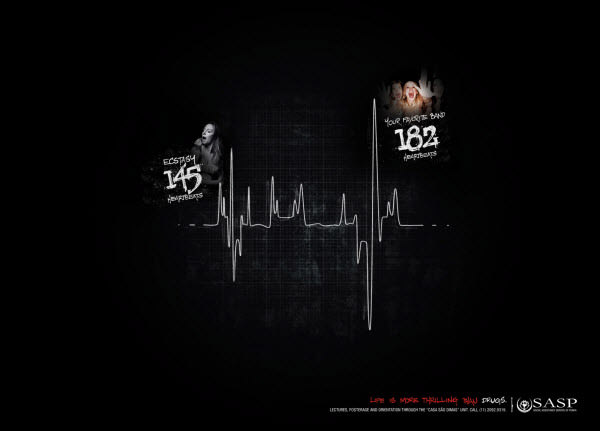 Liked Helping Terceira Island
The evolution of the thumbs up.
Many of Them Disappear Every Minute
15 square kilometer of rainforest disappears every minute.
Missing Children
The visuals are eye-catching but it was the words to the right of the tree that did it for me. If they are stil searching, there is always hope.
Nobody's Immune To Breast Cancer
When it comes to preventing breast cancer, even heroes need regular checkups.
Not What You Seem To Be
Is it just me that this guy looks like the T-Bag from Prison Break? Nevertheless a great piece for fraud awareness!
Nutrition Fact: 0 Gram
"The only thing he should lack is hunger."
Oceans Aren't The Only One In Danger
Karma remembers everything.
Organ Donor Saves
Nothing is greater than saving the people's life and giving them hope. Feel the gratitude on the woman's face.
Our Water Is Thirsty
Took a creative twist to achieved the message, but I will say that this a unique advertisement!
Preserve Your World
The environment is 'crying' out for help and all we do is keep hurting it.
Rebuild The Children
Realigning our priorities with this eye-opening advertisement; even if buildings fall, we should always be there to help rebuild the children.
Respect The Planet
Of course we won't ever think of vandalize such a beautiful creature, would we?
See You On The Road
Simple and straightforward idea, it works for me.
Seek Help
Schizophrenia can actually be treated; look out for the signs (or the people) and seek help.
Spending Christmas On The Streets
That's no Christmas gift. We can do better for them kids in the Phillipines, can't we, people?
Stop The Abuse
This is what animal looks like in those abusers' eyes. This ad is bound to break a dog-lover's heart.
The Earth Is Heating Up
Amusing or not, this advertisement drags a lot of attention!