20 Cool Gifts That'll Make Kids Go Bonkers
From computers to interactive digital toys, kids are getting acquainted with technology from an increasingly young age. These toys are becoming sophisticated gadgets that are dynamically changing the definition of fun. Why settle for a smartphone or tablet when there are hundreds of cool and educational gadgets you can get for that special kid in your life?
Take for instance the 20 creative gadgets featured in this post: there is a pen that draws in the air, a few cool drones, code-teaching robots, virtual reality glasses, a creative nightlight and an RC car that drives on walls! If you know of more great gift ideas for today's kids, let us know.
Drawing in 2D is so last century. The 3D Doodler actually lets you draw in the air, in 3D. It is the first 3D pen to use LED and real "ink". The ink is made from a material that hardens quickly when you shine UV light on it.
This gives the effect of a 3D drawing forming as you draw. It does however seem a little big for small hands.
KidiZoom is a VTech® camera that actually works. Kids can take pictures with its 1.3MP camera, and play with its lens with 4x digital zoom. The camera has 128MB of internal memory to play with and can capture 320 x 240 video, with animated borders.
To download the games off the camera just plug it to a computer. It also comes with photo-related games.
Why make snowballs by hand when you can have this blaster make them for you? Just add snow, close the lid and start shooting snowballs the size of softballs 80 feet out. Snowball fights just got real!
This small, ultra-stable and fiesty drone can accelerate up to 5.3 miles per hour and even jump up 2.5 feet. It's equipped with strong LED lights (great for exploring in the dark) and a wide angle live stream camera. If you practice enough, you might be able to make this minidrone perform acrobatic stunts. [$86.99]
Jabber is a toy that was created to be kicked, smashed, hit, and tossed. It's smart on the inside, but soft on the outside and can "talk".
Perfect for birthday parties and a great ice breaker for new groups.
Code while you play, play while you code — Hackaball is the gadget that embodies both. Program the ball to react with changing light colors, sound and or vibrations. Set programming rules for it to respond to, and invent your own group games
Hackaball also encourages children to be more physically active.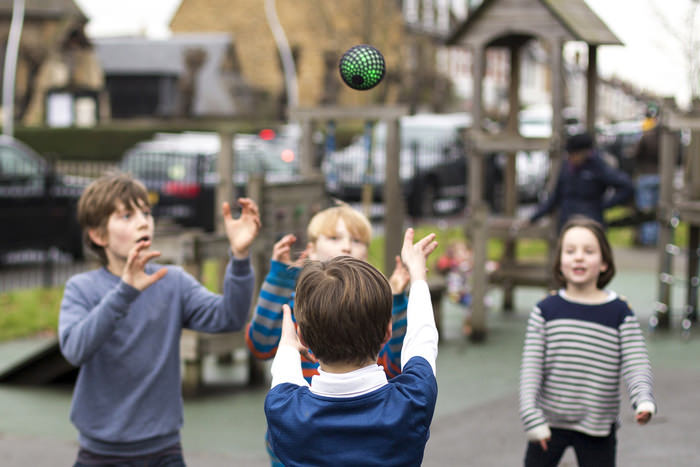 Musio (Â¥68,600)
Musio is a fun way for children to learn English without having to go through boring classroom lessons.
Musio is powered with an AI that learns your child's speech patterns, recognizes their faces, communicates with them, teaches them English, checks their grammar and pronunciation, and is even sensitive to emotions.
If you liked your View-Master when you were growing up, then perhaps your next generation will like this new version, upgraded with Virtual Reality.
Slide your Android or iOS smartphone in and immerse yourself in 360 degrees of virtual reality data provided by Google Cardboard places.
Another VTech® creation, this one is a like a simpler, kid-approved GoPro which can be mounted onto a bike or skateboard. It works underwater too.
This camera has a 1.4 inch color LCD screen and can take timelapse photos as well as stop-motion videos. It also comes with three fun games.
Children can start learning how to code at a very young age. This robot is designed to teach kids as young as 6 years old the fundamental rules of visual programming.
Users can program the robot to move whichever way they want or even turn it into an alarm clock, via the iOS or Android app.
This cool small drone with 6 propellers is equipped with special flying technology. Just throw it to fly it, and control it with its three-level intuitive controller. It has a 65 ft. control radius, and has bright LED lights for better navigation.
Flight time averages out to around 7 or 8 minutes. Recharging needs 15 minutes, done via USB charging cable.
Moff Band – Wearable Smart Toy ($51)
The Moff band helps fuel a child's imagination by providing sound effects while they play, simulating movement.
For instance, a kid can pick up a broom and start playing it like a guitar and the Moff smartwatch can play guitar sounds plus a cheering crowd in the background. It can be controlled with an iOS or Android smartphone.
This Wall Driving Car sucks. That's how it defies gravity and drives all over your walls, zooming past like a race car, only horizontally. Its traction technology lets it suck air under itself, providing a form of suction that keeps it clinging onto the wall.
The car is remote-controlled, and can drive on windows and ceiling as well. It runs on AA batteries.
If you're looking for headphones for children, these might be what you're looking for. Vibrantly colored, these headphones can be used by children as young as 3.
It has a restricted sensitivity of 89 dB, to prevent damage to the hearing of young children. It works with smartphones, MP3 players, LeapFrog series, gaming consoles and even airline entertainment units.
The Jamstik+ is a digital smart guitar with real strings and frets. It connects wirelessly to a smartphone, tablet or notebook and works with various music apps for beginners and pros alike.
You can see your finger placement on the screen as you play on JAMSTIK+. This helps you practice more effectively.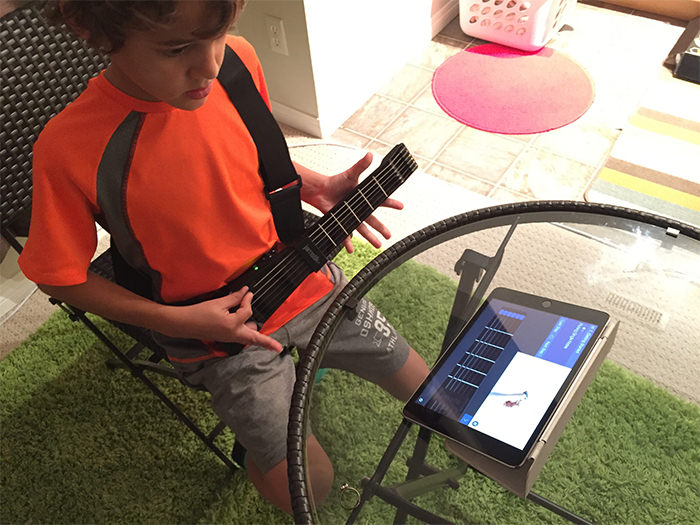 This game is a realistic simulation of racquetball but played entirely with a ball of light in a dark room. Play for 11 points an dbring home the cup in the Intergalactic Racquetball Game.
You can also play in solo mode if you like.
Kids love playing with sandcastles at the beach but this Polymer play sand lets you make sand castles right at home. It is soft and stretchy, and oozes and melts like a slow-moving liquid.
Best of all, it doesn't stick to you (or get everywhere) like wet sand does. The material is non-toxic and this is suitable for ages 5 and above.