8 Drones You Can Buy For Aerial Videography
The use of drones is increasing in popularity these days and they have many uses. The most common use though is for people to be able to capture beautiful aerial shots.
After all, they offer a different perspective to the keen individual. Whether you're thinking about experimenting with your photography or just want to try a different hobby, why not consider a drone?
There are plenty of factors to consider though such as usability and the quality of the picture. That's why we've helped you out and listed 8 drones that are capable of capturing images and videos here in this article.
From premium to entry-level drones, they have a different array of features too. And if you happen to own one, let us know what cool things you've done with it in the comments section.
20 Amazing Drones Shots
20 Amazing Drones Shots
Drones are perhaps the most innovative technologies of our times and the most useful tools for photographers. With... Read more
One of the most lightest drones in the market, DJI Mavic Air 2 excels in terms of powerful imagery and portability. Equipped with 1/2-inch image sensor, it captures crisp and enhanced photos, videos, and panorama shots in HD.
Mavic Air 2 gives an amazing fly time of 34 minutes (at max) with highly intelligent shooting functions for aerial photography and videography. Apart from that, you'll love its SmartPhoto feature that combines HyperLight and HDR function into one to give you an optimal imagery.
DJI Mavic 2 packs everything that you'd want in a small sized drone with powerful features. It boasts of an iconic image and video quality – thanks to the amazing Hasselblad camera – obstacle avoidance, and an ideal battery life for outdoor shoots.
Like all other drone in the Mavic family, it is compact and foldable. Also, it features the largest image sensor you'll ever find in drones of such compact size, giving you dynamic imagery. Though 8GB on internal memory is a bit low, however, in terms of design and performance, it's indeed a portable yet powerful drone.
Weighing less than 250g, DJI Mini 2 is lighter and more feature-filled than any other drone of this dimension in the market. Equipped with OcuSync video transmitter, this tiny camera supports up to 10 km of HD video transmission – very impressive for a drone with size.
One fo the most impressive attributes of DJI Mini are its powerful motors that give it more speed and stability in windy conditions. It is also very easy to operate so beginners can quickly get a grip on aerial photography/ videography and is quite power-efficient with 30 to 31 minutes of battery time.
If any of the DJI models don't work out for you, then Autel Evo II can be a good option. It rides itself for being the first consumer drone that offers 8K video for capturing dynamic imagery with 16 times more pixels compared to HD.
What impressed me the most is Autel Evo II's 360 degree obstacle avoidance feature that's achieved with 12-way vision sensors. Another great thing is that it comes with a built-in display screen that eliminates the need of phone or tablet. There's also a feature to convert your 2D pictures into 3D models using photogrammetry software.
As the name says, Power Egg X is a powerful egg-shaped drone with multiple features and modes. You can use it as a drone to capture aerial shots, gimbal-mounted, or as a handheld camcorder. It captures images and videos in 4K with great stability.
Power Egg X's best feature is its ability to land on and take off from water and also works in heavy rain, thanks to its amazing water-resistant housing. It is an AI-powered camera that can be controlled using hand gestures. How cool is that!
Here's a budget-friendly option for a reasonably feature-filled drone. Tello is a light and simple little drone for amateurs or someone who just wants to have fun photos and videos. It captures 5 MP photos and videos in 720 HD with a 13-minute flight time.
Tello also has stability sensors and a suitably tough plastic body to survive hits and tumbles. It has unto 100m WiFi range. What's more, there are some automated modes to do 360-rotations and it even does a flip as you swipe your finder across the screen.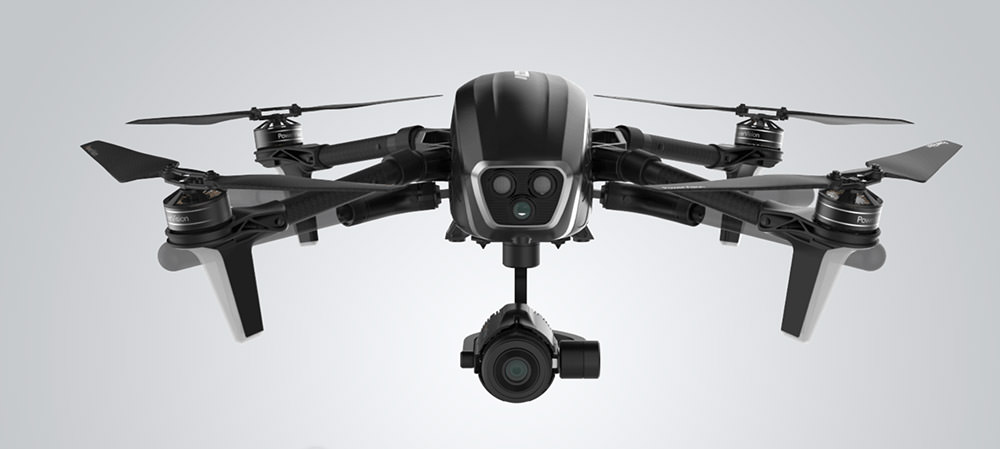 PowerVision PowerEye is an incredible professional Quadcopter that covers up most of your photography and videography needs. It features foldable rotors, 3 forward-facing cameras, and one main camera underneath to take artistic aerial shots.
PowerEye also features a number of obstacle sensors that keeps it from bumping into objects while filming. Moreover, its operating distance of 5 km and an altitude of 4 km is also quite impressive for taking memorable aerial shots of interesting surroundings.