Showcase of Creative Homemade Christmas Art and Crafts
Nothing takes you back to the past like Christmas does – the cakes, the dinners, the reunions, the Christmas trees and the presents. And nothing makes Christmas more traditional than homemade decorations, crafts, and gifts were done by hand with your family and relatives. What makes it special is that what you are making cannot be bought from the store shelves. Well, at least that's the concept of it.
Here is a list of some pretty amazing crafts and creations we've found; some of them can be bought (let's face it, not all of us are gifted in arts and crafts) or can serve as inspiration for your own custom-made creations. There are three sections: card designs, snowflake designs, and some kick-ass gingerbread creations you don't want to miss.
Creative Christmas Card Designs
Greeting cards are easy and fun to design. All you need is some paper, colored pens and creativity to put together a unique Christmas card. For geeks, well maybe these card designs can help.
#1
#2
#3
#4
#5
#6
#7
#8
#9
#10
#11
#12
#13
#14
#15
#16
#17
#18
#19
#20
#21
Creative Snowflake Cutouts
Here are some really creative and genius snowflake designs which you can DIY. Some of them also come with templates that you can print, fold and cut out yourself.
Doing this requires a pair of scissors and some steady hands you don't have until you enter adulthood so kids please ask an adult for help before you start doing this.
#1
#2
#3
#4
#5
#6
#7
#8
#9
#10
#11
#12
#13
#14
#15
#16
#17
#18
#19
#20
#21
#22
#23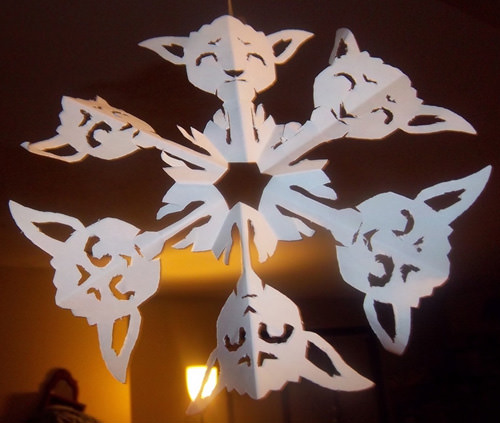 Awesome Gingerbread Creations
Moms and grandmothers, you're up! Some of these gingerbread creations are massive and complex; others give unbelievable attention to detail but that's not going to stop you from showering your kids and relatives with equally awesome creations of your own now, would it?
#1
#2
#3
#4
#5
#6
#7
#8
#9
#10
#11
#12
#13
#14
#15
#16
#17
#18
#19
#20
#21
#22
#23
#24
#25
#26