10 Beautifully Illustrated Children's Books Made For The iPad
Today, more and more kids are using iPads, and with the technological possibilities of the platform, books are now presented, read and interacted with in a much more active way. But with the many options now available there comes a sea of apps that parents have to wade through, and with no filter for quality, finding ones that are worthy of bedtime reading is a difficult task.
In truth, there is a handful of beautifully illustrated books that let kids discover the joy of storytelling. A great picture book comes as much from the written words as the illustrations that bring life to those words. I've put together my top 10 picks for kids book apps with illustrations that transform the words and story into reality.
Recommended Reading: 20 Beautiful Children's Book Cover Illustrations
Kids from 3 to 7 will love this story of a little boy named Harry and his sick monster. The illustrations have a cartoon style that is combined with heavy textures that draw attention to the adorable monster. ($2.99)
Author and Illustrator: Michael Bruza Publisher: Busy Bee Studios
Little Fox is a sing-along book fun for 2 to 6 year olds. Teach your kids classic songs such as London Bridge and Old Mac Donald Had A Farm with this musical app. Award winning illustrator Heidi Wittlinger's playful character designs are brought to life with heavy texture based illustrations and a paper cutout art style. ($2.99)
Illustrator: Heidi Wittlinger Publisher: Fox & Sheep
From award winning children's book author Oliver Jeffers comes a children's book for kids aged 2 to 8 about a curious little girl who takes delight in discovering new things. The mixture of traditional art mediums and digital illustrations create unique doodle-like, contemporary illustrations. ($5.99)
Author/Illustrator: Oliver Jeffers Publisher: HarperCollins Publishers Ltd
An adventure story about a little boy who dreams of being a superhero just like the ones from his favourite comic books. Great for kids aged 2 to 10 who want to be a little super. Fitz Fitzpatrick's bold style and saturated colours instantly grab attention. Fitz was disappointed by the lack of variety of the typography in kids books so he made it a focus when he created his own. ($2.99)
Author and Illustrator: Fitz Fitzpatrick Publisher: Storypanda Enterprises Inc.
(Disclaimer: The author of this article works for Storypanda Enterprises).
Teach your kids about accepting people's differences in this cute app for ages 3 to 7. Modern geometrical illustrations with clean vector lines make for a colourful, eye-popping experience. ($2.99)
Illustrator: OFFICE: Jason Schulte Design, Inc. Publisher: Wee Society LLC
A twist on the beloved classic, Mr. Wolf and the Ginger Cupcakes, is a story delight for 1 to 8 year olds. Lucia Mascuillo adds some edge to the classic fairytale look in her illustrations drawn with watercolour and pencil. ($2.99)
Illustrator: Lucia Mascuillo Publisher: BlueQuoll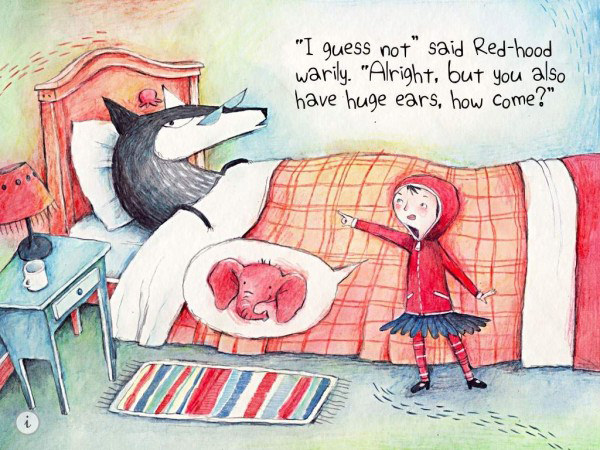 An award-winning app that brings the classic Cinderella story to life with exciting animations and original music. Kids aged 3 and up will love to play inside this story. The illustrations add to this modern version with a mix of realistic textures and paper cutout style illustrations. ($5.99)
Illustrations: Edward Bryan Publisher: Nosy Crow
A bedtime story for 2 to 10 year olds about a mole that is in need of a new home. Every time you take a journey with Sleepy Mole and burrow through the ground you will find different homes and meet new animals. This story has a more traditional look that comes from a combination of vector art and textures as well as saturated hues. ($2.99)
Illustrator: Melanie Matthews Publisher: StoryToys Entertainment Limited
Follow along as a slice of bread goes through a series of mishaps on his way to the beach. Kids from 2 to 10 will love to take part in this slice of bread's hunt for treasure! Glenn Melenhorst uses a painterly art style with 3D elements as well as photographs that contrast the illustrations. ($2.99)
Author and Illustrator: Glenn Melenhorst Publisher: Jelly Biscuits
Nash is a boy who loves to smash things, but finds himself in a sticky situation where he needs to use his smashing ways for good. Nash Smasher is an interactive book for ages 1 to 10. This old school pop-up picture book takes an art style reference from the 1960's. ($1.99)
Author: Bill Doyle Illustrator: Troy Cummings Publisher: Crab Hill Press LLC
Bonus
A Halloween themed book for kids aged two to eight about a kid who travels to a spooky castle. You can even personalize the story with a picture of yourself. Kids will love the wacky character design of Nikolas Ilac. He contrasts heavy elements with thin, detailed ones in his painterly art style. ($7.99)
Illustrator: Nikolas Ilac Animator: Amelia Lorenz Publisher: JibJab Media Inc
Editor's note: This post is written by Veronica Howes for Hongkiat.com. Veronica is a Marketing Manager at Storypanda Digital Publishing. She is passionate about technology, innovation and product design, has a deep love of reading and works with the most talented kids book authors and illustrators. You can find her on G+.