9 Free Tools For Digital Storytelling
Stories are important. Whether one tells a story to evoke emotion or to gain a new client, there's a certain simplicity in it that speaks to a lot of people, as everyone has a story to tell. Now with technology, there's digital strorytelling too.
Digital storytelling is accomplished by combining narration with digital content such as animation, stills, audio, etc. It is very popular these days in schools and educational institutions around the globe. In this post, we discuss 10 free tools for creating digital stories for your own purpose in the classroom.
Recommended Reading: 10 Tools To Teach Kids The Basics Of Programming
1. ZooBurst
ZooBurst is a lovely digital storytelling tool that will allow you to create your own 3D pop-up book. Authors can create their digital storybooks using more than 10,000 free images and materials available within the built-in database. ZooBurst authors can share their books with others using hyperlinks or embedding in any blog or website.
The ZooBurst Basic is 100% free while ZooBurst Premium or ZooBurst School License are paid with some advanced features. [Get it here]
2. StoryBird
StoryBird contains simple tools to create digital visual stories in minutes. By using StoryBird, you can write, read and share stories. Animators and illustrators from around the world have made their artwork readily available so that writers of any age can use the artwork and turn them into innovative, creative and exciting stories.
All the stories and artworks are categorized accordingly. This means that everything is easily searchable from the huge database. Best of all, it's totally free. [Get it here]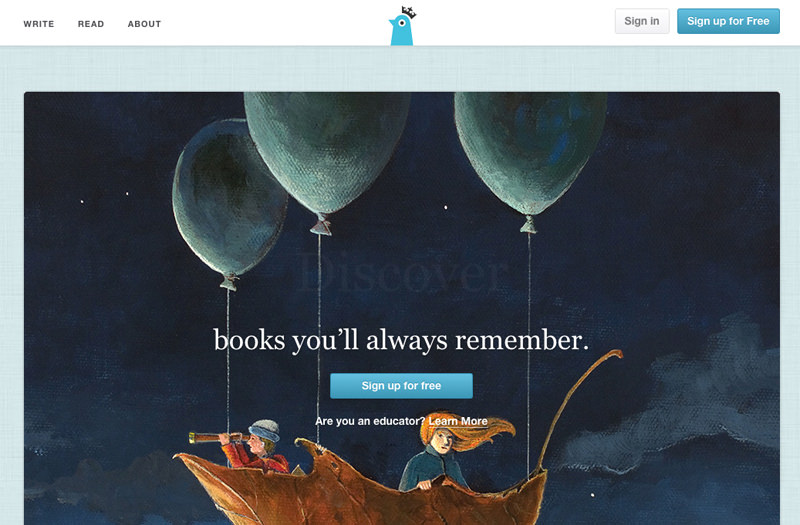 3. UtellStory
UtellStory is a free multimedia storytelling and sharing community. It allows you to create and share stories. The story can be a simple image or a combination of multiple images, video, audio recording and background music to engage your audience and make an impact.
Once you or anyone else publishes a topic on UtellStory then it is an invitation for the community members to tell their own stories by using material such as images, audio, video or words available for that topic. You can rearrange the existing material or you can add/remove materials in line with what is suitable for your story. [Get it here]
4. ACMI Storyboard Generator
ACMI stands for the Australian Centre For The Moving Image. Their site has this 'Storyboard Generator' (SG). It is a handy online tool for digital storytelling. By using 'Storyboard Generator', you can choose a script and create a storyboard or you can also build your own storyboard by using photographs of different background locations. You can save and share your storyboard video with your friends and the SG community.
Registration is totally free and with that you get access to thousands of copyright-free images, audio sfx and video footage from Free Media Library. [Get it here]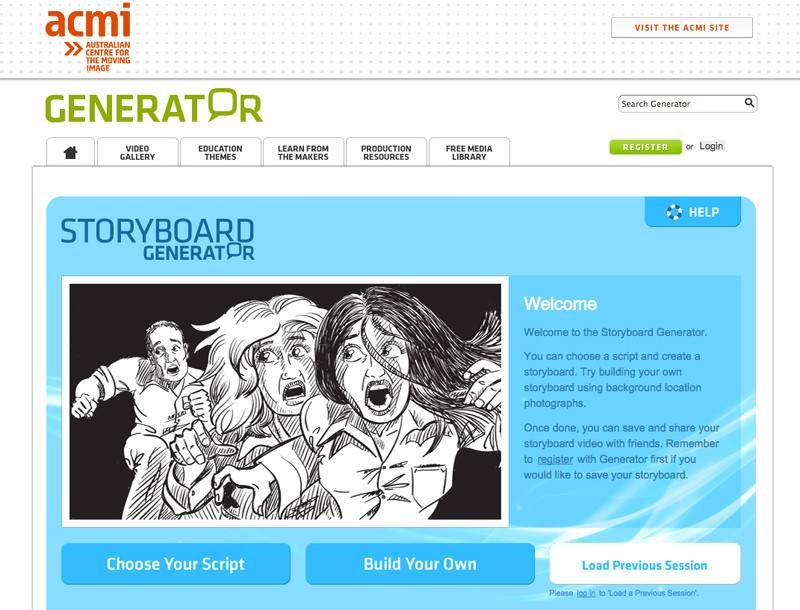 5. PicLits
PicLits allows you to use a combination of words placed on an image to give essence and meaning to the story. It can be a sentence, caption, paragraph, poem, quotation, lyrics, story, etc. You can easily create a PicLit either by using drag-n-drop keywords or the Freestyle method. It can be used on smartphones or iPad easily. [Get it here]
6. The Art Of Storytelling
The Art of Storytelling is a project created by The Delaware Art Museum. It invites online visitors to use and utilize the collections housed by the museum in an innovative and creative way to create stories. Then, they can share these creations by either emailing them to a friend as well or by publishing to the site, so that other visitors can see them too.
You can create, share and search 2 main categories of stories. They are labeled Stories Pictured (text and pictures) and Stories Told (text, pictures and audio) respectively. [Get it here]
7. StoryJumper
StoryJumper is a convenient tool that helps you write and illustrate stories by using a set of intuitive and built-in tools. You can use the available photos and graphic art that's already in the StoryJumper database or you can upload your own photos as background scenes and graphic arts to create a more customized story.
You can publish your book online for free or you can order your book in print form in a hardbound book starting from the cost of $24.95. [Get it here]
8. Story Maker By The British Council
Created by the British Council, this tool proves to be quite good for the purpose of storytelling. There are 3 genres of stories that you can create: fairy, horror and science-fiction. It has a simple easy to use interface which allows you to create stories by using built-in characters, answering the questions or by using the drag-n-drop function.
All the stories are categorized and you can create and publish your own story according to the category. [Get it here]
9. Slidestory
Slidestory lets you create digital stories by utilizing the picture slideshow along with voice narration. Each picture in the slideshow of the digital story can be accompanied by voice narration in MP3 format, text captions and optional tags. To use SlideStory, simply sign up for free and download the free Creator client program, attach a microphone with your system and record an audio file for each slide, add a title description and tags. After creating a story, you can upload it to the SlideStory website. [Get it here]