20+ Data Backup & Synchronization Tools For Hard Drives
When you handle printed materials, you make carbon copies of them, store them in files and lock them up somewhere safe. So it makes sense to think that the art of backing up important data should also be actively practised in the digital world. But how many of us actually do so on a regular basis? Let me rephrase that: if your machine goes kaput within the next hour, how much trouble are you in with your school assignments or your projects at work?
It's no fun losing weeks or months of your work due to a technical glitch or a corrupted storage device. Just ask anyone who has ever accidentally spilled coffee onto their laptop or downloaded the wrong type of program only to find out that it had wiped the hard disk clean on the day their proposal is due!
Rather than risk having to experience it yourself (it's really ugly, you don't want to know), you should make it a habit to back up all your files, photos, important documents and work in progress in a secure and stable place that is easily accessible, self-reliant and does not mess up your files.
After the jump, check out the data backup and synchronization tools for external and network drive – best of, to help you backup your files continuously, simultaneously and safely.
Our Top 5
FBackup is a free backup utility which protects your files by backing them up, on a customized schedule, into a USB or an external hard disk, even on other computers across the network. The backed up files can either be in original or compressed format.
Genie Timeline is a free backup software for backing up and restoring data on computer. With Genie Timeline, you will be able to start your backup within two simple steps. A complete report will be provided to show you details of your backed up data type, file count, size on disk and percentage of backup.
GFI BackUp
GFI BackUp allows you to backup your important data and folders with a smart and powerful wizard. You can choose to backup your data and directories to local and external hard disks, over a network, CD/DVD or even remote FTP servers.
Allway Sync synchronizes your files and directories among your PC, external drives, remote FTP servers and more with an innovative synchronization algorithm. It comes with an easy-to-use graphical interface and can generate a report for any synchronization actions.
EaseUS Todo Backup provides an all-in-one backup & system recovery solution. It offers one-click restore system, top-level disk and file backup, network-shared file backup and automated schedule backup. EaseUS Todo Backup is the most downloaded backup program on download.com.
More Tools
Paragon Backup & Recovery offers you a rich set of backup and recovery features that you can trust.
SyncToy 2.1 enables you to backup and sync files and folders between different paths. It's a handy utility to do the heavy lifting of data backup, synchronization and copying with a user-friendly interface. This free tool significantly increases the speed of moving files and synchronizations.
Toucan is a portable app which allows you to backup and synchronize datas with encryption and compression options given. This useful tool provides 5 synchronization modes which are Copy, Mirror, Equalise, Move and Clean. With Toucan, you can update existing backups, conduct differential backups, as well as restore a backup from an archive.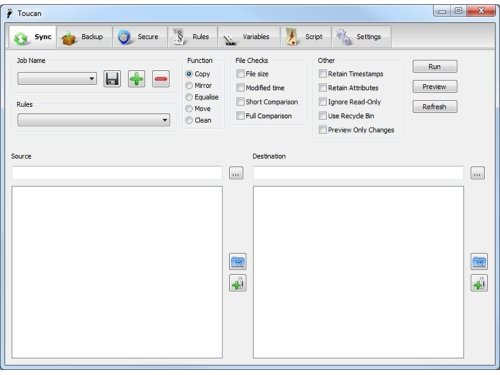 Areca Backup offers a personal backup solution which allows you to backup selected files or directories. The selected files or directories can be backed-up in zip format with encryption. Various options like backup reports, transaction mechanisms and file-version tracking are given to enhance usability.
Don't want to copy all the files to another hard disk over and over again to back up them? Try DirSync Pro. DirSync Pro offers a synchronization solution for copying files and folders when you want to back them up.
Create Synchronicity is a lightweight but powerful backup and synchronization application which makes the backup operation a painless one. It comes in two versions: a portable app and an installer package.
If you would like backup your files and directories on a fixed schedule, then Cobian Backup is the smart tool for you. Cobian Backup supports external hard disk backup, a backup over other another computer in the same network and even FTP backup. You can either backup your files and directories in original format or in compressed mode with the security enabled.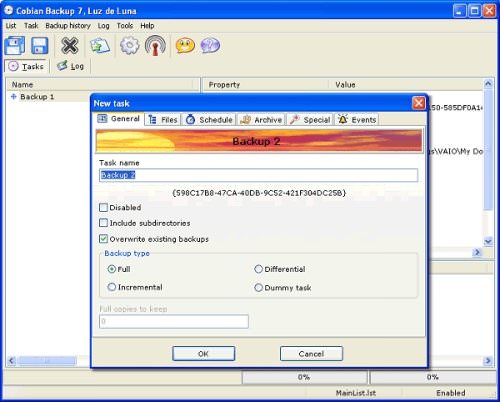 luckyBackup is an easy-to-use freeware to backup your important data with synchronization powered. You will be amazed by its speed to backup huge directories to another destination.
Personal Backup helps you to backup personal data to any destination directory, either on a fixed or an external drive, on a network server or on an FTP server.
AceBackup is a free application which allows you to create secure backups of your data and store them on a local drive, CD/DVD or remote FTP server. This application can store different version of your files.
DeltaCopy is a lightweight backup tool which can perform a fast incremental backup operation.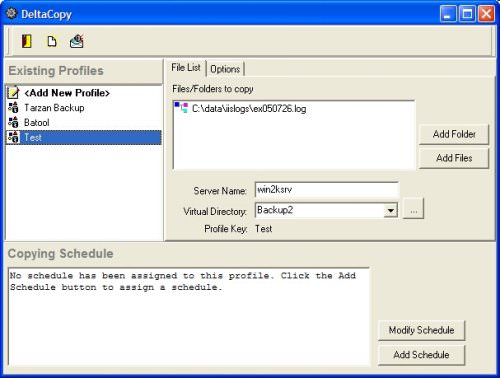 JaBack is a free backup application for Windows which is designed to ease your backup, synchronization and archiving tasks. It's automatic, realiable and powerful. You can schedule a backup task and transfer them to a remote FTP server.
Redo Backup and Recovery is a free backup solution for disaster recovery. It saves and restores Windows and Linux machines by running from a CD-ROM or USB drive without any installation required.
Synkron is a cross-platform software — it works on Windows, Mac OS X and Linux — which keeps your important files and directories updated all the time. With its easy-to-use interface and powerful features, you can easily sync and restore your data on the fly.
Autobackup is a free program which backs up a copy of your modified data in the list of folders you customize.
Bacula is an open source program which lets you manage data backup, recovery and verification across a network of computers. It can backup an entire computer and provide advanced storage management features.
Amanda Network Backup offers a network backup solution for administrators of MIS (Management Information System) to manage a backup server for multiple computers over a network. It supports various servers running on Unix / Mac OS X / Linux / Windows.