10 Apps to Find Upcoming Events & New Places of Interest
Now more than ever, people crave events to join, whether online or offline. And we've seen a lot of changes too on event apps and platforms, where before they only catered to offline events, now many have introduced a live streaming feature to accommodate not only local audiences but global as well.
In this list, I prepared ten platforms and applications you can use to find events related to your interests. Be it for entertainment, education, the humanities, or a combination of both.
Have fun!
City Socializer is a platform that allows you to instantly search for events happening near you as well as online events that you might be interested in. There are a lot of online events you can join, like for fitness, arts and crafts, and the like.
People who want to hold events, classes, or workshops can get their events listed here by contacting their support team. It's something that teachers all over the world can benefit from.
As for events, right now, it is only mostly limited to events in the UK, US, Canada, and across Europe.
Currently, 10 Times is probably one of the most robust platforms for events out there. It lists both virtual and local events from all over the world, with listings of over 100,000 across different categories and interests.
10 Times also works on iOS and Android, as well as their online platform that you can visit anytime on your browser. Aside from that, you can also connect and chat with other attendees, attend live events with just a few taps, and many more.
Peatix is perhaps one of my well-used events apps in Japan because it's convenient to browse events that are happening in and around my city, as well as online events. It boasts a wide range of local and global events that other apps don't, especially from countries in Asia – including Japan, Singapore, Malaysia, and many more.
Event creators can also accept payments through different means, such as convenience store payment, credit cards, PayPay, and the like.
If you are looking for independent performers, I highly recommend Peatix.
Event Always is a platform that lists both online and offline conferences, exhibitions, seminars (or webinars), and workshops. There are thousands of events to choose from, ranging from several categories like agriculture, pets, arts & crafts, jobs, performing arts, school activities, science and technology, IT, travel, and many more.
If you are an event organizer, feel free to utilize this platform as well. Since Event Always has a lot of users, it will be easier to promote your events, especially to those who are near you.
5. UNATION
UNATION is an app for both event creators and event lovers that works on both iOS and Android. For event lovers, you can easily find events happening close to your vicinity, connect with friends, discover new locations, etc.
As for event creators, you can directly create new listings, sell tickets through the application, and promote the event within the network with the help of their promotion experts.
Both private and public events are supported, and when it comes to promoting your event, you can target specific people based on the filters you will set. Cool, huh?
Like A Local is a unique application that is both a city guide and an events platform. Basically, it lists all of the events currently happening within the city you are in or activities you can join. It's even more useful because you can transact through the app even when it's offline. If you are unsure how to go from point A to point B when visiting a new city, especially if you have no internet connection, like A Local's map's GPS works even when you're offline.
As I mentioned, it's also a local city guide – perhaps while you are waiting for an event you are interested in, you can also go to the favorite spots of tourists.
One last thing: it features events from several big cities, from Amsterdam to Warsaw.
7. Vivid Seats
Vivid Seats is mainly focused on events like sports, concerts, and theaters. It lists many events, both locally held and online events nationwide. If you are a big fan of NBA, NFL, MLB, NCAA, and NHL games, it's one of the apps you should probably try so that you'll always be in line for a ticket.
Vivid Seats also offers exclusive promotions that no other apps have. And if you are big on points or cashback, Vivid Seats has that too. For each dollar you spend, you get a percentage of it back. So if you are a huge fan of events, this is one way to save money!
Bandsintown is something everyone who is into music should know about. In case you haven't heard of it yet, many independent musicians and bands list their events here. Heck, even Maroon 5, Paramore, The Chainsmokers, and Taylor Swift use this platform for their concerts!
I mean, I really don't have anything else to say about this because it has everything a concertgoer would need. RSVP to an event, purchase tickets online, follow favorite artists, be alerted if an artist you follow is in town, and send a request to your favorite artists to visit your city. Amazing, right?
Live Nation is another events app for music lovers. It has a huge list of live streams, from all-time favorites to new and independent artists, that you can watch directly from either the app or their website.
One unique thing about Live Nation is they also sell artist's merch on their website and app. So you don't have to line up for several hours to get the merch you want from your favorite band or singer.
It's not just a live-streaming app, though. That's just a secondary use brought about by the current global crisis. It's original purpose is much like purchasing tickets online, going paperless, and skipping lines in concerts. One really cool thing about the app is you can order food and drinks through the app, and it will be delivered to your seat (for offline events).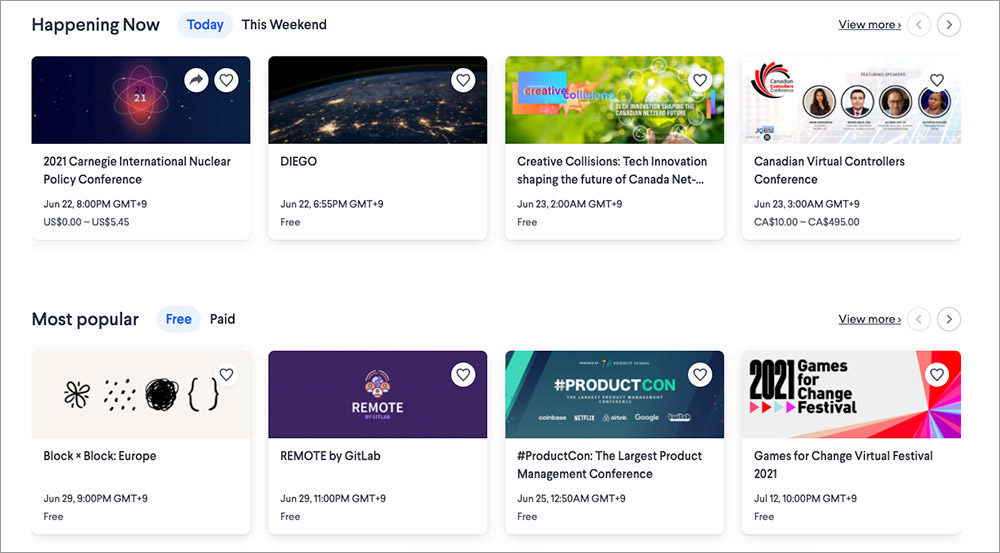 Hopin is an event platform geared towards more professional and serious topics. Events related to business, technology, science, and the like. Once in a while, there are also virtual career fairs in the list of events too.
To give you an example, as of writing this article there is a conference for the 2021 Carnegie International Nuclear Policy.
Some of the speakers (and current ones) who used the platform before are Steve Wozniak, co-founder of Apple, Ellen Ochoa, an astronaut, and many more.
Summary
Finding events that you like is difficult; it's a good thing there are literally hundreds of thousands of them available online for you to choose from. Starting with the list above, I'm pretty sure you can find the one thing that would help you while away time while being productive!