Apple's iOS6: 9 New Features You Should Know
Yesterday, Apple kicked off the WorldWide Developers Convention (WWDC) 2012 with the unveiling of their latest offerings: new hardware, new software and a new operating system for iOS lovers out there. Soon – so far, the iOS6 is only available on beta model for developers – iPhone 3GS and above, the iPad 2, the new iPad and 4th-gen iPod touch will be powered by iOS 6, touted as the most advanced mobile operating system in the world. Be sure to upgrade your devices the moment it is available for download.
While we wait, here on hongkiat.com we will share firsthand the nitty-gritty details of what you are getting from this new upgrade. Here are just some out of 200 new features you can expect from Apple's new iOS version 6.
1. Apple's very Own maps App
Getting around with your iPhone will be an experience by itself now, with spoken directions and turn-by-turn navigation, real-time crowdsourced traffic updates, Quick routes and re-routing options, Yelp-powered details on nearby businesses and more. One of the highlights of this feature would be Flyover, a 3D rendition of buildings and major landmarks for a close-up interactive 3D view of cities around the world.
2. Smarter Siri
Siri is now savvy in sports stats, restaurant reviews and rotten tomatoes (imdb movie ratings). You can make reservations with Siri through the OpenTable app, and check out movie schedules and ratings. Have a lot of apps to sift through, look up and launch? Launch it the new way by asking Siri to launch the app for you. With the iOS6, you can even dictate your posts for release on Facebook and Twitter.
Get more from Siri even while you are on the go. Apple is in talks now with car manufacturers, BMW, GM, Mercedes, Toyota, Honda, just to name a few, to get Siri integrated via voice command on the car steering wheel so you can still keep your eyes on the road while getting things done by phone.
Siri is also going multi-lingual, featuring in Canadian English and French, Spanish, Italian, Korean, Mandarin and Cantonese.
3. Facebook Integration
It's easier than ever to share on Facebook with the new iOS6. Share photos and locations straight from your device and get your updates about what's happening on Facebook in your contact and Calendar. Profile information will be integrated into Calendar so you won't get to miss a thing, especially since you now get notifications for both Facebook and Twitter updates from the notification centre.
Plus, the App Store is now Like-friendly.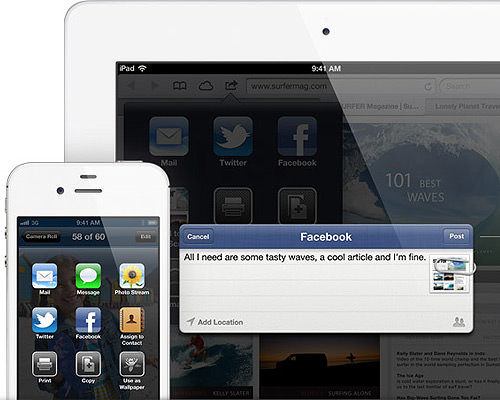 4. Photo Stream Over iCloud
Share photos with the people you want to share with via the iCloud on an iOS 6 device or Mountain Lion OS. Photos will sync in real-time via iPhoto or the Photos app and are also available on the Web. Commenting is enabled on the albums and you can share as much as you want with no effect on your iCloud storage.
5. Passbook App
Tickets, boarding passes, movie tickets and store cards are things of the pass. Scan in your details to get on that plane, into that cinema or that concert and keep constant tabs on your store card balance all from your iOS devices.
Updates are in real-time so that when flight details have been changed, you get informed of the latest updates straight on your device. This app can turn your iPhone into a GPS-enabled virtual wallet, keeping your cards, coupons and tickets safe, convenient, handy and fuss-free.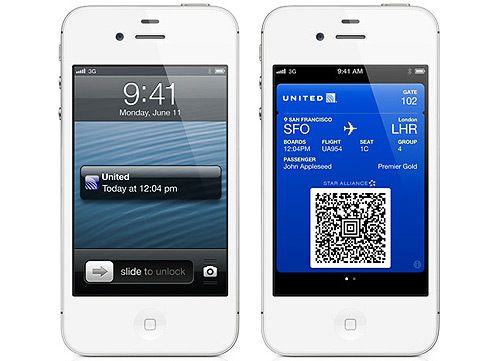 6. Better FaceTime
Phone numbers and Apple IDs are unified in iOS 6 and FaceTime is now cellular, so if someone calls you via your phone number on FaceTime, you can answer on your iOS device or on your Mac. Messages sent to your iOS device also updates in real-time to your iPad and Mac.
7. Enhanced Phone App
Never miss a call again. Reply to missed or declined calls with a canned message, or add a reminder to yourself to call back at a better time. There is also a 'Do Not Disturb' mode that can be scheduled to let you regain some of your sleep time.
The app separates calls from people who matter from the people who don't, giving you more control over who gets access to you, without having to lose sleep over it.
8. VIP mail
Apart from the swipe to refresh feature, you can now tag contacts as VIP and get notifications on your lock screen the moment your VIP sends you mail. There is also the option to star your VIP emails for better visibility or you can just get the VIP mailbox option.
9. Safari Gets More
Safari gets iCloud tabs, so you can pick up where you left off from another iOS 6 device. There is also an offline reading list option where Safari saves the materials you want to have access to offline, rather than just bookmark the links to them.
Photo uploads also available from inside Safari – no more leaving the browser to pick a photo. iPhone and iPod touches can now view full screen images from the Web in landscape form.