10 Android Apps to Help You Take Better Selfies
If you can't stop taking selfies and own an Android device, then selfie apps can help you have fun and take newsworthy selfies just with your phone. Selfie apps offer lots of photo editing and photo enhancement features for selfie addicts, getting you the best fun selfies for sharing with your friends on social platforms.
In this post, we're showcasing the best selfie camera apps for Android platform that assist you in adding lots of fun to your selfies.
Read Also: 10 Free Photography Android Apps For Great Selfies
Candy Camera is a renowned selfie app with an intuitive interface for selfie lovers. What is noteworthy about this app is the versatility it offers in taking real-time enhanced snapshots with its swipe-enabled filter options to embellish your selfies.
In addition to a swipe left or right function to change the filters, Candy Camera also provides an array of tools with beauty functions like whitening, eyeliner and stickers to 'beautify' the selfies the way you want. There is also a 'silent mode' that can be enabled while using the app to snap photos in places where you would wish to be discreet.
Pros:
The app has numerous beauty functions like slimming, lipstick, concealer and blush
It has many creative filters which include SweetCandy, EveryDay, FreshFace, RainyDay and 1980, and you can even add frames to your snapshots
There is a cool collection of stickers and a collage mode to stitch up your selfies
Cons:
Candy Camera does not have video capturing capability unlike few others listed here
Some of its editing tools come as premium features and have to be purchased through the Play Store.
Marketed as the 'ultimate selfie app', B612 definitely offers fantastic features that vouch for that title. Other than the usual photo filter goodies (including themes like Secret, Fairy-tale, Thursday and China), B612 goes a step further – you can also take short, selfie videos.
If you find yourself overwhelmed with its filter options, B612 can also choose a filter for you automatically. The app remembers your filter choices and makes smarter suggestions with time. Along with its streamlined interface, it's also frequently updated with new filters.
Pros:
The app has the 'tilt-shift effect' which helps in simulating a shallow depth image
The app supports camera's autofocus technology that helps in getting sharper images in challenging conditions like low light and high movement
Vignette feature can be used with filters to highlight the best aspect of your photos and darken the photo borders
The collage feature in the app has around a dozen options to choose from along with an option to create 3D pictures
Cons:
The picture resolution has been observed to be a little poor with this app
Owing to lot of features, using B612 is difficult and there is a need for a tutorial that highlights the features of the app in a simple manner
Cymera is a very popular camera and editing app. It has beautifying functions like facelift, liquify, skin corrections and around 200+ different kinds of makeup items and natural hair styling. That's not all, even more tools are offered as in-app purchases.
In addition to its item-suggestion function and improvements in picture resolution, Cymera is better than many – thanks to its repertoire of tools to perfect selfies or snaps. New users are greeted with helpful tutorials that help them make the best use of its features.
Pros:
The app possesses 7 exciting camera lens effects to choose from, for example, Divided Lenses, FishEye and Lomo
It has a huge collection of photo-enhancement features like anti-shake, automatic face recognition and filter packages like Nation and Ice Cream
It supports around 10+ languages and that include languages like Thai, Portuguese, Turkish and Vietnamese
Cons:
Even though it consists of smartly crafted tutorials, the app can be a bit overwhelming for a newbie with its horde of features and photo effects.
There is no color saturation and shadow adjustment feature available.
As the name says YouCam Perfect is the perfect selfie beauty app. It specializes in enhancing the natural beauty of a person in the photos with its efficient editing tools. After clicking a snap, it lets you choose any of the 6 beautification levels to get a beautified image instantly.
Not only is this app good for close-up selfies, but also for full-body photos. For example, 'Lengthen Legs' feature helps you to quickly add height to your body shots while 'Body Slim' shrinks your waist to make you look thinner. Some other cool features included are filtered video selfies (4-8 second clips), face reshaper and eye enlarger tools.
Pros:
'Smile' feature ensures auto-clicking of a single or group snap when you or anyone smiles
The app offers a multi-face detection technology, which enables you to edit every face in the group shot in one go
'Eye Bag Remover' tool reduces dark circles under the eye in the snapshot
'Beauty Circle', its in-app social network, crowdsources the latest trends in fashion, style and makeup to help you explore, discover and find inspiring ideas
Cons:
The only main issue with this app is that it shows lot of ads and requires an in-app purchase to remove them
BestMe consists of unique filter options like World, Maggie and Debby and various other capabilities like face recognition for shooting awesome selfies.
Some of the features and filters of the app are vignette options, excellent blur effects and tag and emoji stickers for posting fun-enabled selfies or snaps on Instagram and Facebook.
Pros:
The app has 125 real-time filters, which also include mirror, filtergrid and halo filters for getting selfies instantly
It offers around 100+ filters and stickers to make the photo your way
You can create a real-time collage in few simple and efficient steps
There is a wide range of sharing options for uploading pics on social media networks
Cons:
Users allegedly give a 5-star review for 'unlocking' and using many fantastic features of this app.
Its font size is small with grey color, making it a bit difficult for reading the text
Lidow is yet another photo editor with numerous editing features and effects. The app has a stylish UI with a dark background and consists of shortcuts for clicking snaps or importing photos from your gallery for editing them – in easy and quick way.
You can use stylish layers to coat your selfies with multiple filters and effects, and can also change the aspect ratios according to your convenience. Some of the included effects are blur, color splash, mirror, etc. and filters are lomo, leak, lens flare, retro, etc.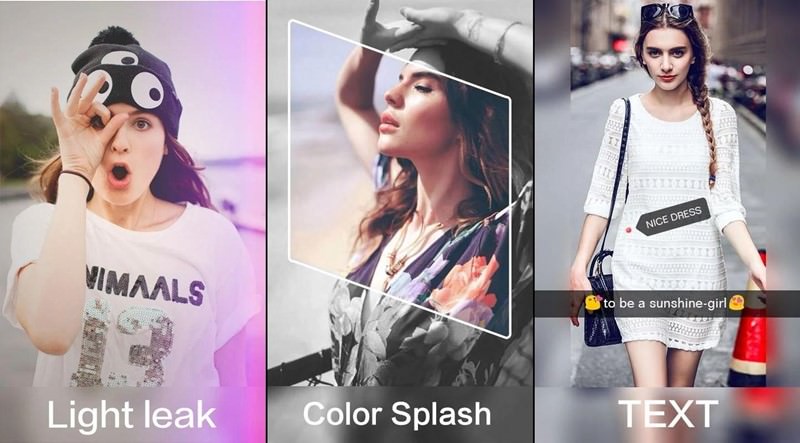 Pros:
The app comes with a color splash function which gives photos a dramatic effect by converting them to black and white with only your chosen details in color
It does include various cool features like no-crop or square for Instagram and easy-to-make collage and grids
Cons:
Lidow automatically reduces the image quality and doesn't allow saving in HD resolution
Users cannot choose the output format for their pictures – only JPG and PNG file formats are supported so far
InstaBeauty is a popular selfie editor app with a prime focus on helping users refine and beautify their selfies using smart, easy-to-use features (including photo effects and filters). The app also edits and enhances video shots in real-time during shooting them.
The five main features of InstaBeauty are Beauty Makeup, Beauty Camera, Beauty Collage, Beauty Video and QuickSnap. With the power of these features, it is very easy to remove blemishes and fine-tune your selfies, helping you create and share your best selfies.
Pros:
It has a wide range of presets and filters like Origin, Haze, Summer and Fresh that can be applied to a selfie/photo with just a tap
The app possesses advanced features such as slim-face (makes your face thin), blemish (removes spots and acne) and big-eyes (makes your eyes big)
It allows taking selfies in quick bursts that can be reviewed together later so that the users can choose to keep the best ones from the bucket
Cons:
The in-app ads can hamper the experience of using the app
Along with being a little buggy with the latest update, the app also lacks a zoom feature
Bestie is considered as one of the best selfie camera apps and was part of the "Top 10 for Google Play Store in 2015" list. Some of the features included in the app are selfie beautifier, night camera, airbrushing, camera effects and cool stickers.
The app is equipped with preset effects like Home Away, Pink Panther and Asuka that can be blended and applied to your snapshots. It also offers the flexibility to switch the front and rear cameras by touching anywhere on the screen or by just shaking the device.
Pros:
The app offers advanced airbrushing capabilities to blur or remove the background or unneeded details from a snapshot feasibly
It has around 8 photography lighting effects like Fringe, Stay, Meet, Shine, Shades, Belt, Fades and Speckle (for adding light to your selfies)
It comes with 16 styles using the Lady Effects collection created especially to beautify females' pics, for example Mia, Olivia and Laura
Cons:
A more common feature of adding frames to the selfie shots is missing
It has just few manual options and you have little control over tinkering with its features.
Sweet Selfie is a relatively newer app to hit the market. This app comes with 'smart auto beautify' feature and an option to share selfies right from the app.
Because it's specially designed for clicking and editing selfies, features like filter effects, emoji and tag stickers are tailormade for selfie snapshots. Owing to all these, Sweet Selfie allows taking perfect selfies, just as good as its name.
Pros:
Helps in emulating the front camera's flash with a white frame, that highlights the snap, proving helpful on phones having front camera with no flash
The app features various photo effects like blur, vignette and retro effects that make your selfies look elegant and glamorous
It supports selfie sticks (natively) for taking selfies/photos easily
Cons:
The user interface is not very intuitive
Some users have reported frequent spam notifications, which can be forcefully switched off by blocking notifications for this app using Android's Settings
Well, these are the best options for creating selfies that get plenty of likes on your social networks. Have you tried any other selfie app too? Don't forget to tell us using comments.
Read Also: 5 Best Examples Of Why Selfies Can Be Dangerous (And Fatal)