12 Android Apps to Play Classic Retro Games
Super Mario, Outrun, Duck Hunt, Donkey Kong etc. were amongst the most famous and highly influential video games of all times. There were times when we used to play these games through classic gaming consoles, however, these retro games can still be played just with your Android.
Read Also:  10 Fun Web Games to Test Your Designing Skills
Retro Gaming Emulators for Android are specialized apps designed to run retro and arcade games on your smartphone or tablet. These gaming emulators let you enjoy classic games of various gaming consoles including N64, Nintendo and PlayStation. Few of them even let you save game progress.
So, let us take a look at the best retro gaming emulators to play classic video games on Android.
RetroArch is an open-source Android emulator whose leveraged interface, called "Libretro", provides amazing support for graphics and hence, offers superb game play to the users. It works on modular design and requires you to download "cores' — its modular programs that make things really work.
You can download exclusive games or choose your favourite games using its menu's "scan directories" option and play them within this emulator without any restriction. With multi-language support, game cheats support and no ads, RetroArch is the best retro emulator you can enjoy on Android.
Snes9x EX+ is an Android-compatible retro game emulator that comes with a number of built-in games like Bio Worm and many other free or public domain games. The emulator requires you to add games same as RetroArch and supports ROMs in SMC, SFC, FIG and ZIP formats.
Snes9x EX+ supports multi-player gaming and lets you play games in portrait as well as landscape modes. With high-graphics support, easy interface and low-on-battery high performance, Snes9x EX+ provides awesome gaming experience to the users. It doesn't require "cores" or modules unlike RetroArch.
It comes with a modern interface and delivers high-definition gaming experience. It supports saving game progress using 8 manual slots along with screenshots. You can even rewind game progress in case you attempt a wrong stroke and want to correct and try once again.
Nostalgia.NES supports a number of freeware and public domain games. You can connect your phone to other WiFi-supported devices and play with multiple players on the network. This emulator easily finds the ROMs even if those are stored on your SD card in zip/non-zip formats.
A.D. is the best Game Boy emulator for Android that lets you play all the free classic games. The emulator works amazingly fast and supports high-end features like fast-forwarding games, game cheats, saving game progress and joining the games' leaderboards.
A.D. allows customizing its interface using themes and supports ROMs in zip. You can even create your profile and choose a clan name for gaming. It works with Wiimote and MOGA controllers and hence, allows users to play with real controllers and enjoy the perfect classic gaming experience.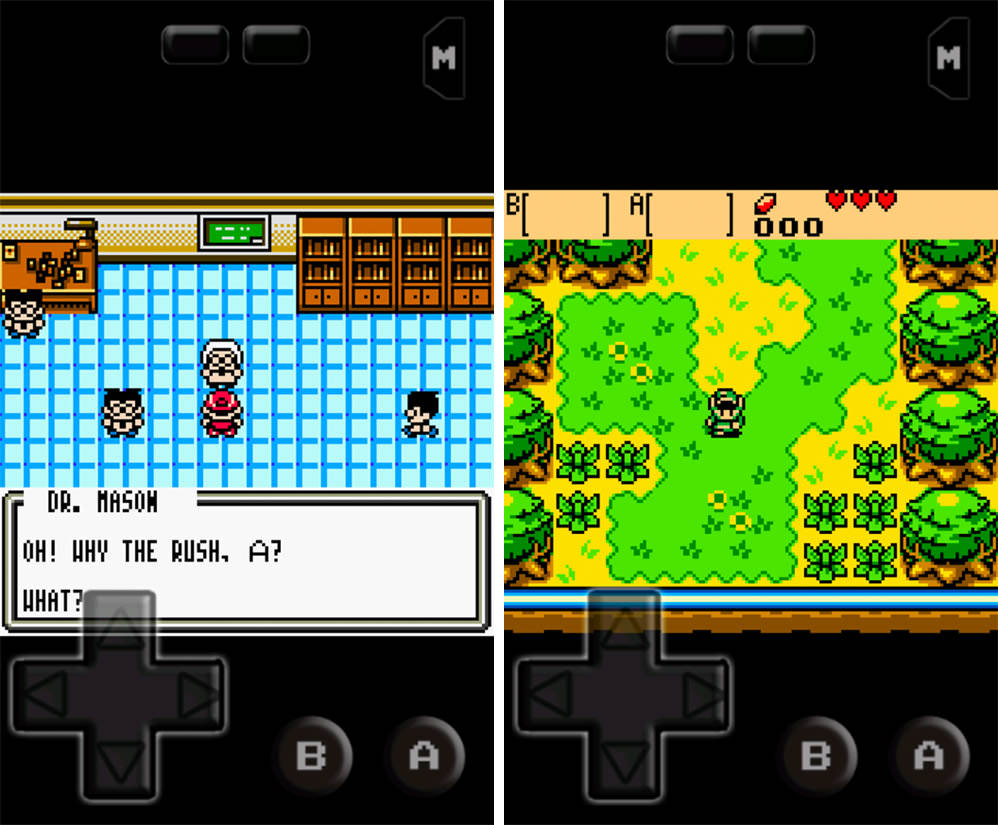 ClassicBoy is an all-in-one game emulator supporting Gameboy Advance, Nintendo 64, NES, Sega Genesis, and more game consoles. This emulator requires you to add or load game ROMs like Snes9x EX+. With its gesture and accelerometer controller mode, you can enjoy playing games like the originals.
ClassicBoy includes a number of configuration settings, allows playing games single-handedly or full screen per your choice and uses the sensors for smooth game playing. It also avails a pro version that supports saving game states including auto loading and manual slot loading.
GENPlus is an open-source emulator that runs Sega Mega Drive games, Virtual Racing and many others at super-high speed. This emulator supports awesome graphics quality while playing classic games. You can even rewind or fast-forward games and use a keypad with its wireless support.
GENPlus Droid features multi-player gaming and also supports fetching games from custom ROM directories – even if it's an SD card. It works without rooting and delivers original resolutions to bring perfection to every gaming session.
MegaN64 is a super-fast emulator for playing N64 games. It's the advanced version of the open source "Mupen64+" project but without its slowdowns. With MegaN64, you can play high-definition N64 games on your Android without facing any performance lags or problems.
MegaN64 supports fetching ROMs from SD card like the other emulators, which means you can import games easily in N64, V64, Z64 and ZIP formats. The emulator allows enhancement of the user interface using various configuration options.
PPSSPP is an emulator that supports playing PSP games with high-definition graphics. It is considered one of the best PSP emulators that lets you play most PSP games like Dragon Ball Z, Final Fantasy series, Worms, Wipeout, Little Big Planet and many more.
PPSSPP supports various ROM formats including ISO and CSO extensions, and again the games can be fetched easily from an SD card. With PPSSPP and the model of your device, gaming can get incredibly fast, to the point that you don't realize you're not playing on an actual PSP.
My OldBoy! is one of the fastest emulators that supports Game Boy and Game Boy Colour games. It offers perfect gaming compatibility using ARM support and features low battery consumption. My OldBoy! includes a screen layout editor to control the on-screen actions and buttons.
My OldBoy! can fetch the game ROMs from the SD card and lets you rewind or fast forward games and even supports external controllers. This emulator also supports GameShark and GameGenie cheat codes and includes support for various sensors for the perfect gaming experience.
MAME4droid supports playing arcade games using the original MAME and latest retro games using the newer MAME releases. MAME4droid supports over 2000 ROM sets, which can be easily fetched from your SD card. This emulator displays touch controller buttons and filter overlays.
With Wiimote support, you can use an external controller for gaming with this emulator and rotate or scale the video aspect ratio to enjoy high-quality graphics. MAME4droid supports most Android devices but gaming is understandably smoother on newer models and versions.
Reicast supports Dreamcast games in HD quality and runs most of the games. With this emulator, you can save game progress and fetch game ROMs from your SD card. Reicast supports most ROM formats including GDI, GDI, CHD, CHDV4 and CDI.
With Reicast, you can limit the video's FPS and enable the internal frame limiter to configure the game or video playing speed. It even supports advanced frame-skipping options to prevent performance issues or lags, a feature to have for gaming on lower-performing or older hardware.
Mupen64+ is an N64 emulator for Android that provides high-definition graphics and various advanced features. It lets you play free games from public domains. The emulator supports fetching ROMs from an external SD card and after fetching, you can start playing retro games.
With its easy and simple interface, you won't find any issues during gaming sessions regarding on-screen controls. Mupen64+ works on most Android devices — even the older ones. It also supports analog input from the touchpad and supports various ROM types like N64, V64, Z64 or ZIP formats.
Which is your favourite Retro Gaming Emulator for Android that you would use to play your favorite retro game from your childhood? Do tell us your favourite retro gaming stories using the comments section below.
Read Also:  How to Build a Career in Professional Gaming (10 Tips)