10 Android Apps to Manage Phone's Battery Consumption
You're using your smartphone for almost everything these days. Though it's quite convinient, but it does takes a toll on your phone's battery life. Your phone's battery life gets less and less with time an you end up charging it more frequently.
But if you're having an Android phone and you want to boost it's battery or want to know about the ways to save it for longer battery life, take a look at these useful Android apps for longer battery life. These apps come with features like battery boosters, saving modes, battery monitors and preformance optimizers. So read on to know which app would suit you best.
How to Conserve Smartphone Battery
How to Conserve Smartphone Battery
Smartphones these days have a diverse range of capabilities and multi-functionality running on powerful operating systems. However, this... Read more
dfndr battery app offers a variety of ways to conserve your phone's battery life. It is equipped with some powerful features that optimize your phone to save as much battery juice as possible without affecting its performance.
Some of its most interesting features include super optimization that closes inactive applications running in the background, battery cooler that keeps the temperature of your battery cool, charge monitor that offers real-time information about your phone's battery life, and screen saver that shuts off up to 33% of your screen's light output without compromising visibility.
Kaspersky Battery Life is the app that not just saves your phone's battery but boosts it by monitoring every app that is running on your phone. It gives you complete control over your phone's battery life performance by keeping you informed through active alerts.
With this app, you get notified about any app that suddenly starts consuming more battery than others so you can take suitable action. It also gives an accurate prediction of how much charge is left in your device's battery — in hours and minutes – so you don't keep worrying about it all the time.
GO Battery Pro comes with certain advanced features that tell you how long your phone's battery will last under a variety of situations like; video watching, music listening, Wi-Fi/Bluetooth on or off, etc.
Interestingly, the app also offers some cool features like power-saving modes, smart saving, toggle control, power testing, charge boost, system junk cleaning, daily power consumption report, etc. Moreover, the app finds and fixes battery power consumption problems, entending your standby time with just one click.
Avira Optimizer offers a two-in-one app that not just helps you save your phone's battery juice but also provides effective memory cleanup, RAM booster, and junk cleaning.
What I like about this app is its one-tap boost feature that improves the responsiveness of your phone coupled with the battery saver functionality that lets you extend your battery life.
A battery saver app with multiple advanced features, Green Battery has everything you need to boost your phone's power performance.
The thing I like the most about it its simple and sleek interface, which shows you different power saving modes and lists the apps on the basis of their battery consumption. It also shows the accurate power status of your phone and the remaining battery time, so you know how to make the best of it.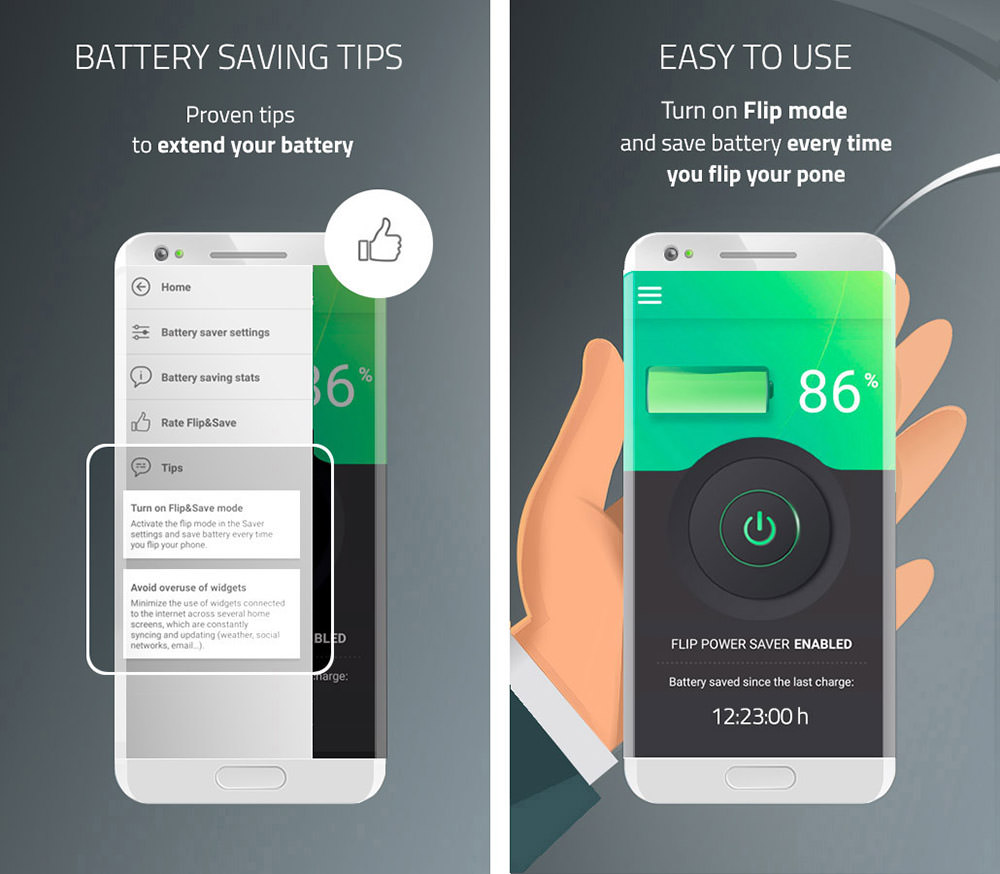 Flip & Save is a free battery saver app that analyses your battery charging data and gives you all the information that you need to optimize your phone's battery for better performance.
The coolest thing about this app is the way it is used i.e., you flip your phone down to turn the saving mode on. Else, you can go to the app's settings and turn on/off some of your mobile phone functionalities to save more battery consumption levels straightaway!
AccuBattery app gives you just the right information to monitor how much battery your phone is using. It tells you how long you can use your device when it's active or in standby mode, so you don't have to hang around a charging station all the time.
I am personally impressed by the 'charge speed' feature of this app that enables you to check how fast your device is charging as well as finding the fastest charger and USB cable for your device by measuring the charging current.
If you want to monitor the battery temperature and power level of your phone in real-time, then the Battery Monitor app will be quite useful for you.
The best feature of this app includes one tap boost, RAM, CPU, and battery widget, desktop floating window, status bar floating window, over-heat alarm, and multiple themes to choose from.
Fast charging app is another efficient tool to boost your phone's battery life and optimize its power performance. By removing background apps and unnecessary connections, the app gives you fast charging and optimal solution for your phone.
With just one click, you can clean the RAM, turn off Wi-Fi, Bluetooth, screen rotation, and reduce screen brightness. Simple, isn't it!
A multi-featured battery saver app that works for both Android and iOS, Battery Booster Lite gives you a power management tool with real-time battery usage tracking. It offers different battery saving modes as well as a quick network and screen control option to deal with different battery wasting situations.
2 Battery has some handy features that can help you save your battery. It does this by employing a smart algorithm to turn the Internet connection on/off.
It can also reduce the screen brightness by using a built-in screen filter and even turns off the screen automatically when you put the phone into the pocket or on the table. You can also try the PRO version of 2 Battery for 24 hours and even get a refund if you're not satisfied.