10 Best AI Song Cover Tools for Content Creators
See how AI transforms the art of song covers, offering a fresh twist to your favorite tunes.
AI technology has made remarkable strides in recent years, evolving from simple chatbots like ChatGPT that can answer your questions, to more advanced tools that assist in content creation and even generate visually stunning images based on the prompts you provide. The frontier of AI innovation doesn't stop there; it has now ventured into the realm of music, offering tools that can help you create song covers with ease.
In this post, we're going to explore into the best AI song cover generators and makers available today. These platforms utilize cutting-edge algorithms to transform your musical ideas into reality, whether you're a seasoned artist or a complete novice. So, if you're curious about how AI can elevate your music-making experience, read on to discover the top tools that can make it happen.
Overview:
Here is the list of tools we're going to explain in detail in this post. But first, let's take a look at what AI Song Covers are…
Understanding AI Song Covers
AI song covers are versions of existing songs that are created using sophisticated machine learning algorithms. These algorithms analyze various elements like melody, rhythm, lyrics, and style of the original song to generate a new rendition.
This is made possible through deep learning technologies, enabling the AI to grasp the subtle nuances of the song and create a version that has human-like musical qualities.
What AI Song Cover Generators Do?
AI song cover generators come in two main forms: web-based tools and downloadable PC software. These platforms offer a variety of voice options for your cover. You can choose from voices of famous personalities, fictional characters, or even use your own voice.
They serve multiple purposes such as creating new versions of hit songs, experimenting with diverse vocal styles, and even producing original compositions based on your lyrics.
Most of these tools offer a free trial, allowing you to test their capabilities. After the trial period, you can opt for a subscription plan or a paid plan, which usually comes with additional features.
How AI Cover Songs Generator Work?
Well, AI song cover generators typically operate in the following manner:
Choose a Voice: Most tools offer a range of pre-configured voices for you to choose from. Some even provide the option to upload a custom voice sample.
Pick a Song: These tools usually offer a selection of well-known songs to choose from. Alternatively, some may even allow you to upload your own songs or melodies that you prefer.
Adjust Settings: You can modify various settings like pitch, tempo, volume, and effects to personalize your cover.
Produce and Preview: After you've fine-tuned the settings, you can produce the cover. Most tools include a preview feature, allowing you to ensure you're satisfied with the end result before downloading it.
In addition to these basic features, some tools offer advanced options. These may include lyric editing, melody adjustments, and the ability to add background music or harmonies for a more sophisticated final product.
10 Best AI Song Cover Generators
Now that you have an idea of what AI song cover generators can do, you might be wondering which ones are worth trying. I've tested a variety of these tools and have compiled a list of the top 10 that I believe offer the best features and value for the price currently available. Each of these platforms brings something unique to the table, be it the range of voices, customization options, or affordability.
Here's a detailed rundown of each tool's features and pricing:
Voicify AI is an online tool that offers a comprehensive library of community-uploaded AI voice models. Users can select from these models to create their own unique music covers. Designed with user-friendliness in mind, this AI-powered cover generator caters to a variety of musical tastes.
The platform provides voice models across different genres, including rap, pop, rock, and more. This allows users to experiment and find the perfect voice for their musical projects.
Features:
Extensive AI Model Library: Features voice models from artists to characters.
Community-Driven: Accepts user-contributed AI models.
Trending Voices: Highlights popular voice models.
Custom Models: Allows personalized voice cloning.
User Engagement Metrics: Shows AI model usage stats.
Safe and Secure: Ensures data security and privacy.
Lifetime Conversion History: Grants permanent access to past conversions.
Price of Voicify AI:
Voicify AI has three pricing plans to suit different user needs:
Credits Plan: For $8.99 a month, you get 25 credits that can be used for 25 conversions. These credits don't expire. This plan also gives you access to basic tools like the Essential AI Vocal Tool Kit and text-to-speech features. You can also create videos that you can share.
Creator Plan: This plan is currently on sale for $24.99 a month, down from its original price of $34.99. It offers unlimited conversions and one custom voice model per month. You'll also get priority in the processing queue and round-the-clock customer support. All the basic tools from the Credits Plan are included as well.
Power User Plan: At $89.99 a month, this is the most comprehensive plan. It offers everything in the Creator Plan but allows for up to 5 custom voice models per month. You'll also get early access to any new features that are released.
Each plan includes text-to-speech capabilities and customer support, with more advanced plans offering additional features like custom voice models and priority queue access.
Mubert is another online tool designed to serve a diverse audience, including content creators, artists, developers, and general listeners. It provides tailored soundtracks for a variety of media, such as videos, podcasts, and apps. The platform aims to foster a symbiotic relationship between human creativity and artificial intelligence.
Mubert offers a wide range of features that enable users to generate royalty-free music tracks, tailored to their specific needs. Utilizing AI algorithms, the platform draws from millions of samples to produce audio tracks that are both unique and high-quality.
Features:
Mubert Render: Quick, mood-matched soundtracks for creators.
Mubert Studio: Monetize tracks and AI collaboration for artists.
Mubert Extension: Adobe integration for quality track creation.
Mubert API: Music integration for better user experience.
Mubert Play: Adaptive music for various moods and activities.
Community Contributions: User-contributed music samples.
Royalty-Free Music: Commercial-use music, no legal hassles.
Price of Mubert:
Mubert Render provides a variety of pricing options to suit different requirements, including both subscription plans and one-time purchases.
Subscription Plans:
Ambassador (Free): This is a free plan that lets you create up to 25 tracks per month. The tracks will be in MP3 format and require attribution.
Creator ($11.69/month): Ideal for social media and NFT projects, this plan allows you to make up to 500 tracks per month.
Pro ($32.49/month): Designed for commercial use, this plan also has a 500-track limit per month.
Business ($149.29/month): This plan is for agencies and apps, allowing the creation of up to 1000 tracks per month.
Single Track Purchase Options:
Standard ($19): Suitable for social media.
Online Ads ($99): For online advertising.
All Media ($149): For national or global advertising across all media types.
In-App Music ($199): For in-game or in-app music.
Sublicensing ($499): To sublicense music to clients or app users.
Note: All paid options come with extra features like no need for attribution, no audible watermark, and lossless audio quality. Additionally, Mubert Render prohibits the use of their tracks for Content ID registration or distribution on music streaming services.
Soundful is an online tool designed to cater to a diverse user base, including content creators, music artists, and brands. The platform employs artificial intelligence to generate royalty-free background music. This music can be used in a variety of settings, such as videos, live streams, podcasts, and other types of content.
It aims to streamline the music creation process. To accommodate different needs, Soundful offers a range of plans, from those suitable for personal projects to options designed for enterprise-level requirements.
Features:
Variety of Templates: Offers mood-based templates like EDM, Hip Hop, and more.
Flexible Licensing: Covers multiple use-cases, including NFTs and social media.
High-Res Downloads: Provides high-resolution files and stems.
Affordable Plans: Includes free and discounted options.
STEM Packs: Offers isolated tracks for advanced editing.
Copyright Options: Allows full copyright acquisition.
Enterprise Solutions: Custom plans and white-glove services.
Community and Help: Provides user support and community.
Monetization: Enables music monetization for artists.
Price of Soundful:
Soundful offers a variety of pricing plans to suit different user needs:
Standard Plan: This is a free option ideal for personal projects. It allows you to download up to 3 files each month and includes 1 STEM pack per month. This plan is limited to non-profit and personal use and offers access to over 25 free templates.
Content Creator Plan: Costing $29.99 per year after a 50% discount, this plan is tailored for social media creators, freelancers, and businesses. It provides 100 downloads per month, 1 STEM pack per month, and access to premium content and more than 100 templates. This plan is suitable for use on social media, online platforms, and websites.
Music Creator Plus Plan: Priced at $59.99 per year with a 50% discount, this plan is designed for artists and producers. It offers 300 downloads per month, 10 STEM packs per month, and the option to acquire full copyright for your creations. You'll also get access to premium content and over 100 templates.
Enterprise Plan: This is a custom plan designed for organizations. It offers tailored licensing terms, custom templates, and dedicated team support.
Boomy is designed to empower users to create original songs in just seconds, even if they lack prior experience in music production. This online tool goes a step further by enabling users to submit their creations to various streaming platforms, offering a potential revenue stream.
The platform provides a range of features aimed at making the music creation process both accessible and enjoyable, as well as potentially rewarding.
Features:
Quick Song Creation: Create songs in seconds.
Monetization: Earn from streaming platforms.
Global Community: Platform for artist collaboration.
Featured Playlists: Showcases inspirational playlists.
Price of Boomy
Boomy provides three pricing options:
Free Plan: This plan costs nothing and lets you create and edit songs. You can save up to 25 songs and release one song.
Creator Plan: For those who are more committed to music creation, this plan costs $9.99 per month, down from the original $14.99. It allows you to save up to 500 songs and release 3 songs per month, with a total limit of 15 releases.
Pro Plan: Priced at $29.99 per month, reduced from $39.99, this plan offers unlimited song saves and faster reviews for your releases.
Musicfy provides a diverse range of options for users, including artist vocals, parody vocals, and the capability to blend different vocals together. The platform also offers the unique feature of allowing users to train their own AI voice models.
In terms of versatility, Musicfy supports multiple input methods. Users can upload audio files, record directly within the platform, or even use YouTube links as a source for their projects.
Features:
Artist Vocals: Choose from various artist voices.
Parody Vocals: Create comedic or satirical vocals.
Instrumentals: Generate foundational tracks.
Fuse Vocals: Combine different vocals.
Train Your Own AI Voice: Personalize your voice model.
Multiple Input Methods: Upload audio, record, or use YouTube links.
Quality Levels: Choose from Standard, Master, and Pro.
Copyright-Free Voices: Use voices freely.
Pitch and Quality Control: Customize pitch and output quality.
Price of Musicfy:
Musicfy has three pricing plans, each designed to cater to different levels of music creation needs:
Starter Plan: Priced at $9.99 per month, this plan is ideal for beginners. It offers:
Unlimited song generations
Standard speed and sound quality
25 instrumental tracks
One custom voice model
Professional Plan: For more advanced users, this plan costs $24.99 per month and includes:
Premium sound quality
100 instrumental tracks
Three custom voice models
Studio Plan: Aimed at professionals, this plan is priced at $69.99 per month and offers:
The fastest generation speed
Unlimited instrumental tracks
Up to 15 custom voice models
All plans come with the option to unlock additional voices.
Singify, developed by FineShare, is an online AI song cover generator that utilizes cutting-edge AI Voice Cloning technology. This allows users to transform their favorite songs into the voices of their chosen singers. The platform caters to a diverse audience, including content creators, music enthusiasts, fans, and even those interested in creating parodies.
The process is straightforward. With just a few easy steps, users can produce high-quality AI covers in a variety of voices. Additionally, with Singify, you can upload your own voice and create an AI model based on it.
Features:
AI Training Voice: Uses machine learning for realistic AI songs.
100+ AI Voices: Offers a wide range of voice models.
3 Simple Steps: Easy AI cover creation and sharing.
Cross-Platform Support: Accessible on multiple platforms.
Continuous Updates: Regularly updated features.
Fast & Convenient: Vocal isolation and easy song search.
Price of FineShare Singify:
FineShare Singify offers a variety of pricing options:
Free Account: Perfect for those just starting out, this plan is free forever. It provides 5,000 credits for use and allows you to download covers. You can also earn extra credits by sharing the service.
Subscription Plan: At $6.99 per month, this plan is geared towards serious creators. It includes a generous 80,000 monthly credits, access to all AI models, 100 priority passes, and 6 custom model passes. You'll also enjoy unlimited downloads and priority customer support. The subscription can be canceled at any time.
Pay As You Go: For a one-time payment of $8.99, you'll receive 50,000 credits, access to all AI models, 3 priority passes, and unlimited downloads. This plan offers flexibility without a recurring charge.
Custom Model Training: If you're interested in training a custom model, it's available for a one-time fee of $19.99. This also comes with an additional 50,000 free credits.
Covers.ai, too, offers the option for users to record and use their own voice. The process is straightforward: users are required to record their voice for 3-5 minutes. After that, the platform takes approximately two days to create an AI voice model based on the recording.
Once the model is ready, users receive a private link to access their secure AI voice model. They can then use this model to create an unlimited number of song covers.
Features:
AI Voice Model Creation: Record and create your own AI voice.
High-Quality Private Voice: Offers secure, high-quality voice models.
Sing in Any Language: Supports multilingual song covers.
Secure AI Voice Model: Provides private, secure voice model links.
Unlimited Songs: Create endless songs with your AI voice.
Price of Covers.ai:
Covers.ai has a simple and affordable pricing structure. For a one-time fee of $24.99, you get:
Lifetime Access: No recurring charges, just pay once and use forever.
Unlimited Covers: Create as many song covers as you want.
High-Quality Voice: Your own private AI voice model for song covers.
Language Flexibility: Sing in any language you prefer.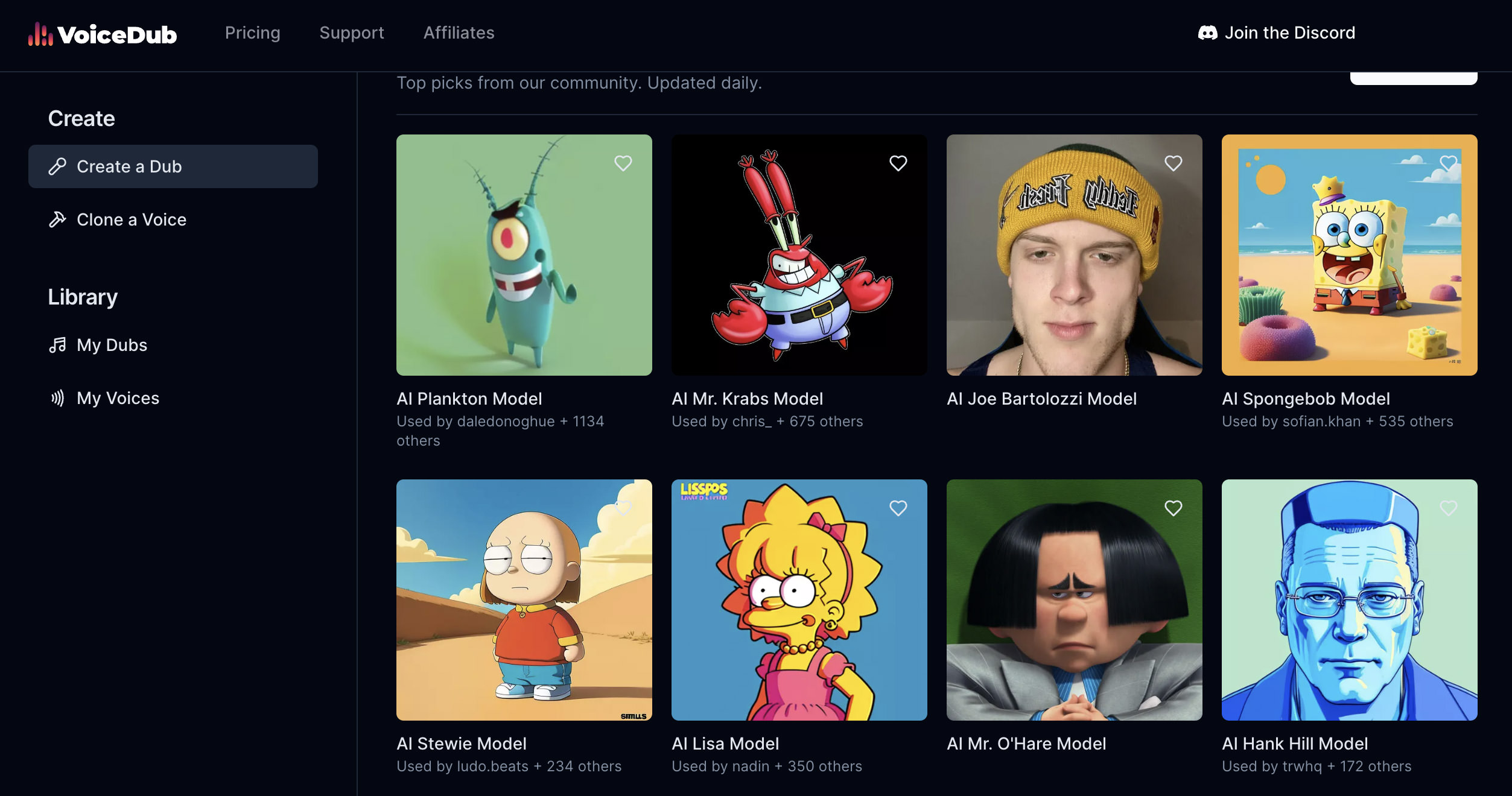 VoiceDub, currently at version 2.0, is designed to create AI voice covers for your favorite songs. The platform offers a variety of features, including voice cloning and text-to-speech capabilities.
The online tool aims to replace your vocals with high-quality and diverse AI voices. This makes it a fast and efficient solution for generating AI voice covers. Additionally, VoiceDub provides a selection of royalty-free voices, allowing users the freedom to create original music while retaining the rights.
Features:
Voice Cloning: Upload and clone your own voice.
Text-to-Speech: Generate vocals from text.
Loads of AI Voices: Wide range of AI voice options.
Royalty-Free Voices: Create and own original music.
Lightning Fast: Quick voice dub generation.
Price of VoiceDub AI:
VoiceDub AI offers four pricing plans, each designed to meet different user needs:
Basic Plan: For just $2.99 per month, you get to create up to 5 voice dubs and one cloned voice. Premium support is also included.
Starter Plan: Priced at $14.99 per month, this plan lets you make up to 25 voice dubs and 5 cloned voices. You'll also get premium support and the chance to earn extra credits.
Influencer Plan: At $24.99 per month, you get priority access to all AI voice models and faster processing times. This plan allows for up to 100 voice dubs and 20 cloned voices, along with premium support and the option for additional credits.
Pro Plan: The most comprehensive option costs $99.99 per month and includes all the features of the Influencer plan. Additionally, it offers custom AI voice models based on your own voice (coming soon). You can create up to 1000 voice dubs and 200 cloned voices.
MelodyStudio provides AI-assisted capabilities for vocal melody and lead sheet creation, offering users enhanced control and creative freedom. The platform is designed to cater to a wide range of users, from beginners interested in learning the craft to seasoned songwriters in search of new inspiration.
To facilitate the music creation process, MelodyStudio offers a step-by-step guide. This takes users through the journey from importing lyrics to editing melodies, helping them create unique and original compositions.
Features:
AI-Assisted Vocal Melody: AI helps create unique vocal melodies.
Lyric Integration: Use your own lyrics or generate new ones.
Chord Progression Panel: Experiment with keys and chords.
Melody Generation: Generate original melody ideas.
Timeline Editing: Edit melodies in a timeline view.
Dynamic Customization: Adjust notes, rhythm, and tempo.
AI-Assisted Capabilities: Enhance songwriting with AI.
Price of MelodyStudio:
MelodyStudio has a Pro plan packed with features like creating melodies, generating chords, and editing full songs. It's popular among well-known artists. They're also planning to add new features like collaboration tools and the option to upload your own music tracks.
As for the cost, it's pretty straightforward:
Monthly: Pay $4.99 each month and save 75%.
Every 6 Months: Pay $26.94 upfront for six months, which is $4.49 per month, and save 78%.
Annually: Pay $47.88 for a whole year, which is $3.99 per month, and save 80%.
MusicAI is a music generator that's powered by artificial intelligence and is exclusively available for Windows operating systems. The software provides a selection of over 10 AI voice models from various musical genres. This allows you to create expressive covers of popular songs in a style that suits you.
The interface of MusicAI is designed to be user-friendly. It features straightforward controls and provides clear instructions, making it accessible for people with varying levels of technical expertise.
In terms of compatibility, MusicAI works well with a range of Windows versions, including Windows 7, 8, 8.1, 10, and 11.
Features:
AI Covers: Offers various artist voice models for diverse song covers.
Vocal Removal: Isolates vocals to leave only instrumentals.
Text to Song: Converts text into composed songs.
AI Composition: Utilizes machine learning for music creation.
Audio Enhancement: Improves audio quality and clarity.
Versatile Compatibility: Supports Windows 7 through 11.
User-Friendly Interface: Intuitive and accessible for all skill levels.
Price of MusicAI:
MusicAI has three subscription plans, each with different features and pricing. All plans come with a one-time free trial for each function, the ability to export covers in multiple formats, and access to exclusive premium content. You can cancel these auto-renewable plans at any time, and there's a 30-day money-back guarantee.
Monthly Plan: Costs $9.99 per month, down from the original $14.99. You can create up to 30 AI cover songs and get round-the-clock technical support.
Quarterly Plan: Available for $24.99 for three months, reduced from $49.99. This plan lets you make up to 120 AI cover songs and also includes 24/7 technical support.
Yearly Plan: The annual subscription is $89.99, discounted from $139.99. This plan allows for unlimited AI cover song creation and includes 24/7 technical support.
Voicemod's "AI Text To Song Generator" is available in two formats: a web-based application and downloadable software for Mac and Windows. Described as a "Meme Song Machine," this tool enables users to convert text into songs and share them across various platforms.
The tool aims to provide a creative twist to conventional text messaging. Think about the possibility of sending AI-generated songs for special occasions like birthdays, or simply to brighten someone's day.
When it comes to musical variety, the tool is quite versatile. It supports an array of genres and moods, including Urban, Pop, EDM, and Classical music.
Features:
Online Accessibility: Web-based tool for browser-based song creation.
Variety of Genres: Offers instrumental backgrounds in multiple genres.
Multiple AI Singers: Features seven unique AI vocal types.
Shareability: Easy sharing across social and messaging platforms.
User-Friendly Interface: Intuitive lyric and music selection.
Examples and Previews: Provides sample songs for user reference.
Price of Voicemod:
Voicemod offers two versions: a free version and a paid version called Voicemod Pro. The Pro version has multiple pricing options:
Lifetime License: One-time payment of $45
Annual Subscription: $18 per year
Quarterly Subscription: $12 every three months
Choosing the Pro version comes with several benefits:
More Voice Options: Pro users get access to over 100 voices, while free users can only use up to 6 random voices daily.
Unlimited Soundboard Slots: Unlike the free version, which limits you to 5 slots, the Pro version offers unlimited soundboard slots.
Exclusive Soundboards: Enjoy high-quality soundboards that are exclusively designed by Voicemod's sound design team.
VoiceLab Access: Pro users can use VoiceLab, a feature that lets you create custom voices by combining various effects.
FAQ:
How to Create Free AI Cover Songs?
AI cover song generators like MusicAI, Singify, and Voicify that offer free options. You can select an artist's voice model, upload a clean audio file, and generate an AI cover song.
Is AI-Generated Music Subject to Copyright?
Current copyright laws are primarily designed for human-created music and do not fully cover AI-generated compositions.
How Do AI Cover Song Generators Operate?
AI cover song generators utilize deep learning algorithms to analyze the original song's melody, lyrics, rhythm, and style. They then synthesize a new vocal track using a different voice.
What is the Mechanism Behind AI Cover Song Generators?
These generators train on extensive audio data from the target artist. The AI algorithms analyze the artist's voice, style, and performance characteristics. Once trained, the AI can produce new audio that closely resembles the original artist.
Do Songwriters Utilize AI?
Some songwriters are using generative AI to imitate specific artists' vocals to better tailor their song pitches.
Is it Possible to Choose an Artist's Voice for the AI Cover Song?
Depending on the AI Cover Song Generator you use, you may have the option to select from a range of pre-trained voices or artists, allowing for more customized cover songs.