5 Best Free Realistic Text-to-Speech Tools
The web is brimming with text-to-speech tools, but most of the good ones (with realistic/ natural speech) aren't free. Nevertheless, we've stumbled upon some tools that are free and offer high-quality output.
Following is a list of some of the best free text-to-speech tools with a brief description and their respective pros and cons. Let's jump right in.
1. Capcut (Free forever)
CapCut is a basic yet powerful video editor with many features, including text-to-speech conversion.
To use this feature, go to the Text option and add/paste the text. Then select the Text-to-speech tab, where you'll see different voice options. Select any voice, listen to its preview, and if satisfied, click Start Reading to apply the speech on your timeline.
To download the converted speech, you will need to export the project as Audio and select MP3 as the format.
For now, CapCut is only available for Mac or online.
Realistic level: 3.8 / 5
Choices of voices: 3 / 5
What we like:
It is also a great video editing tool.
What we don't like:
Only works on Mac for now.
Limited voice choices.
2. Wideo.co (Free forever)
Wideo is an online text-to-speech converter tool. You don't need to install or sign up to use the service.
Just paste or type in the text in the given field, select a voice, click Preview to listen and once you're happy with the result, simply Download MP3 to get the audio file.
The good thing about Wideo is that it offers many different voices, speech styles, and even different accents to choose from. You can also adjust the speed of the speech according to your preference.
Realistic level: 3.8 / 5
Choices of voices: 4.5 / 5
What we like:
What we don't like:
The free plan comes with a limited amount of voices to choose from.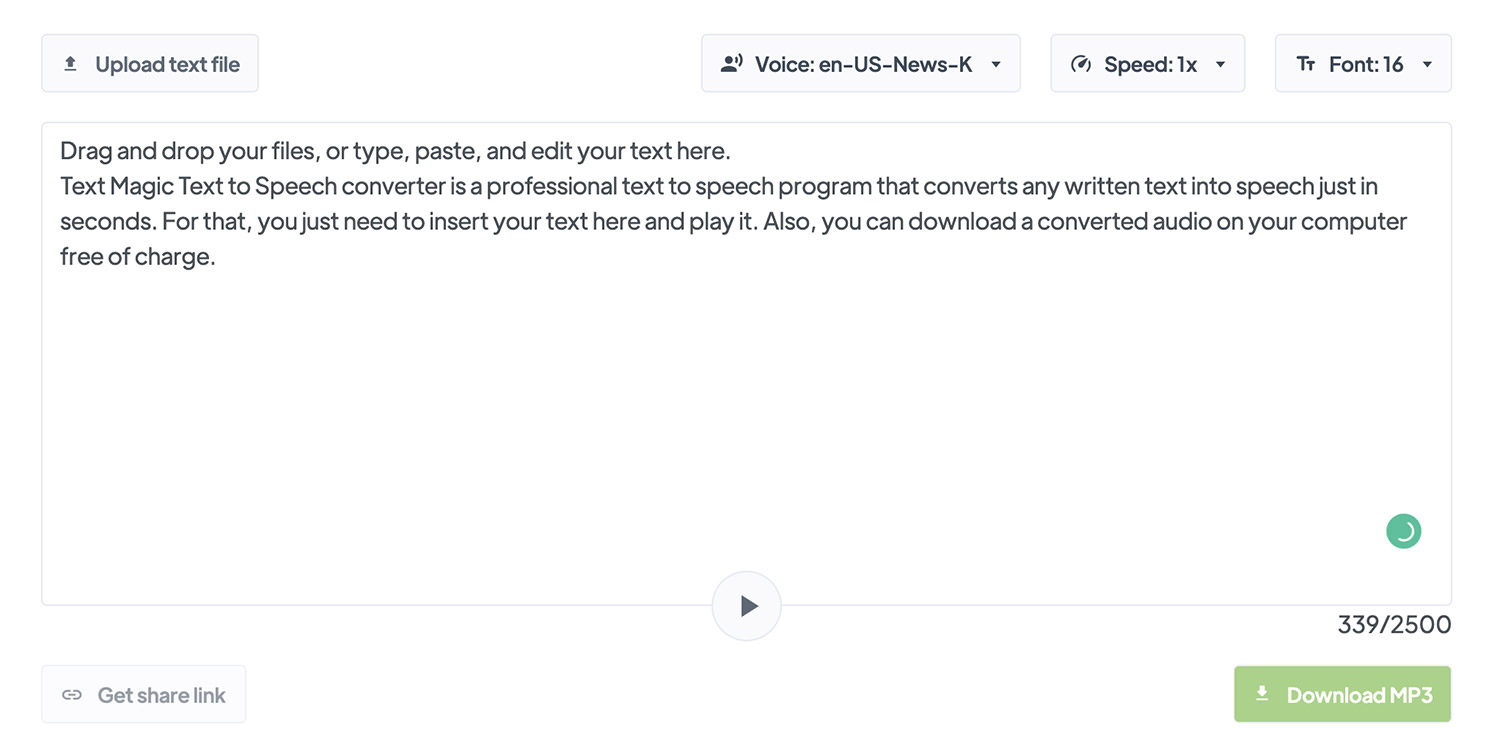 TextMagic is another online text-to-speech tool that lets you convert any text into speech without requiring you to log in or sign up. You can paste, upload, or drag and drop your text file in the field, clear CAPTCHA, play the output, and download MP3.
The tool gives you the option to generate a shareable link to send the speech file to anyone. It supports many languages, voices, and accents (of English) that you can get your speech in.
Realistic level: 4.0 / 5
Choices of voices: 4.5 / 5
What we like:
No sign-in required to use.
What we don't like:
Captcha verification is required every time you do TTS.
Text to Speech! is a basic text-to-speech converter iOS app with a simple interface. You can type in the text you want to convert to speech and play it in different voice options. You can adjust the speed and pitch of your voice.
The converted speech will be saved in the app as an audio file that you can use as a ringtone, but there's no option to download it on your phone or on the computer. Also, for better-quality voices, you need to get a premium version of the app.
Realistic level: 2.5 / 5
Choices of voices: 3 / 5
What we like:
What we don't like:
Limited choices of voices.
No option to download audio.
5. Voicemaker (Free with limitation)
Voicemaker is an online text-to-speech converter where you can enter text, play it, improve upon different aspects of the output, and then download it in MP3 format directly from the website.
The best thing about this tool is that it allows you to make a lot of tweaks and adjustments to your converter speech to make it as suitable for you as possible. You can do all that through a free account, but there's a limit to the number of conversions and voice options. For unlimited conversions and more voice options, you can subscribe to a paid plan starting from $5/month.
Realistic level: 3.8 / 5
Choices of voices: 3 / 5
What we like:
Plenty of options to fine-tune the voice.
What we don't like:
Limited choices of voices.
More Text-to-speech (TTS) tools