50 Exquisite Gifts for this Valentine's Day
Christmas may be over but here's another reason to shop; and this time it is for your love ones.
Valentine Day is just around the corner and now is the perfect time to start planning what you want to buy for your loved one. Now, a dozen roses or a box of chocolates may be appreciated for a while, but if you really want your sweetheart to swoon, here are some low cost Valentine's Day gifts for all the loved ones on your list.
Gifts For Her
Whipping up a batch used to be a hassle but not any more. This S'mores cooker creates two scrumptious delights at a time – one for you and one for the geek who's still sitting at the computer at midnight.
No more dust bunnies under the bed with iRobot's Robot Vac. Just turn it on and let it go. This smart vacuum hugs walls, works around the furniture and gives your kitty a ride around the house.
No more burned fingers in the kitchen. This oven mitt, shaped like your favorite game character, PacMan, keeps your fingers cool when taking out another batch of S'mores from the oven.
Keep your gamers feet warm with this USB powered foot warmer. It's safe, it doesn't use a ton of juice and it keeps your geek's feet toasty warm.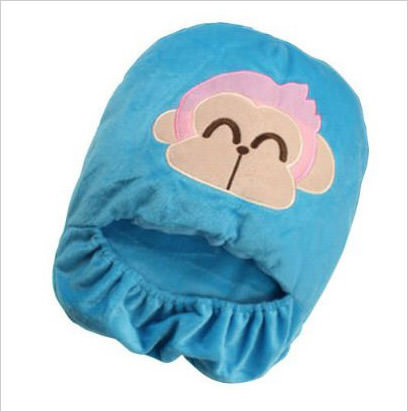 This wrist watch will put a smile on your sweetheart's face. It's modern, stylish and ideal for the ladies on your list. You can adjust the size of the bracelet for the perfect fit.
This wallet comes complete with a digital display to show off your favorite pictures. You get a 1.4 inch, full color screen & an audio recorder function (narrate your slide show in stereo).
Who says a knife holder can't show a little attitude? This holder is shaped like a human (maybe your ex-sweetie?) and comes complete with five knives in all shapes and sizes.
It looks like a plain old egg, but when you crack open the top your girlfriend is in for a surprise to see inside is a complete growing environment.
Forget the scratchy paper towels for wiping off your geek's computer monitor or HD TV screen. Computer Care Screen Wipes are little chamois cloths that come in a funny ducky, gorilla, giraffe or tiger case.
These cute little speakers turn any iPod into a party. Just plug in your MP3 player, crank up the volume and get clean, clear sound from your Headphonies.
Tengu reacts to sounds – your voice, music, even the clicks of a computer keyboard. It comes in lots of colors and you can customize your own little buddy using stickers and other bits.
Ever feel misunderstood? Is your honey confused when you start talking in HTML code? Here's the perfect gift for your girl, guaranteed to provide a little insight into the mind of a true computer geek.
It's small, comes in cool patterns or straight up black, the Mino camcorder stores up to 60 minutes of video on the go. And it's small enough to slip into a pocket or purse.
Strap on the Ironman Fitness Tracker and get all the metrics from your latest workout: number of steps, distance, calories burned, lap manager – this thing does everything but take that 5K morning jog for you.
Well, someone came up with cutting boards that display our little Invader friends. Made of solid walnut and maple, this kitchen accessory will keep your countertop slice free while adding a little fun to making dinner.
Send your favorite couch spud a Candy Basket filled to the brim with all of his (or her) favorite candies. You can also add brownies, coupon books and an "Add 52 Weeks of Romance Game" for a few extra bucks.
Okay, it looks like a hip flask but it's actually a cigarette holder to keep you smokes fresh and unharmed, even when you're in the middle of your weekly mud wrestling competition. It comes in a feminine pink and makes the ideal gift for the every girl in your house.
Now you can declare your undying love on a piece of toast. Simply toast your sweetie's bread and use the plastic stamper to show her how you feel everyday.
NeoCube Alpha
This desktop plaything is a collection of magnetized ball bearings that can be configured in an infinite number of patterns to let your inner self show through.
This award winning design takes the simple candle into the new age. Simply place a tea candle between the two-mirrored surfaces to produce the appearance of infinite candles all flickering in sync.
It's not just a key ring. It's a statement of your love – something she'll think of every time she starts up the Subie. Don't just tell her you love her, show her everyday by giving your heart to your favorite girl geek.
Slip it into a purse or knapsack and stay dry even during monsoon season. It comes in black, turquoise or Electric Pink.
Simply plug PoGo into your digital camera and make prints of all your favorite pics. One very cool feature? Sticky back paper lets your post pics anywhere without a thumb tack.
Milano Electronic Cigarette
The Milano Electronic Cigarette has no flame, no tobacco and no dangerous carcinogens, but you still enjoy the smoking experience. It tastes like a cigarette without stinking up the place and sending you to an early grave.
Aww, an MP3 speaker system built into a teddy bear. She'll love it. They're cute and cuddly and they deliver decent sound through speakers located in teddy's footpads.
Gifts For Him
How many times have you wished you had a sign to tell some tail gater to back off, or an LED light up to thank some courteous driver for letting you slip in line? This little gizmo attaches to your rear windshield and sends out a variety of messages – both nice and not so nice.
Your boyfriend will love this tie that displays the retro game – Tetris. Let your sweetie show where his heart is, and just how good he is at placing that L-shaped Tetris block.
This is something that's going to deliver clean, clear surround sound to go with that new big screen TV. Bring you popcorn & enjoy your movie.
And who says you can't buy yourself something cool at an affordable price. Marc Ecko's Chronograph is rugged, it has all the bells and whistles a geek could need and it looks just plain cool.
Sure, it's goofy but the Butt Station keeps your geek's desk a little neater. A tape dispenser, pen holder, post it notes holder and other storage – all in a funny little package. It may look like a gag gift, but any geek will love it and USE it.
Any self respecting geek has lots of rechargeable gadgets – from iPhone to portable gaming consoles. The PowerMat charges all these battery powered gadgets quickly and without taking up all the outlets in the condo.
The Lilliput Mini USB Monitor delivers the extra space you need. Simply plug the Mini into any USB port and you've got a little monitor to track incoming email, code strings, SMSs – anything you need at a glance.
You just never know when it's time for a short sip of your favorite beverage. The Pocket Pint collapses into a thin disk or extends to a full, pint sized drinking glass ideal for the next round of Guinness.
Mix up a batch of extra dry martinis during Super Bowl or any time with this cocktail shaker shaped like a football. This will REALLY get you in to the spirit of the game.
Your favorite football (soccer) star will love seeing his or her name on the uniform hanging in the Arsenal's locker room. Just enter your footy's first and last name and you'll get an autographed picture showing your geek's uniform up there with his favorite players.
Simply place the Frosty Mug in the freezer for an hour (upside down and don't ask me why) and your geek's favorite brewski will stay icy cold for hours. No more warm beer!
Forget the camera tripod or unipod. Gorillapod secures your digital camera to anything so s/he can be in the picture, too. It twists and swivels to hold tight to any surface so no one is ever left out.
This one is a complete charging station for all your rechargeable gadgets. Just place up to three units into the astro turf filled planter, plug it in and charge you geek's fav gadgets in no time flat. Frees up sockets in the apartment for other things, too.
These two tees fit together like the pieces of a puzzle, creating a complete couple – his and hers. 100% cotton comfort and a very sweet message your mate will love.
Talking Remotes
You don't have to waste time messaging your partner. These talking remotes are loaded with lots of precorded messages (and sound effects) to let your baby know what you need.
Looking for a glass of chocolate milk? How about a nice cup of coco? With this little bauble, you can simplify the process with complete, 100% self-stirring to save your wrist for more coding in the spare room office.
Set the mood for romance with this all in one love fest in a box. It comes with mood setting candles, bubble bath (for two), massage gel (with aphrodisiacal essence), Organza massager and a CD of soft, romantic tunes – all in an attractive gift box.
You're never without power with this solar powered backpack. It produces 4.5 watts as you trek through the forest – more than enough juice to run your iPhone.
Grillput
Take your grill with you wherever you go with Grillput. It folds into a narrow tube, but when deployed, its grill is large enough to cook kabobs for the whole gang, or maybe a romantic cookout for two in your favorite secret spot out in the country.
Yep, lots of people still read books. Everyone just want to read them on the go, in a format that's simple, functional and wireless and that's what it does.
Batteries come in all sizes from AAA to C and D and are charged through a simple USB connection. You'll also find battery recharger units that can handle cell batteries, 9 volt big boys for flashlight power when you need it.
Slip your laptop in to this undercover laptop sleeve that looks like a plain old, beat-up manila envelop. Hey, who'd want to rip off your old mail? The perfect disguise when your laptop has to go with you but you don't want the hoodies to know you're carrying.
Well, there you have them – 50 gift picks for the boys or girls on your shopping list this Valentine's Day. You don't have to spend a lot of cash for a thoughtful gift. Just a little creativity, a credit card and you're covered.
Who knows, you may get lucky – lucky in love, that is. A happy Valentine's day to all of you who are reading this :)
More Gift Ideas
Shopping mode on? Here are more ideas for gifts and present for you:
Editor's note: This post is written by Edward Khoo for Hongkiat.com. Edward is a tech enthusiast based in Malaysia. He blogs at EdwardKhoo.com.