How To Hide Files And Folders In Mac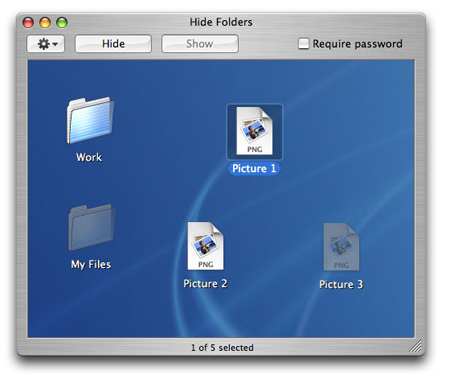 [Mac only] I'm sure everyone of us have something in our computer we do not want others to see. Let's not discuss what they are but when situations like someone have to borrow your computer and you fear they might just accidentally clicked in or so, is quite disturbing.
Hide Folders as the name suggest, is a application I'm been using to keep my private files safe from people who will possiblity use my mac. The application is a freeware and is fairly easy to use. Upon install, just drag your folders or files inside Hide Folders's Windows, select them and click Hide. These folder and files will then become invisible. Note that when you drag them over, it's only copying the location, not the files. Therefore they are still physically there.
You can also password protect the entire Hide Folder windows, that means you will need password access to access the app in future. However this feature only comes with paid version of the app.
This post is published by a Hongkiat.com staff (editors, interns, sometimes Hongkiat Lim himself) or a guest contributor.