10 WooCommerce Themes to Check Out (2022)
Were you about to give up looking for a suitable WooCommerce WordPress theme to help you open an online store?
But, you're not quite sure what you should be looking for. All you know is that you want a fast WooCommerce theme that takes very little time to set up and place your products on sale. And ultimately leads to high conversion rates.
Finding such a great WooCommerce WordPress theme can be difficult, and many advertise themselves as providing ideal solutions. But they may be missing key features you must have to create a genuinely innovative store and operate it as smoothly and effectively as possible.
You need a WordPress theme with WooCommerce that offers the optimal design options and settings to allow this to happen. One that suits your needs perfectly.
In this article, we have compiled a list of 10 best WooCommerce Themes, one or more of which should more than fulfill your wants and needs.
With BeTheme's 40+ core features at your fingertips, you can build any type of website quickly and with minimal effort. If building an online store is your objective, the following subset of Be's core features will prove to be invaluable.
With BeBuilder and BeBlocks, you can drag, drop, and customize your way to building an online store featuring attractive, pixel-perfect, and 100% responsive product pages and other pages.
With BeBuilder Woo at your fingertips, you can create custom WooCommerce templates, create custom attribute swatches, and embed drop-down login and other customer-centric features.
The Header Builder offers static, fixed, or absolute positions together with drag and drop to create device-dependent headers.
The Mega Menu Builder lets you combine elements any way you want.
Click on the banner to get a complete picture of BeTheme's capabilities.
While the list of WoodMart features you won't find in most other eCommerce-oriented themes is impressive, you can get an immediate idea of what this WooCommerce theme could do for you by visiting the website.
Still, this WooCommerce theme has featured its website photos alone won't make you aware. They include the following:
An easy-to-use setup wizard.
80+ importable pre-built demo websites; demos can be combined to create pages.
A library 400 templates, and special pages that make excellent prototyping tools if you are unsure of how you want to present a product.
Plenty of product page display options.
A full AJAX shop with a valuable array of AJAX shop filters.
Elementor and WPBakery support.
WoodMart's 2,200+ customer reviews have given it an average rating of 4.95. Click on the banner and check it out.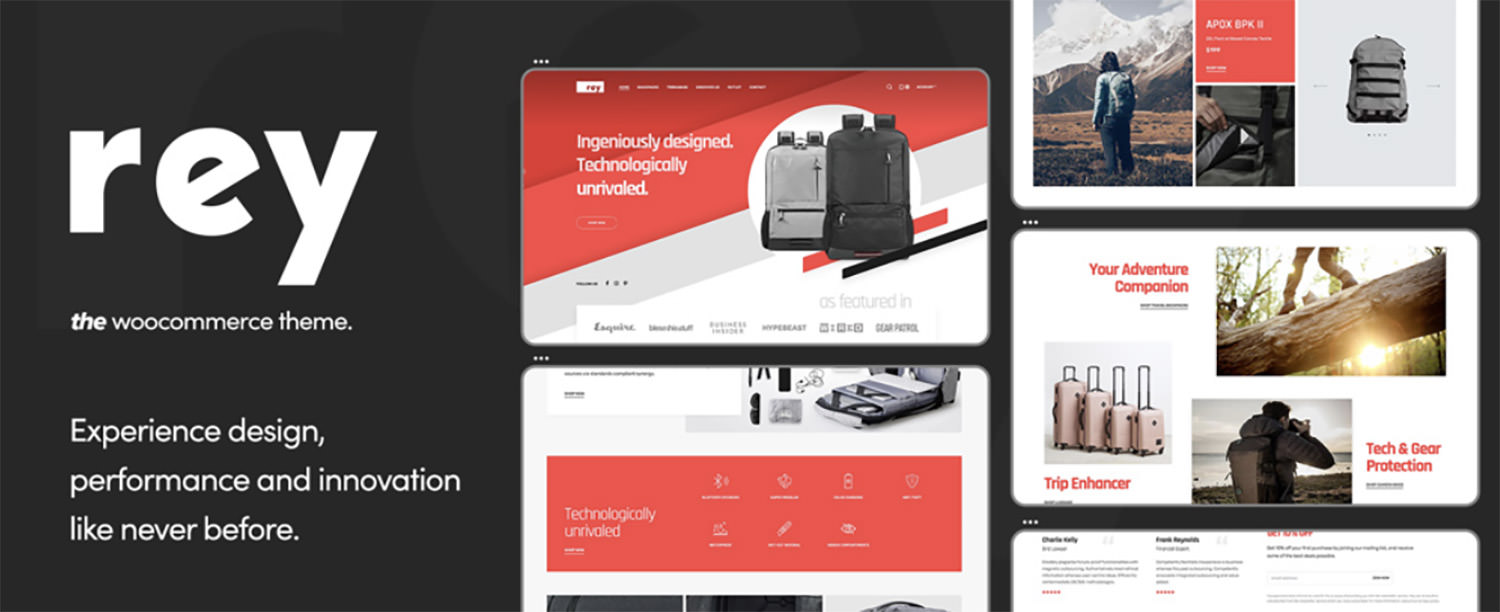 The Rey WooCommerce theme is designed with performance and innovation in mind. Special attention is given to product filtering, searching, templating, and navigation – the four pillars of eCommerce.
Features of Rey includes:
Rey integrates with Elementor and WooCommerce and offers powerful Elementor extensions. Elementor page builder content can be appended everywhere in any page.
Rey features strength in header building, mega menus, smart search, Quick View, Ajax search, and a host of shopper-centric features ranging from a cart page progress bar to cart discounts and boost conversions.
Ajax Navigation offers paged navigation, load more, and load more on scroll options.
Rey is responsive, developer-friendly, SEO-friendly, and definitely, performance oriented. Click on the banner to find out more.
TheGem is a best-selling premium WordPress theme that also happens to feature a virtual Swiss Army knife of WooCommerce site building tools and options.
Key features of TheGem includes:
Fast loading, top performance, and an extended library of pre-built designs.
TheGem WooCommerce builder together with 400+ WooCommerce-oriented designs.
Elementor and WPBakery page builders.
Product grids, Ajax filters, a shop mega menu, Ajax live search, and more.
Total is an aptly-named multipurpose WooCommerce theme that features everything you need to create an imaginative, pixel-perfect, high-converting online shop.
Its packages come with the following:
Excellent selections of quick start demos, site-building elements, and section templates.
Built-in WooCommerce options for colors, fonts, product pages, and social sharing.
Total is fully compatible with all the most popular plugins.
With Uncode at your fingertips, you can experience the same performance that more than 100.000 buyers already have.
Uncode's WooCommerce theme features a Wireframes plugin with 550+ section templates plus a souped-up Page Builder and advanced WooCommerce and shopper-centric features.
The best way to get a good idea of Uncode's impressive capabilities is to browse its user-created websites gallery.
A 6+ year run as the #1 selling WordPress theme is impressive but understandable in that Avada is one of the most-complete WooCommerce WordPress themes on the market and the most trusted.
Avada offers:
An impressive selection of theme and page options that give you complete control over building your website.
The Fusion Builder and Fusion Toolbox that combine the power of drag and drop with a wealth of page-building tools.
A WooCommerce shopping experience that is both intuitive and gorgeous.
Hongo is a modern multipurpose theme ideal for designing business-oriented websites and WooCommerce stores.
Hongo's key features include the following:
A library of easy-to-use page-building template blocks.
10 modern styles you can select from to showcase your products along with 12 eye-catching store demos that will get your creative juices flowing.
the WPBakery page builder.
Ready-access to WPBakery and WordPress customizer shortcodes.
An online shop built using XStore makes its builders (65,000+ of them) and its visitors happy.
Its features include:
An XStore-built website guarantees enjoyable visitor experiences.
120+ prebuilt ready-to-customize shops make creating an online shop easier for the builder.
Bought together, cart countdown, cart progress bar, and other booster sales features make the site a joy for all concerned.
XStore is SEO friendly, WPBakery and Elementor compatible, and features a single product builder.
Jupiter X doesn't fool around regarding WooCommerce, especially with the X2 update that provides website builders with features they usually associate with Elementor Pro.
Jupiter X's features:
A layout builder with improved full site editing.
A product catalog and advanced product checkout builders.
Checkout optimization features you seldom find in other themes, such as sales funnels, discounts and coupons, and smart checkout notices.
Creating an exciting online store can be a difficult task. Unless you've selected a WooCommerce-oriented WordPress theme to work with that features many useful eCommerce-oriented tools.
Pick one of these ten best WooCommerce WordPress themes randomly and see how easy it is to create a successful online store.
We suggest that you take a little time to check all of them out so you can pick one you feel best suits you best.