Introducing Wizardia: A Play-to-Earn Fantasy NFT Game
A modern Play-to-Earn (P2E) game with a unique metaverse, Wizardia is an upcoming online fantasy role-playing game with special NFTs. Its addictive gameplay and incredible graphics surpass most of the blockchain-based games.
Wizardia is a fantastic turn-based battle game wherein you play as wizards per your NFT. You can level up by upgrading your NFT as you upgrade axies in Axie Infinity.
What's more interesting is, Wizardia offers a play-to-earn economy where early backers and investors can earn passive income — somewhat similar to but a lot better than blockchain gaming guilds like Merit Circle and Yield Guild Games. Being an early investor of its Arena Genesis NFTs, you can own the battle arena in Wizardia and collect fees on all fights happening on your battlefields.
Moreover, you can buy and sell Wizard NFTs on the Wizardia NFT Marketplace. As with similar metaverse games, Wizardia allows you to level up your wizards to boost their fighting powers. Then, you can either sell, trade, or rent your upgraded Wizard NFT to make extra money through Wizardia.
You can watch its trailer below to get a glimpse of its fantasy graphics and gameplay.
What are Metaverses and NFTs?
Metaverse is the fancy name given to an in-game digital world powered by the blockchain. If you have watched Free Guy or Ready Player One, you already know metaverse as these movies show a digital world that can be compared to present metaverses. It is getting so popular now that Facebook changed its company name to "Meta" to show its commitment to building its metaverse.
Though games available in as early as 2003 — like Second Life — had digital worlds, "metaverse" is a name coined for a modern game's digital world that is powered by the blockchain technology and supports NFTs. These NFTs can be digital avatars as in Wizardia or digital lands as in Decentraland that can be upgraded and/or transferred between users inside or outside the metaverse.
In the Wizardia Metaverse, there are various types of NFTs. First, there are land NFTs called Arena Genesis NFTs, which allow you to own battle arena areas in the game. Second, there are avatar and item NFTs: Wizards, Protospells, and Realm Wonders. The first is avatar NFTs while the latter two are spell recipes and special buildings. For example,you need a Wizard NFT to get the most out of the game..
Wizardia vs. Other P2E Games
After the popularity of Axie Infinity during 2020-2021, we have seen many Defi (decentralized finance) and GameFi projects with a focus on earning potential for the gamer community in the crypto-universe. However, many of these projects fail to overcome the shortcoming of high inflation in their tokens with time.
Axie Infinity's SLP token is the biggest example: its circulating supply grew from 45 million in late-2020 to 5.38 billion in mid-2022 — a whopping 12,000% increase! This made its price fluctuate from $0.0435 in late-2020 to $0.889 in mid-2021 to later fall to 0.00385 in mid-2022 (according to Messari). Of course, the market ups and downs are also to blame here, but SLP could have performed a lot better on its price charts with a lesser circulating supply.
Moreover, the promise of earning potential is not enough to lure gamers in the long term — especially hard-core gamers who have been playing high-end games for years. Eventually, they are going to get bored and leave the metaverse game nevertheless of their earning opportunities. Modern gamers enjoy complex storylines that build game characters and setting, come with a history and mission, and call for a community. Don't you agree with me?
How is Wizardia Unique?
Wizardia hits the ball by focusing on the game first and the earning potential later. It aims to build an interesting game that can stand the test of time and attracts players regardless of the monetary incentive. Wizardia introduces the unlimited expanse of the Fog, where safe havens have developed on the few pieces of land that are safe from the wrath of the unknown and still viable.
Wizardia takes it even further by putting a big focus on high-quality art and graphics, which further enhances its gameplay. This ensures passionate gamers enjoy Wizardia as much as any other popular game.
Wizardia's Project Goals
Wizardia aims to launch its game along with AR integration and mobile app by the fourth quarter of 2022. They plan to build a marketplace and list their token in a tier-1 centralized exchange by the third quarter of 2022. I am quite impressed to see their progress as they have been able to meet most of their roadmap goals on time, which is hard to see in most crypto projects.
Interestingly, they have been consistently growing their community, which is super essential in building a successful, vibrant metaverse economy. In simple terms, it seems that the team behind Wizardia has cracked the code.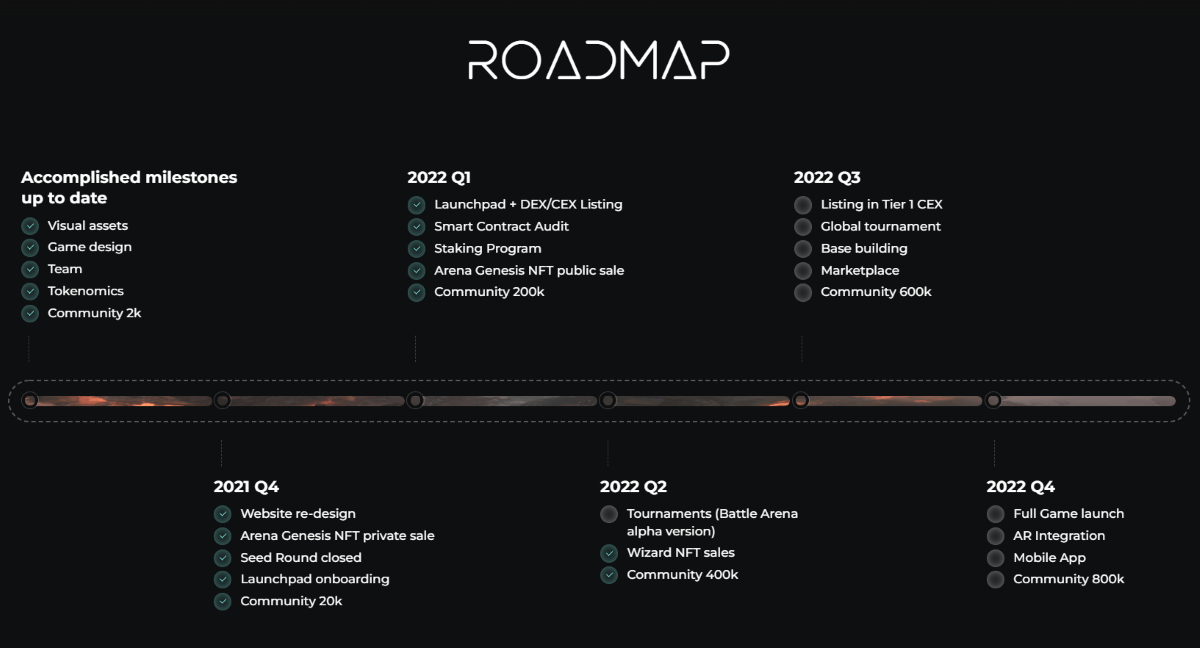 Project's Technical Details
Tokenomics
WZRD is the native token of Wizardia with a total supply of 300 million. It's distributed as shown in the screenshot below. The project employs cliff and vesting period mechanisms to release its token slowly. At the time of writing, $WZRD's circulating supply was 7.74 million according to CoinMarketCap.
Moreover, Wizardia is selling its tokens in multiple rounds for all types of investors. That means, its token supply is going to release evenly till mid-2023, thanks to tokens from seed, private, community, play-to-earn, staking, and marketing and listings allocations. Then, its supply will slowly increase till 2023-end due to tokens from play-to-earn and staking, team and advisors, and marketing and listings. So, we will see a steady release till 2023.
Token Sale
Wizardia token sale was planned in stages, giving every potential investor — seed, private, or community investor — a fair chance of investing in the dream and success of Wizardia. Its team planned a fair release of tokens.
As I have detailed above, all tokens come with a vesting period of 5 months to 19 months, depending on the token allocation and the token sale round. This shows the confidence and commitment of the team behind Wizardia in making this game a big success! Also, they ask for a similar level of confidence and commitment from their seed and private round investors, which further strengthens the tokenomics of its token $WZRD for the near future.
Token Uses
The price of any commodity or security in the world, including cryptocurrencies, is defined by its demand and supply. That is, the price goes as high as the friction between high demand and low supply. The same is true for $WZRD.
That said, $WZRD's price can be high if its demand is high. Fortunately, the team behind Wizardia has created a lot of use of their token. First, it's used to buy or mint resources, including Artifacts and NFTs, play bets on PvP battles, etc. Second, it's used as an entrance fee to participate in the tournaments.
Earning Potential
Wizardia's first earning opportunity comes from its Genesis Arena NFTs, which are land NFTs in its metaverse game. There are a total of 28,000 Genesis Arena NFTs that were sold in 7 rounds. That means, these are not inflationary in nature, unlike earning opportunities in other similar metaverse games.
The second earning opportunity is you get compensated for your time, effort, and skills in the game in the form of $WZRD tokens and in-game NFTs. Then, there are more earning opportunities in Wizardia: you can earn $WZRD through staking, fees on your Realm Wonders, selling in-game NFTs, completing quests, betting on PvP battles, and winning tournaments. Sounds interesting, right?
Backers and Partners
Wizardia is backed by a dedicated and skilled team who has experience working on well-known games like Call of Duty Black Ops: Cold War and Need for Speed 2015. Its CEO, Mindaugas Markevicius, has many years of experience in entrepreneurship, leadership, as well as project management.
Its COO, Tomas Kacevicius, has 13 years of experience in the digital marketing space. Its CTO, Marius Podvoiskis, has years of experience in the tech industry, including at Shopify.
You can read more about the Wizardia's team here.
Wizardia has advisors from Mars4, Illuviam, and Launchpad. Also, it is backed by a large number of investors including popular names like AU21 Capital, CRT Capital, and Magnus Capital, among various others. Moreover, it has partnered with many launchpads like Enjinstarter, Lithium, and Trustpad.
Conclusion
If you have been in the crypto space for long enough, you would know that crypto projects must survive times like bear markets to provide a solid return on your investment. Wizardia seems all prepared to perform well.
Wizardia is one of those projects that has all the foundation for becoming successful: a good product along with a dedicated team and a vibrant community. One of their roadmap goals is to grow their community by 200 thousand people every quarter — a goal they have been completing on time!
Moreover, Wizardia is up and standing as well as growing in the midst of the ongoing bear market. It has gained the attraction of investors as well as the gamer community during the fourth bear market of the crypto industry. This can be enough to say that people in the crypto industry are betting on Wizardia.
Disclaimer: This content is not financial advice. It is provided for educational and informational purposes only. Please consult a financial advisor if you are looking for financial advice. And always do your own research before investing.