30 Interesting Wine Infographics for Wine Lovers
Wine is an old drink with a rich history that is also one of the most consumed beverages in today's world. The culture surrounding this drink has evolved into a complete phenomenon. From wine making to wine tasting, information is abundant on the subject, and you may be surprised at how much you don't know.
As infographics are one of the best ways to learn and remember certain information, we have put together 30 useful infographics for wine lovers. In this showcase, you'll find a beginner's guide to wine, how to pair wine and cheese, wine and chocolate, and even wine and donuts, a list of wine glasses, unexpected health benefits of drinking wine, and much more.
Read Also:  50 Creative Restaurant Food & Drinks Menu Design Ideas
Let's start off with some basic understanding of wine.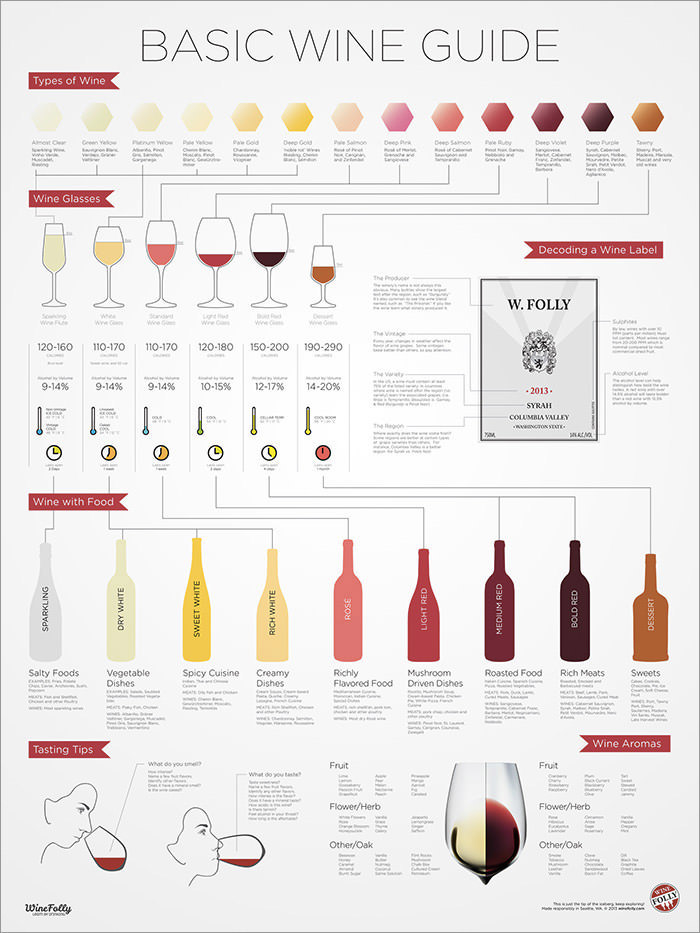 There are so many things to learn about wine as a beginner.
… yet some more information on the fundamentals of wine.
There's a type of wine called Rose, and here's everything you need to know about it.
You might also want to know that each type of wine has its own matching glass.
… and which glass to use for red and white wine.
Wine makes every food delicious, but knowing how to pair them together lies the magic.
Your food will taste richer and more delectable if you combine it with the right kind of wine.
Some of the most delicious recipes in the world with their respective wine pairings.
Wine & chocolate make a delightful combination, and knowing how to pair these two, makes the experience even more sensual.
How to pair wine and cheese is something every wine connoisseur should know.
Give a scrumptious end to your meal with best wine with right dessert.
Wine pairings for your backyard BBQ.
The right wine can bring out the best flavors in fish and other seafood, and here it's explained brilliantly.
Holiday cookies have their way with wine too, and this pairing chart will tell you all about it.
Similarly, Donuts can taste even more heavenly when paired with the best kind of wine.
It's good to know different beers with their wine counterparts.

Know the wine by its color.
The color spectrum of red wine is quite broad, but it's quite possible to teach yourself about it with this interesting graphic.
If you often wonder as how long an opened bottle of wine can last, here are some answers for you.
Learn about the ideal temprature for different types of wines.
Wine isn't just a tasty beverage, it has some unexpected health benefits, too.
A statistical look at wine in different parts of the world.
You think only experts can make a good fruit wine? Well, you can do that too by following these steps.
Some essential wine hacks that may come in handy in everyday life.
Discover the origins of some of the most famous Italian sparkling wines with this handy guide.
There is a science behind uncorking a bottle of sparkling wine safely, and here's all about it.
If you want to sound smart about your wine vocabulary, learn these 12 jargons by heart.