Top Photography Apps for Windows Phone 8.1
Discover the best apps for taking stunning photos on your Windows phone. Improve your photography skills and capture amazing shots with ease.
Most mobile phones are now equipped with a camera. A few phones even come with amazing camera specs, such as the Nokia Lumia 1020 with a 41-megapixels rear camera. Today, people use their phone's camera in many ways. Taking a selfie is now a norm. Some photographers and moviemakers also use their phone cameras to shoot and produce their professional work.
On that account, many apps that utilize their phone's camera as well as photo editors, flood the app store of every mobile platform. If you are a Windows Phone user, here we have put together various apps available in the Windows Phone Store, aimed specifically at the photography enthusiast. We carefully selected only put the best apps on the list. Let's check them out.
Recommended Reading: Top 10 Video Apps For Windows Phone
500px
500px is a social site, where Pro photographers hang around and share their amazing photographs. This is the 500px official app for Windows Phones, and it is a nicely crafted app. This app allows you to edit your profile, as well as explore, follow, and give comments. The app is also integrated with the Windows Phone Lock Screen setting, which enables you to set your lock screen background with the currently featured photo from 500px. Whether you are a professional photographer, a hobbyist, or merely someone who enjoys good photos, this is the essential app on your Windows Phone. [Get it here]
Photoshop Express
Adobe Photoshop Express makes it easy to edit photos on your Windows Phone. With this app, you can crop, adjust, add frames, and remove the red-eye effect from your photos. The app also offers an array of filters to make your photos outstanding. In case the free options are not enough, the app offers an in-app purchase for more filters to add to your selection. Photoshop Express is a handy app for retouching your photo. [Get it here]
More: Nokia Creative Studio, Nokia Glam Me, Fresh Paint
InstaSign
InstaSign is a simple app that allows you to attach your autograph to a photo. Write down your autograph on a clean sheet of white paper. Take the picture and add it to your autograph collection. Once you've chosen to apply the autograph, the app will automatically pull out the white background and include the autograph on the photo. You can also use this app to attach a watermark to your photos, or assign autographs to your digital documents. [Get it here]
OneShot
OneShot offers a pack of features for you to play around with. Fancy some filters? This app brings a lot of them, which you can apply before taking the picture. The Voice Control, even more, enables you to take the picture with voice. On top of that, you will find a plenty of tiny hidden gems upon exploring the app further. The app literally lets you customize every corner of it to make the best out of it. [Get it here]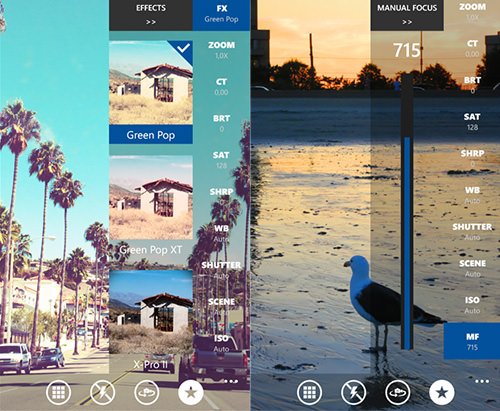 Camera 360
Camera 360 could make you "feel" like a Pro. Similar to OneShot, there are many features packed within this app. There's a range of special effects and filters, camera modes, in-app photo editor, and social sharing available, just to to name a few. Camera360 is the app that you should carry in your pocket. [Get it here]
Nokia Panorama
Clearly, the name says it all. Nokia Panorama lets you take a panoramic picture with your Windows Phone. The app is easy to use. Simply take some pictures, and the app will stitch them together into a single photo. The app also lets you share the photos that you've taken on your favourite social sites. [Get it here]
Photosynth
Photosynth is Microsoft's very own app. The app offers the ability to create a panoramic picture. Unlike Nokia Panorama, which only produces a straight panoramic picture, this app is able to create a 360 degree panorama. It's a very powerful app to record the amazing views that you may encounter on your adventures. [Get it here]
Blink
Blink is a photography app with a very unique proposition. This app lets you capture a sequence of shots before and after the actual picture is taken. Then, you can select the best shot from there and even create a short animation clip out of the sequence – learn more about Blink here. [Get it here]
DualShot
If your phone is equipped with two cameras, why not use both of them? DualShot lets you utilize the front and rear camera of your phone, and take the picture from both sides. So you can take a selfie while at the same time, capture a picture of the food that you're eating, which is a norm in this day and age. [Get it here]
LazyLens
LazyLens is the app that will certainly please you. This app ships with, at the time of writing, 23 preset customizations, a bunch of filters, textures, and frames, and it lets you apply them with a swipe of a finger. On top of that, you can also apply some adjustments like brightness, contrast, and saturation to the photo. [Get it here]