20 Websites to Sell and Publish Your eBooks
"If you are good at something, never do it for free" is the most famous dialogue from movie The Dark Knight – and something I completely believe in. If you're an expert in a certain area, then there is no harm in sharing your knowledge to earn money. And in today's internet-prone world, one great way to do so is to write and sell an ebook.
All you need is to make sure you produce quality stuff and then think of a reasonable selling price for it. The former part is completely up to you, however, for the latter part, there are many online services that can assist you well.
Read Also:  50 Websites to Download Free EBooks
In this article, I've pulled a list of 20 websites that can help you host and sell your ebook, along with handling the troublesome transaction process. Some even let you keep 90-100% of the sales price. So, let's take a look.
Payhip is an e-commerce website that offers you to sell any type of downloadable digital material, including ebooks. You create a customizable sales page on Payhip for free and it gives you the tools to sell your product, such as discount coupons, share buttons, affiliate program and flexible pricing options. Payhip will simply keep 5% of all the sales you make – simple right?
You can easily publish your ebooks on the biggest online store Amazon for free. Of course, you will get a huge exposure on Amazon and you get to keep up to 70% of the total sales price.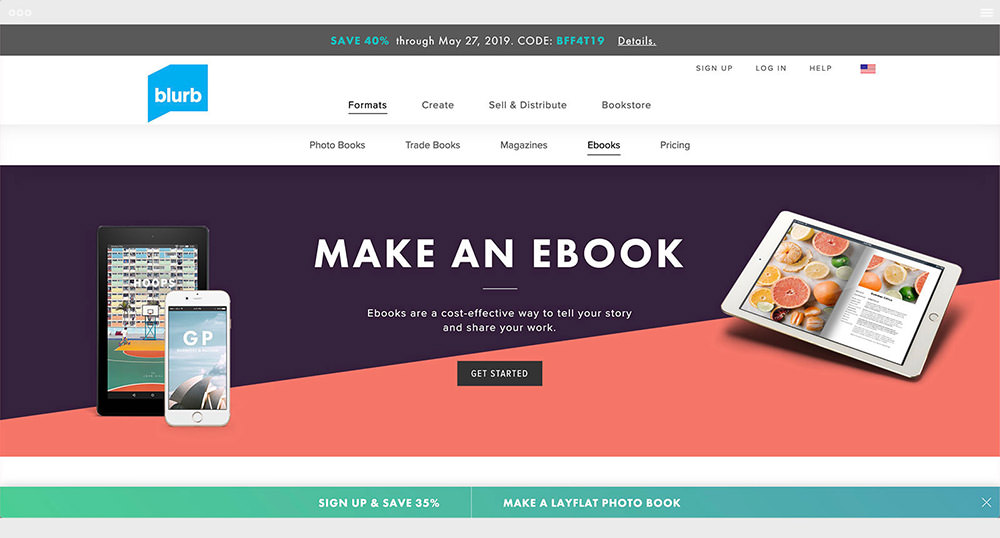 Blurb gives you reliable tools to create that perfect ebook. You can create reflowable ebooks or fixed layout ebooks and blurb will automatically format the book for you in your choice format. You can sell the books to different markets, including Blurb, Amazon, and Apple iBooks Store.
Lulu offers a complete guide on creating perfectly formatted ebooks and then convert them into EPUB or PDF format. If you can't do it yourself, then Lulu also offers personal service of doing it for you for a tiny fee. Your ebooks can be sold on different publishers with each offering their own royalty.
Tradebit is very similar to Payhip as it lets you create a sales page and then helps you sell your ebooks (or any other downloadable material). You can use an affiliate program, set custom price, take advantage of social media integration and sell ebooks on popular markets such as eBay.
Barnes & Noble offers this self-publishing tool to write and publish your ebook. NOOK Press offers all the tools for free to create and publish your ebooks. The created ebook will be published to millions of NOOK and Barnes & Noble readers. You can check NOOK Press FAQ page for all the details.
A really easy to use self-publishing platform, Kobo lets you publish your ebook in 5 simple steps. Your books will be published on Kobo website for millions of readers. Kobo charges no fee for creating and publishing ebooks, but it does keep a commission on the sales.
Smashwords gives you huge visibility by publishing your work over multiple distributors, including Kobo Barnes & Noble, OverDrive, and Smashwords. There is no fee in the publishing process and you get free tools to protect and format your ebooks. You will get 80% royalty on sales from Smashwords and 60% on other distributors.
Scribd is a paid reading service that hosts ebooks and other similar content that members can read with a subscription. When the readers will read your ebook, you will be paid as it was sold to them. However, you can only sign up for Scribd using its affiliate companies, including Smashwords, BookBaby, and Draft2Digital, etc.
PayLoads also offers great tools to host your ebooks and sell them online. You will get encrypted download page, shareable buttons, ebooks listed in eBay auctions and affiliate program. PayLoads costs $19.95/month with a 2.9% to 4.9% fee on each sale.
Another comprehensive service to host your ebooks and it does all the hard work of selling them for you. You can create a sales page for your ebooks and use power tools like multiple payments support, affiliate programs, protected storage, discount offers, manage inventory, create packages, Google Analytics and more. E-Junkie charges fixed monthly payment based on your needs.
Feiyr is a paid promotion service for ebooks and music. You can upload your ebook to Feiyr and it will be made available to be sold on over 165 different online stores. Just pay a one-time fee of € 9.90 and start publishing, and you will get to keep 90% of the sales price.
Selz
Selz offers highly customizable packages to create your own sales store and sell products. With the free account, you can list 5 items and access tools like widgets, fraud protection, and analytics tools, etc. Paid membership starting from $12.99 gives the ability to list unlimited items and customize the page according to your liking.
A very flexible platform to setup your online shop, Gumroad lets you personalize your store to your liking and gives you amazing selling opportunities. You can create subscriptions, memberships, direct sales, provide extra benefits, give discounts on actions, customizable DRM and more. And all of this comes with a $10 monthly fee and just 3.5% fee on each sale.
Booktango is a free service that won't even charge a fee on transactions. You can upload and sell ebooks and keep 100% of the earnings. Although if you use their custom covers, you'll have to pay a certain price. Booktango sells the ebooks on its store and other retailers.
Clickbank has a really strong affiliate network of 500,000 marketers that will surely boost your sales. It is also a product selling website like others and gives you the ability to create custom forms, subscriptions, fraud protection and much more. You can either keep 50% as royalty or pay $49.95 as a one-time fee for your store and pay 7.5% fee on transactions.
BookBaby is quite an expensive service in this list, however, it offers amazing quality and lets you keep 100% of the sales. From writing, formatting, and designing to distributing and completing sales, everything will be handled by BookBaby for a price of $149/ebook. Their experts will work side by side to create your perfect ebook using advanced tools and then distribute it to different retailers including BookBaby itself.
For $29/month you can access all of Shopify tools to create a fully functional online store. You don't need any coding skills, it is really easy to use and gives you templates and themes to quickly create a perfect online store. If you do have coding skills, then Shopify gives complete freedom to control HTML and CSS. It also offers multiple opportunities to promote your ebooks, including distributing them over different stores.
Time to monetize your ebooks
I will recommend you to start with Payhip if you are new to selling ebooks. It charges less fee on a transaction and doesn't come with any risks. Although, if you are a professional ebook seller, then BookBaby can really up your game.
I should also mention that all these ebook selling website offer DRM protection for your books and some can even add customer name/information on each page of the ebook.
Read Also:  5 Best Online Services to Sell Digital Products Effortlessly