40 Unusually Creative Mugs, Cups & Glasses
Nothing wakes me up better than a good cuppa in the morning. To some of us, cups, mugs, glasses; they are just something to hold our beverages; what matters is what we pour into them. To others, it wouldn't hurt to have an unusual mug or two that screams "this mug is unique, and it's also mine".
Well, my black Universal Studios mug isn't as unique as the following 40 unique mugs, cups and glasses you're about to see, but the shape does emit a sense of comfort and familiarity to me. May be you will find one that suits your personality from the showcase below.
Recommended Reading: 34 Awesome Products Geeks will Love
Coffee Bean Mug. Looking at the coffee beans, you'll be perked up before you even start sipping. (Image Source: RC Taylor)
Crumbled 'Plastic' Cup. A playful imitation of the typical translucent plastic cup. Don't throw this one away though. (Image Source: Mathias Winks)
Hopside Down. Bottoms Up! (Image Source: Mathias Winks)
Nikon Camera Lens Mugs. Another sleek and creative design for photographers. (Image Source: Photojojo Store)
Chain-Link Magnetic Cups. Storing is easy with magnetic cups. (Image Source: Angela Schwab)
RE-think + RE-cycle. Environmentally-friendly cups for your daily use. (Image Source: Saleem Khattak & Soren Schou & Peter Busby)
Punch. The perfect sidekick for beverages that pack a punch. (Image Source: Cristobal Karich)
Origami. Exquisite (but not so ergonomic) origami patterns for cups. (Image Source: Adam Zwierzynski )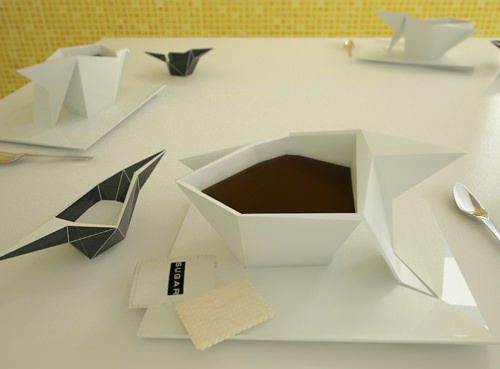 Mug Drink Selector. Tired of repeating your coffee order? Even the tealady can't get it wrong now. (Image Source: Suck UK)
Tie Tea for Right Handed Person, White. It's pretty irritating when your tea label gets into a good cup of tea, no? With this design, you don't have to worry about that anymore. (Image Source: le mouton noir & co)
Double Walled Porcelain Tea Cup with Sealable Cap. Being double-layered porcelain, this cup works like a thermal flask. There's also a sealable cap to keep your drinks warm. (Image Source: le mouton noir & co)
Classic Chalk Talk 12-Ounce Mug, Black, Gift Boxed. Design your own mug! The surface allows you to write or draw with your chalks. (Image Source: Konitz)
Stacked Ceramic 12-Ounce Mug. Looks like three cups stacked against each other, but no, it's just an illusion. (Image Source: Fred)
Half Full Glass. This half-full glass is a good reminder for all pessimists to be optimistic and all optimists to stay as they are. (Image Source: Fred Designs)
Winestein Double-Walled Glass Mug. A delicate mix of wine glass and beer mug for all alcohol lovers. (Image Source: Fred and Friends)
Bombs Away 1-1/2-Ounce Shot Glasses. A conical craving within your typical shot glass. (Image Source: Fred and Friends)
Water Carafe And Glass. The apparent stack of plastic cups is actually a water carafe. The actual cup on the right can be stacked on top of the carafe when not in use to give an illusion of the plastic cups stack. (Image Source: Fred and Friends)
2 Carat Cup. Is that a sparkling diamond ring on her finger? No, that's the handle of the cup! (Image Source: Charles&Marie)
On Off Mug. Heat-sensitive cup that shows 'ON' when you pour in hot beverages and 'OFF' when you don't! (Image Source: Charles&Marie)
My Cuppa. Ever wonder how much milk you should add to your coffee to get the right taste? With the color codes within your cup, worry no more. (Image Source: Charles&Marie)
Cadarache Cup. Doesn't this look like the nuclear power plant you're working in? (Image Source: trustindesign)
Gun Mug – Kill Time. "Go slow in life, kill time with a cup of coffee!" (Image Source: Molla Space)
Ctrl-Alt-Delete Cup Set. What do you do when your computer gets slow and sluggy? Ctrl-Alt-Del, right? Same for your body when it gets tired and lethargic. (Image Source: Think Geek)
Martini Glass to Compliment Bombay Sapphire. Love Bombay Sapphire? This martini glass will go well with it. (Image Source: Benjamin Hubert)
Champagne Flute. This double-walled cylindrical champagne glass keeps your drink colder for longer. (Image Source: Yanko Design)
Link Mugs. Question: How do you carry six mugs without a tray? Answer: Use Link Mugs. (Image Source: Jonathan Aspinall)
O-Glass, Vaso de Whisky 2010. This whisky glass has a hole drilled across the base. Slot in a tiny hankerchief to give it a classy look! (Image Source: whatsbubbling)
Clown Nose Mug. Start your day right. Make someone laugh. Drink up and be a clown with this red clown-nose mug. (Image Source: Atypyk)
Cipher. The mosaic tells other jealous cup owners if you're having chocolate milk, orange juice or just milk. (Image Source: Damjan Stankovic)
Zipper Wine Glasses. Instead of half-empty or half-full, how about half-zipped or half-unzipped? (Image Source: after5catalog)
Panda Smile on Your Face Mug Set. Finish your cup of tea and make the panda smile! (Image Source: modcloth)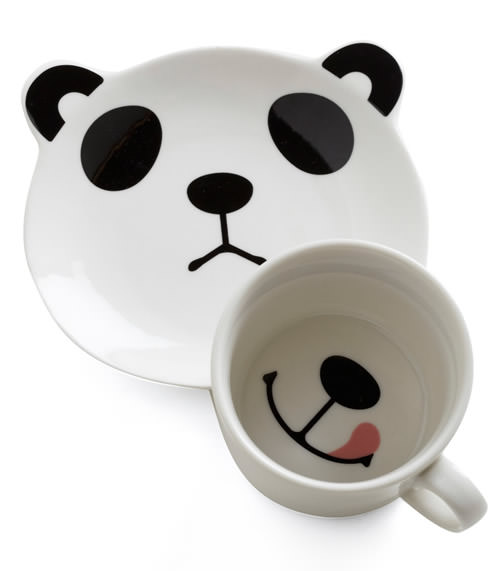 Plug Mug. Anti-theft mechanism for your mug. Without the plug, no one shall drink from it! (Image Source: Perpetual Kid)
Slim Cup. Optical illusions for your daily cup of tea or coffee. (Image Source: Sharona Merlin)
Tiny Landscape in a Coffee Cup. Fine landscape drawings within your cup. Makes you appreciate the simple pleasures of life. (Image Source: Yukihiro Kaneuchi)
Dervish. Spaceship-like cups and plates. Stable and easy to hold. (Image Source: Zula Dervish)
Ironius. This looks like an inverted cup, but it's actually upright. (Image Source: artlebedev)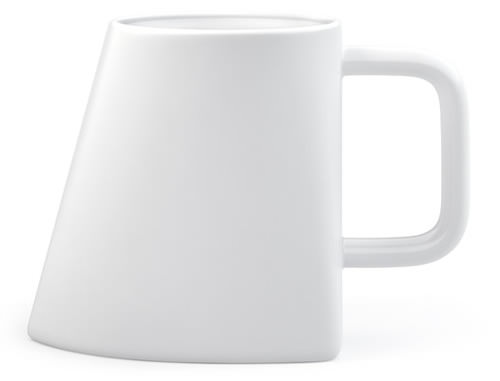 Tilted Mug. Who says cups must obey the laws of gravity? (Image Source: Xu54)
Drop Cup. This cup looks like it's being blown away. (Image Source: Apostol Tnokovski)