Unusual Computer Mice You Probably Haven't Seen Before
A mouse is undeniably one of the essential tools because as you are reading this, you are clicking and scrolling up and down. If you use a computer (duh!), chances are you depend a lot on a mouse; this is 100% true 20 years ago, maybe 80% true 5 years ago and certainly less than 50% true these day. Reason is devices like trackpads and touch-sensitive tools are taking over the role. However, designers will probably still stick with mouse because they are the more efficient companion when it comes their work such as Photoshop, Illustrator, etc.
Today's post celebrate a showcase of unusual, creative and funny mice ever created while it is still at the safe line before extinction! Full list after jump.
This blinged brainy mouse is apt for the geeky folks who don't mind playing with some jazzy stuff too. Maybe brain mouse will activate ideas in your brain.
Aircraft Computer Mouse with LED Lights
The aircraft mouse is avaliable for all folks how loves futuristic thought or for Star Wars fans. Mouse is available in black or white and features two buttons, a scroll wheel and LED lights in red and blue.
Road Mice appeals to computer users who love cars. Car enthusiasts love these replica automobiles that work as fully-functional computer mice. Road Mice have smooth lines, realistic details, glossy finish and working LED headlights.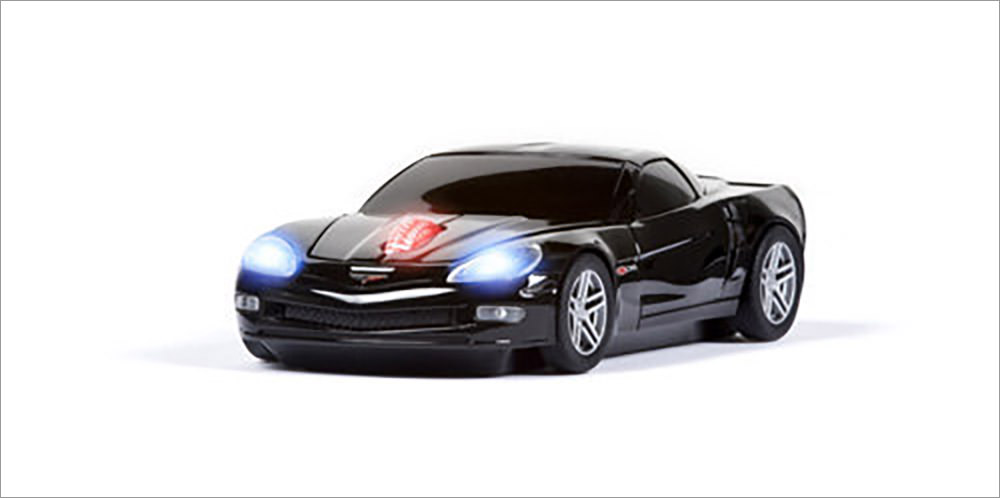 Modern optical mouse that looks like real human body. I think men will not use a mouse like that, but some women could use them.
Car 3D optical mouse looks like real Ferrari sports car that will appeal to all racing fans. LED lights in car running lights looks fancy.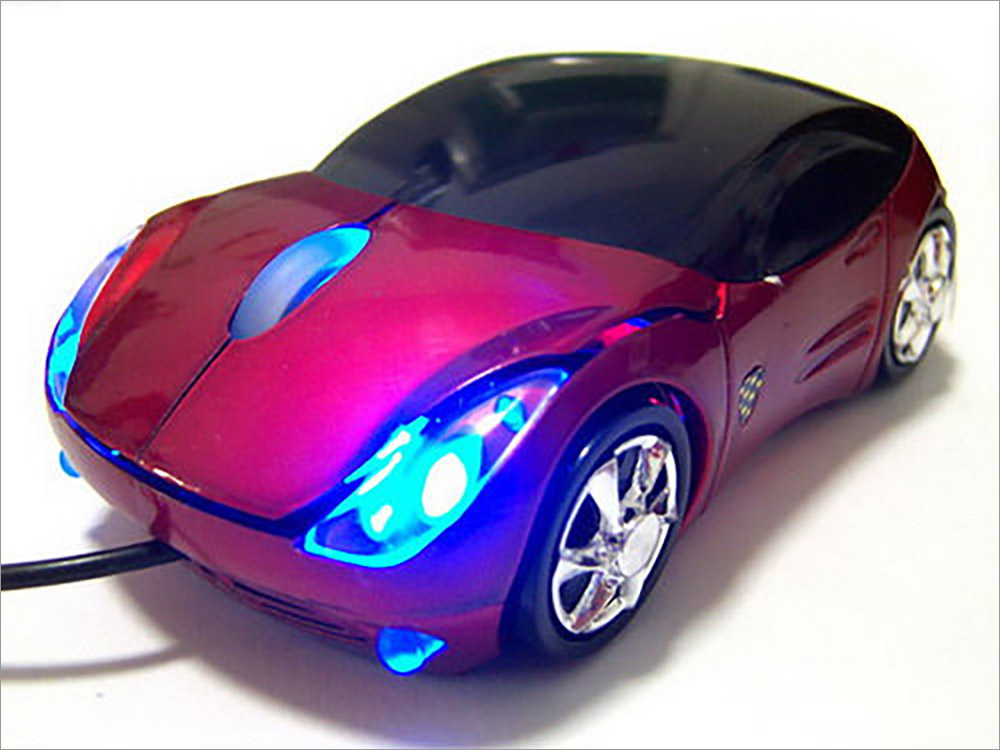 Perhaps the mouse is not comfortable because of the futuristic shapes and form looks, but it will fit in each gamer room.
Optical Mouse Skype Hands-free PC Speakerphone
With professional compatible earphone to protect your privacy,the Skype Mouses that has all the cool features is perfect for personal use, gifts.
Featuring elegant and sophisticated brushed-aluminum finish, the eclipse touchmouse sports an advanced feature set and streamlined ergonomics. Designed for home, office or on the go, the touchmouse delivers both style and quality.
Portable Finger Hand Held 4D Usb Mini Trackball Mouse
Looking for something a bit different in a mouse? This new mouse from Brando might be up your alley. The two dimensions and buttons are simply controlled by fingers.
Golf 3D USB Optical Computer Mouse
If you favorite game is golf, this mouse is for you, but only at home do not confuse Pc mouse with a real ball and dont take it to the game.
Wowpen Joy Vertical computer Mouse
Ergonomically designed for both right and left hand use with Bluetooth enabled computer. This compact and ambidextrous Bluetooth desktop mouse is only designed to work with Bluetooth-enabled computer systems, thus eliminating the need for a separate receiver dongle.
Here is one more golf mouse, but this time with this PC mouse comes all playground with holes that will decorate your office.
Also called The Horse, HandshoeMouse uses the 800 dpi optical standard and practically solves the problem of muscle fatigue encountered among business and creative professionals. Hippus compared a traditional computer mouse electromyogram with the HandshoeMouse measurements.
The Razer Naga Mouse, is GamesCom's first MMO mouse, and features cool capabilities if slaying online bad monsters is your thing.The mouse has been optimised with an extra 12 buttons which are customisable to keyboard settings on the computer.
The Fatal1ty 1010 Mouse was designed with every last detail scrutinized by the world's top FPS gamer, Johnathan "Fatal1ty" Wendel. The Creative Fatal1ty 2020 mouse has a 6.4 megapixel sensor in its base to pick up the smallest twitch.
The ergonomic Orbita Mouse is a USB wireless rotating round mouse designed to enhance navigation in a wide range of Mac and PC applications.
Penguin mouse is one of the animal theme mouse for computer. If you like these cute animals, you can buy this cute mouse for your kids.
Sanwa NT-MA2 is the name of this computer mouse / keypad combo. It's available in white or black. The price has been set to 40 Euros.
This computer mouse features two buttons and a scroll wheel, and it is studded with dazzling white, fake diamonds. Perfect gift for girls.
Mus2 cordless optical two-button mouse not only controls the cursor on the screen, but looks like one, too. Despite this unusual shape, Mus2 fits well into the hand and doesn't cause any discomfort.
Baseball fans will love using this MLB ball cap computer mouse. With over 15 Major League Baseball logo designs to choose from, this optical 2-button mouse is a fun and unique way to display your team loyalty while you work.
Body Mouse was designed by the famous designer Chris Lomak. It does not look like a professional mouse, but funny enough for gift.
Saitek Obsidian 1000 dpi Wireless Rechargeable Optical Mouse
The ultimate rechargeable wireless mouse has an optical sensor for high speed, ultra accurate tracking and groundbreaking design with outstanding ergonomics and highly tactile materials.
Wireless Ergonomic Computer Mouse
Optical mouse has laser pointer and ergonomic design that even slightly not looks like a normal mouse. Works from up to 15 feet away from your computer.
Steelseries World of Warcraft MMO Gaming Mouse
Designed by Blizzard and SteelSeries specifically for World of Warcraft, The World of Warcraft MMO Gaming Mouse provides remarkable benefits to all World of Warcraft gamers, regardless of level or play style.
Lady beetle crystal mouse has very gorgeous style that is the best choice for fashion ladies and men.
Tortoise-shaped optical usb mouse
Tortoise shaped optical mouse could be first PC mouse for your kids. The design is simple, but it is very similar to real turtle, which children will enjoy.
Similar to turtle mouse, it is very cute and ideal gift for a kids or you an use in your office to make fun.
A Steampunk Mouse
A steampunk mouse is crafted out of wood and brass and bone. Daniel Pon how create this awesome mouse, has carved the Paradox Mouse in LEDs with extra peripherals like a mouse skull, spine and shoulder blades.
Very unusual PC mouse designed by Bongkun Shin, Heungkyo Seo, Jiwoong Hwang and Wooteik Lim. They created concept Jelly Click mouse. All the electronic circuits were on a small flexible board and the body itself is made of soft plastic.
Sliced Mouse
What was the idea of creating this mouse, I do not know, but it looks unusual, although not useful. The only plus is when mouse is damaged to get access to the chips.
Memory Mouse has such a compact form, controlled by only four fingers. This design will lessen the contact surface to provide hygienic condition and also make your bag lighter than ever.
Optical Super Slim Mouse is a wireless, optical mouse with an incredibly slim profile. At only 10mm at the highest point, it almost feels like you're using nothing at all – just a bunch of people pawing at their desks.
Kim Hye-shin perceives a single strip that can be bent into the infinite-sign-shape, with only the necessary features on it. Bendy M may be a good enough design if your focus is more on the keyboard and use a mouse just as a pointer.
Wooden mice designed by Alest Rukov is maded from types of wood cultivated specifically for industrial use, safe for the environment to manufacture and to use. All wooden components made from a single piece of solid wood.
Jupiter, Escher and Deco mouse
This is trilogy of celestial orbs – three different products – the Jupiter mouse, Escher mouse, and the Deco mouse. Thes mouses are not cheap. Each of them costs about 150%.
UK designer Mizanur Rehman came with a vibrant concept mouse that is described as "Alien Mouse". Staying true to the name, the Alien Mouse is designed to mould to the user's hand and thereby prevent RSI and reduce stress.
Wireless building block mouse is inspired by the same building blocks we couldn't get enough of as kids. Complete with a right and left click button and a scroll wheel, this mouse will make those boring tasks at work seem fun.
Computer-Mouse Star wouldn't be in the least bit awkward to use or even the slightest bit uncomfortable. Well for those committed to their love for stars, this mouse would be a cute accessory to your computer.
Dot Design 2 Super Mario Brothers computer mice from Banpresto features popular bitmap characters from the popular game series. The mice come in two designs, one featuring Mario, and the other featuring a familiar Star shape.
This awesome and futuristic mouse has a v-shaped unique design with metallic look with a futuristic green light that illuminates on every movement, it has got action buttons just like the ordinary mouse and has got a scroll.
The mouse is actually made out of an old grenade casing, so it gives a slightly more authentic feel. This socking mouse must be the ultimate gamers mouse especially for those playing war of attrition online games.
This bling'd out mouse designed for the ladies is "embellished" with silver and crystal accents and will go a long way toward patching up any rocky relationship.
Gold Bullion Wireless Mouse
The gold bullion wireless mouse just may be the perfect gift, especially if you are worried about government deficits. Gold Bullion has standard left and right click mouse buttons, a scroll wheel and it will work with your PC or Mac.
This Scream inspired ghost face mouse features 3 mouse buttons, a scroll wheel, and a resolution of 800 dpi. that will provide you with high precision control. If you want it, you can get it for only about 35$.
Smitrix Swiftpoint Triped Mouse
The Smitrix Swiftpoint Triped mouse was specially designed for tablet PCs and multi-touch tabletop surfaces and it's eliminating the pen. Why Triped mouse? Becouse it is a mouse, a touchpad and also a digitizer pen.
Perific Mouse is a revolutionary new type of ergonomic computer mouse. It is a wireless pointing device which can be used in a variety of ways, both on and off the desk in the air.
Here is the latest mouse, designed for the well groomed secretary. The cunningly hidden features include a mirror and make-up brush. Mark II now also stores Chanel No. 5 perfume and a Lipstick.
Want More?
More creative and unusual computer peripherals, devices and gadgets: