How to Buy and Ship From Blocked Shopping Sites
Online shopping has simplified our lives, making the latest and coolest gadgets just a click away. There are countless websites selling a variety of exciting products. However, have you ever been unable to access an online store due to country restrictions? Life may not always be fair, but rest assured, we're here to help you find solutions.
Indeed, we have found them. We'll guide you on how to access these country-restricted websites using Tunnelbear. Once you've located your desired item, we'll proceed to the second part where we'll demonstrate how you can have your purchases delivered to your doorstep, even when ordering from sites that don't offer international shipping services. After all, aren't restrictions just opportunities for creativity?
Shortcut to:
Accessing Blocked Sites
Certain websites may restrict access based on the country from which you're accessing the site. For instance, the Google Nexus Shop webpage permits access only to a select few countries, barring the rest of the world. We've previously discussed five programs that can be used to access blocked stores in the US.
In this post, we'll be using TunnelBear as our primary example.
Step 1 – Installation and Registration
To get started, you need to download and install TunnelBear. Once the program is installed, launch it and sign up for a free account.
After you've registered, select the free option. This option provides you with 500MB of data, which is more than sufficient to browse, purchase, and pay for an item.
Step 2 – Confirm Your Email and Log In
First, confirm your email. After that, log in using the email address and password you registered with. The program is quite straightforward. It features an On/Off switch along with three toggles that enable you to surf the internet via a US, UK, or Canadian proxy.
Here's what happens when we turn on TunnelBear and access the same Google Nexus Shop webpage.
Please note: When you select a country and turn on the data, it will consume a portion of your allocated 500MB of data. Therefore, it's important to use this data judiciously. Don't forget to turn it off once you've finished browsing and making your purchase.
Using Forwarding Services
Have you placed your order? Excellent! Now, it's time to ship it to… Oh no. They don't deliver to your country, do they? What's a tech enthusiast to do in such a situation?
The solution is to utilize mail and parcel forwarding services such as HopShopGo. In the subsequent section, we'll guide you on how to leverage HopShopGo, for instance, to deliver an online ordered product to your preferred address. Are you ready? Let's get started.
To provide a clear understanding of how HopShopGo operates, we placed an order for a Blu-ray disc from Amazon as an example.
Step 1 – Register with HSG and Obtain a U.S. Address
Begin by registering for a HopShopGo account. Registration is free, but you will need a PayPal account. After registering, log in and locate your U.S. address in the top left corner, as shown in the screenshot below:
Step 2 – Shop and Ship to Your U.S. Address
When prompted for a Shipping Address, use the U.S. address you obtained. Your package will be shipped to this address. All you need to do is sit back and wait for your package to arrive at your 'address'.
Additional Information:
Item cost: $15.09
Order date: January 12th
Estimated shipping duration: 2 – 3 days
Step 3 – Await HSG's Notification
You will receive an email notification (similar to the one below) when your package arrives at your 'U.S. address'.
Alternatively, you can log in to HopShopGo, click on the third tab "Packages At U.S. Address" (refer to the screenshot below) to check the status of your package.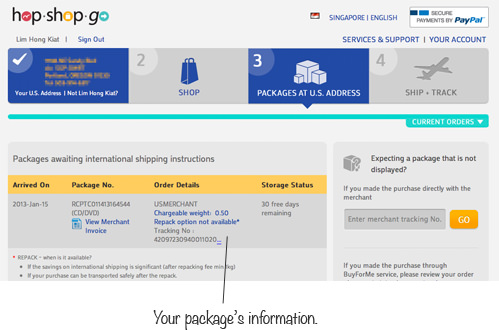 Additional Information:
Order date: January 12th
Arrival (at HSG) date: January 15th
Shipping duration: 3 days
Step 4 – Ship Your Items
If you've ordered multiple items, they may arrive at your U.S. address on different dates. You can choose to ship them together (grouped shipping) or individually. HopShopGo offers free storage for each item you ordered for up to 30 days.
To ship your packages:
Select the fourth tab "Ship + Track"
Declare the value of each item you wish to ship
Click the red "Ready to Ship" button
Select your delivery address, delivery speed (Standard/Express), and make the payment
Upon successful payment, you'll receive an order reference number to track the status of your package (refer to the screenshot below).
Summary
Congratulations! You've successfully purchased an item that the merchant did not offer to ship to your country. Now, all you have to do is sit back and wait for the item to arrive at your doorstep.
Let's put things into perspective so you get a better idea of its cost.
Shipping time/cost:
Amazon to HSG (domestic): 3 days, $2.98
HSG to destination (international) : 8 days, $11.00