Samsung Galaxy S4: Everything You Need to Know
In a stunning, broadway-inspired presentation, complete with a huge stage, curtains and three wide-screen cinematic-range screens, the much-awaited Samsung Galaxy S4 made an entrance.
S4 is touted the Life Companion with plenty of user-friendly features that connects people through richer photos, breaking language barriers, offering better security and compartmentalization between fun and work while keeping track of your health.
Here's what you can expect in the new Samsung Galaxy S4. Click here to look at the comparison chart, pitting Galaxy S4 with a few of the hottest smartphones in the market today.
A new Photo-taking Experience
The usual problem users face these days is that if you are an avid photo-taker, you are rarely in the photos. With the new Samsung S4, you can now be in the shot, via the Dual Camera feature. If that is not enough, the S4 also has templates that you can apply on the front camera view.
You can even caption your pictures with a short voice clip with the Sound & Shot feature. The audio clip can be made before or after the shot is taken. It's a great way to make memories even more special as you add details to the event.
More Amazing Features
Drama Shot allows you to take 100 shots in 4 seconds then lets you combine several shots in the same frame like in a collage. Not only does it let you add to the experience, you can even erase background stuff you don't want (photobombers, be gone) in the pictures.
With the Eraser feature, you can take composites of a photo, then put all of that together, to get the background without the extras you don't.
The phone to travel With
S Translator is going to be a great tool for your travels as you get instant translations; text-to-speech or speech-to-text. This handy tool can translate 9 languages (including Chinese, French, German, Italian, Latin American, Brazilian, Portuguese) with offline support for about 3000 built-in phrases.
This also works with menus and books, apps and emails written in a foreign language.
Optimum Viewing Experience
Adapt Display automatically tweak display settings that is comfortable to your eyes based on what you're watching or doing, made possible with the Super AMOLED Full HD display. The screen automatically adjust brightness, saturation and contrast depending on what is being view (videos, pictures or games), giving you an optimum viewing experience that is comfortable to your eyes.
Organizing Photos Easy As Pie
Through the Story Album feature, finding photos and turning them into album is easy. Whenever you take a photo on the same environment (location) and same date, you get a message on the status bar saying to create a story album.
You can create a ton of story albums with tags of the weather, location, who is in the album etc. There is also the feature to print it out into an actual photo album.
Always connected
If you are the photo-sharing type, HomeSync will be a great service you'll love. It lets you share photos with friends and family at home, straight into their TV or mobile devices, immediately after you take them. How's that for real-time photo sharing?
It boasts a 1 TB storage so your photos have a home, and this doesn't just work with the S4. You can connect up to 8 different devices to it. And yes, it's like a hub to organize everyone's photos in the same place.
S Voice Drive
To ease your driving experience S Voice Drive was developed as your personal assistant when driving. Pair it with the car bluetooth and you will automatically activate the S Voice Drive.
This new assistant will read out your text messages and emails, and you can then reply or call the sender with voice commands. It also includes features such as answering calls, grabbing weather info, and finding a restaurant all while navigating as well.
Other awesome features:
Samsung Smart Switch
Making the switch is now easy with this program which lets you transfer all your things from your old phone to the S4 making a transition seamless. All you need to do is install the Samsung Smart Switch program on PC where it will backup your old device and transfer it to the S4.
Samsung Knox
Security gets a boost in this feature where you can separate work from pleasure and keep data in both areas safe. Perfect for the privacy-sensitive person in you.
Group Play
Music sharing is now possible across 8 devices, simultaneously. It also supports multiplayer games and the ability to share photos between devices.
ChatOn
This allows video calling for up to 3 people, and you can use dual camera while chatting as well. Use the dual camera to show the people you are talking to you, your current view as well.
Air Gesture
Navigate without touching the screen. Move your hands around to flip from page to the next, scroll webpages, or even accept calls.
Samsung Smart Scroll/Pause
If you're watching a video and something catches your eye, looking away will cause the video to be paused automatically pauses the video.
The video will resume when you look back at the screen. When reading you can just tilt the phone slightly to scroll up or down.
S Health
For exercise fans, the S4 is the best companion for you. Since you take your smartphone with you everywhere, pairing it up with the S Band (fitness wristband), Body Scale, Heart Rate monitor and other similar accessories, makes the S4 the best pedometer, calorie-counter, habit-tracking device you can have, all in one
All your data can also be displayed in an easy-to-read report.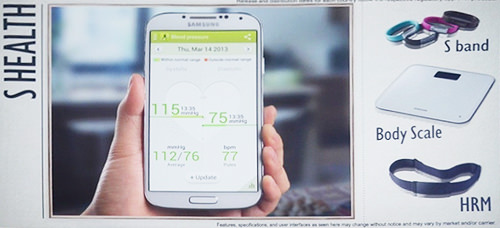 S View Cover
Covers getting in the way of your phone? Get the S View Cover. it gives you quick access to information and even lets you answer the phone without removing the cover. And when the cover closes, GS4 sleeps.
Galaxy S4 vs. S3 vs. Note II
| | | | |
| --- | --- | --- | --- |
|   | Samsung Galaxy S4 | Samsung Galaxy S3 | Samsung Galaxy Note II |
| Manufacturer | Samsung | Samsung | Samsung |
| Price (USD) | n/a | $199.99 (2-Year AT&T Contract) | $299.99 (2-Year AT&T Contract) |
| OS | Android 4.2.2 | Android 4.0 | Android 4.1.1 |
| Dimensions (mm) | H136.6 x W69.8 x T7.9 | H136.6 x W70.6 x T8.6 | H151.1 x W80.5 x T9.4 |
| Weight (grams) | 130 | 133 | 183 |
| Resolution | 1920×1080 | 1280×720 | 1280×720 |
| Display Size (inch) | 4.99 Super AMOLED | 4.8 Super AMOLED | 5.5 Super AMOLED |
| Processor | 1.6GHz Octa-Core Exynos 5 / 1.9GHz Quad-Core Snapdragon | 1.4GHz Quad-Core Cortex-A9 | 1.6GHz Quad-Core Coretex-A9 |
| RAM | 2GB | 1GB | 2GB |
| Battery (mAh) | 2600 | 2100 | 3100 |
| LTE | Available | Available | Available |
| Storage (GB) | 16, 32, 64 | 16, 32, 64 | 16, 32, 64 |
| Expandable Storage | Micro SD | Micro SD | Micro SD |
| Back Camera (Megapixels) | 13 | 8 | 8 |
| Front Camera (Megapixels) | 2 | 1.9 | 1.9 |
| Extra Features | NFC, IR Blaster, Temperature& Humidity Sensors | NFC | NFC, S Pen Stylus |
Galaxy S4 vs. The Rest
| | | | | | | | |
| --- | --- | --- | --- | --- | --- | --- | --- |
|   | Samsung Galaxy S4 | HTC One (M7) | Apple iPhone 5 | LG NexuS4 | Nokia Lumia 920 | Sony Xperia Z | BlackBerry Z10 |
| Manufacturer | Samsung | HTC | Apple | LG | Nokia | Sony | BlackBerry |
| Price (USD) | n/a | TBA | $199 (2-Year AT&T Contract) | $299, $349 (Unlocked, No Contract) | $99.99 (2-Year AT&T Contract) | TBA | $199.99 (Pre-Order, 2-Year AT&T Contract) |
| OS | Android 4.2.2 | Android 4.1.2 | iOS 6 | Android 4.2 | Windows Phone 8 | Android 4.1 | BlackBerry 10 |
| Dimensions (mm) | H136.6 x W69.8 x T7.9 | H137.4 x W68.2 x T9.3 | H123.8 x W58.6 x T7.6 | H133.9 x W68.7 x T9.1 | H130.3 x W70.8 x T10.7 | H139 x W71 x T7.9 | H130 x W65.6 x T9 |
| Weight (grams) | 130 | 143 | 112 | 139 | 185 | 146 | 137.5 |
| Resolution | 1920×1080 | 1920×1080 | 1136×640 | 1280×768 | 1280×768 | 1920×1080 | 1280×768 |
| Display Size (inch) | 4.99 Super AMOLED | 4.7 SUper LCD 3 | 4 Retina Display | 4.7 WXGA IPS | 4.5 IPS LCD | 5 TFT | 4.2 LCD |
| Processor | 1.6GHz Octa-Core Exynos 5 / 1.9GHz Quad-Core Snapdragon | 1.7GHz Quad-Core Snapdragon 600 | 1GHz Dual-Core A6 | 1.5GHz Quad-Core Snapdragon S4 Pro | 1.5GHz Dual-Core Snapdragon S4 | 1.5GHz Quad-Core Snapdragon S4 | 1.5GHz Dual-Core Krait |
| RAM | 2GB | 2GB | 1GB | 2GB | 1GB | 2GB | 2GB |
| Battery (mAh) | 2600 | 2300 | 1440 | 2100 | 2000 | 2330 | 1800 |
| LTE | Available | Available | Available | – | Available | Available | Available |
| Storage (GB) | 16, 32, 64 | 32, 64 | 16, 32, 64 | 8, 16 | 32 | 16 | 16 |
| Expandable Storage | Micro SD | – | – | – | – | Micro SD | Micro SD |
| Back Camera (Megapixels) | 13 | HTC UltraPixel Camera, F2.0, 28mm lens | 8 iSight | 8 | 8 PureView | 13 Exmor RS | 8 |
| Front Camera (Megapixels) | 2 | 2.1 | 1.2 | 1.3 | 1.3 | 2 Exmor R | 2 |
| Extra Features | NFC, IR Blaster, Temperature& Humidity Sensors | NFC, Beats Audio | – | NFC, Wireless Charging | NFC, Wireless Charging | NFC, Water-Resistant | NFC, Micro HDMI |