Bypassing Google Lock on Any Samsung Phones with UnlockGo
Google Account Verification, also known as the FRP (Factory Reset Protection), is vital in preventing unauthorized access to your phone. However, it is also a double-edged sword; if you forget your password, you will, too, be locked out of your phone.
To prevent the latter from happening, you must guard yourself with the knowledge of how to regain access to your phone again.
In this post, I'm going to share some tips on bypassing FRP on your Samsung model Android phone shall you forget your password and get locked out.
Features of iToolab UnlockGo for Android
AFAIK Samsung hasn't developed a tool to help bypass FRP, and if you are to regain access to your locked phone, a 3rd party app could be your solution.
Enter iToolab's UnlockGo for Android.
This app works without requiring any root permission from your device. Within clicks – literally five – it removes Google's lock entirely.
Here are more features of this app that make it a great Samsung FRP unlocker:
It has 99.3% effectiveness in bypassing Google FRP lock on Samsung devices from android version 5 to 12.
It is compatible with most Samsung phone and tablet models.
It is easy to use for novice users.
Completes job fast.
How to Unlock Samsung Phone with UnlockGo (Android)?
Below is a step-by-step guide to using iToolab UnlockGo to bypass the Samsung FRP lock. If you are not into reading, there's a video guide too.
Step 1: Download UnlockGo on Your PC
Download the UnlockGo app from its official website. Install and run the app. UnlockGo is available for both Windows and Mac.
Download iToolab UnlockGo (Android)
Step 2: Start the Process
Connect the locked Samsung device to your PC via a USB cable. Click "Remove Google Lock (FRP)" and then "Start" to continue.
Select "All Android Versions" on the next screen, then click "Next".
Step 3: Open Samsung Diagnostics Menu
A pop-up window will appear with instructions on how to enter the Samsung Diagnostic menu. Follow the on-screen instructions, then click "Next" to enable "USB Debugging" on your device.
Step 4: Remove Google FRP
The app will take a couple of seconds to bypass, and the device will be rebooted once the process is complete.
Unlocking Samsung Phone w/o Password or Google Account
Additionally, the UnlockGo app provides a simple way to unlock your android phone without needing a password.
Here's how it's done:
Step 1: Connect Your Device
Connect your Samsung device to your PC or Mac via a USB cable. Click on the "Unlock Screen Lock", then click "One-click remove screen lock from Samsung".
Step 2: Unlock Your Device
Follow the on-screen instructions and click the "Unlock" button to continue. The lock screen then goes away, and your device will restart.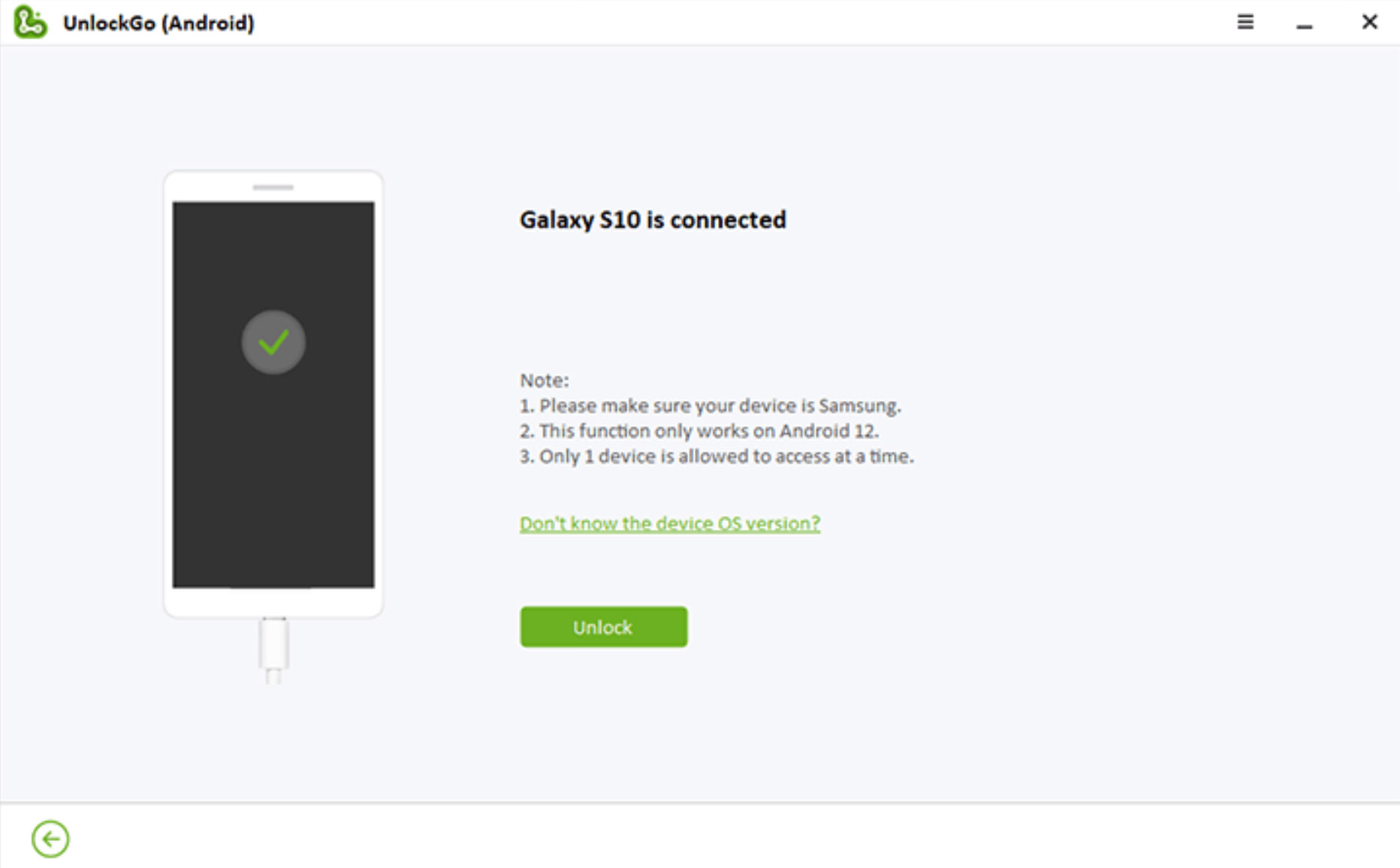 When Bypassing Google Lock is Needed?
I've shown you the how; now let's take a look at the when. Here are some possible scenarios when you will need to bypass Google lock on your Samsung device.
1. Selling a Samsung device, but forgot the password
You can't and shouldn't sell your current Samsung device without removing your Google account. If you intend to sell but forgot the password to your Google account, then the bypassing operation will be needed.
2. Bought a pre-owned locked Samsung device
If you have unfortunately sold a locked Samsung device from a merchant or seller, then bypassing it yourself may save you a lot of hassle.
3. Running a phone buyback and re-selling business
If you are in the buyback and pre-owned phone-selling business, you will encounter various problems with the phones you acquire. And the Google FRP problem is definitely one of the most common ones. The ability to bypass FRP yourself should be one of the knowledge you should know.
Bonus: Prevention
Last but not least, if you want to avoid being locked-out entirely, it is recommended that you remove the Google account first before performing a factory reset. And to do that:
Go to "Settings" > "Accounts and Backup"
Tap "Manage Accounts", then select your Google account
Select "Remove Account", then confirm it.
When prompted, verify your identity and get rid of the Samsung FRP lock.