Best Portfolio Builders For Designers in 2019
Building a personal online portfolio is an excellent way to showcase your products, projects, or services. You can do it in a way that will impress clients and potential customers anywhere in the world.
It doesn't need to be all that difficult to build an online portfolio either. Especially if you have a quality website builder at your fingertips. This article presents several of the very best portfolio website-building platforms and tools on the market. They can help you showcase your products or projects. Also, you can demonstrate your talents and skills, set up an online store, or all the above.
Most of the tools described here are either free to use or offer free trials. So, you can try out one or more of them to find the one that will work best for you.
If you plan to build a portfolio that showcases your projects in the best possible way, and do so quickly and with relative ease, Portfoliobox will be a great choice. Designed to meet the needs of photographers, artists, designers, and creative types in general, Portfoliobox users can easily create attractive, professionally-designed portfolio websites within a few short hours.
Portfoliobox is not theme based. As such, it is extremely flexible and does not expose its users to design/build limitations or constraints that many theme-based tools have a tendency to do; nor is any coding knowledge required to use this tool.
Two plans are available; a free plan and a pro plan. The free plan allows you to discover what Portfoliobox can do for you, plus it enables you to build a medium-size online portfolio.
The pro plan includes web hosting, a personalized domain, and allows you to host up to 1,000 images plus an unlimited number of pages, blogs, and products. This Stockholm, Sweden-based company also offers a special student account.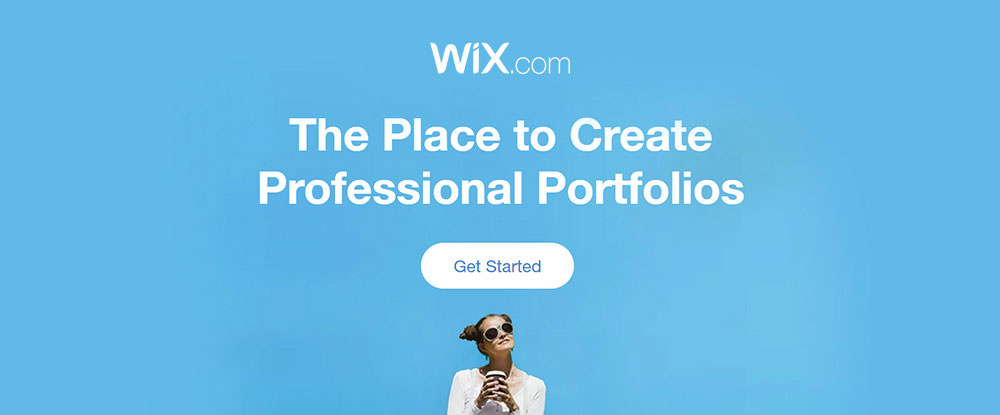 Just as you would expect from a top portfolio website builder, Wix has everything needed to create an awesome, fully-personalized, professional online portfolio — for free!
Wix provides more than 500 designer-crafted templates to help you create a website to showcase your projects. Or, you can simply start from scratch. The tools and features are at your fingertips to achieve the same amazing results.
Some website builders allow you to adjust your portfolio images in clever ways to try and make your portfolio more engaging. Wix takes portfolio building a giant step farther. With its innovative state-of-the art drag and drop website builder you can change or customize anything. Even better, you can make your portfolio site come to life by incorporating animation and scrolling effects and video backgrounds.
Weebly gives you the freedom to build a professional website, the design of which will be limited only by your imagination. No technical expertise will be required on your part since all the tools you need are at your fingertips.
A great design/build tool to work is what you want. You shouldn't have to settle for anything less. Weebly gives you everything you need. How about a free website hosting service? How about a cutting mobile app that lets you track performance, interact with portfolio website services, and manage your site from anywhere?
You can purchase your domain directly from Weebly or easily transfer the one you have.
If you need professional photo shots of your products, you can ship your products to the Weebly team to photograph, after which you can download them to use on your site. 24/7 email and chat support is there for you as well.
Mobirise is free for both personal and commercial use, creating a website with it requires no coding, and the final result will be 100% mobile friendly, which is exactly what's required to get the most from a portfolio website.
This easy to use drag and drop only website builder is loaded with design aids, ranging from trendy website blocks and templates to huge libraries of icons, fonts, and free images.
Pixpa makes presenting and selling your projects or products easy. This website builder has every tool needed to produce awesome portfolios together with a built-in full-featured eCommerce platform. Dazzle visitors with your gallery displays and offerings and accept payments via PayPal or Stripe.
While Pixpa's affordable pricing plans make it the ideal choice for creatives and small businesses, you can start building a portfolio right away by signing up for a 15-day free trial.
8b is brand new, it features a futuristic interface, it's super simple to use, and it delivers. You can use 8b on either your desktop or mobile device — or both mdash;mdash; to build a portfolio website. 18 cool starter templates and more than 250 equally cool website sections are available to help you along.
8b has some paid plans in the works, but for now this creative website building tool is 100% free to use.
Tips for creating a stunning, professional portfolio website
What's the advantage of having a portfolio website?
For one thing, it provides a unique way to showcase your work.
It's also a good way to display your talents and show people who you are and what you're capable of.
An online website also makes you searchable. Read that "easier to find". That's good for your business.
As a minimum, your portfolio should include your logo and a tag line and of course a sampling of your best work or top products. You might also include interesting case studies, testimonials, and even blogs. That way you will give your portfolio additional spice and substance.
Think of your portfolio as a shop window. You want what's on display to entice people to enter your store. You can make it informative, entertaining, engaging, or all the above. It will connect more easily with potential employers, customers, or clients.
Pick the right platform and building your portfolio can be easy. As you're building it, remember these tips:
Highlight your best work and show it first
Make sure the portfolio is easily navigable
Introduce yourself as well as what you have to show or sell
Include any awards or recommendations you may have received
Use the power of blogging, and
Do your very best.
Now, you've created something that can be used to present your talents and boost your self-image. And, that has enabled you to learn some new things along the way.
Conclusion
Whether you're looking for certain jobs or positions, selling a line of products or selling your own creations, an online portfolio can be indispensable. You want to put a lot of thought into designing an effective portfolio. But, that doesn't mean you have to put a lot of effort into building it as well.
Let a portfolio website builder do the heavy lifting for you. Select a free builder (or take advantage of a free trial offer) and you'll be off and running in no time at all.