10 Signs Your PC Has Been Compromised
We are all tired of our PC getting infected or compromised but truth is sometimes, instead of having to fix an infected PC, it is better to learn about the reason why the PC is infected in the first place. There are many possible reasons for that and it all goes back to our individual browsing habits.
In this post we will look at 10 signs your PC has been compromised, and what causes these reactions to happen. That way you can understand how you got your PC infected (yes, usually it is the user's fault) and learn to fix your browsing habits to avoid future infections. If you are bored with fixing a relative's computer all the time, you might want to consider sharing this post with them (you know, as a hint).
1. Your Email Account Is Sending Out Spam
It's 2014 but this still happens. If you receive messages from your friends saying that they receive spam email from you, that means either your account or your PC has already been compromised. This usually happens when you're infected with a malware that resides in your PC; it compromises your browser activity as well.
If you have your password saved on your browser, the malware can easily access your email account with that info. That way, it can use your email to spam out links to all your contacts. There's also a chance that your account has been hacked, although this is a rarer cause.
2. Your Password Has been Changed
If you have ever received email from a website you have registered for, telling you that your account password has been changed, you may have been a victim of malware. This may be caused by items downloaded online, that wasn't scanned before it was opened, and it doesn't even have to be an item of questionable content. Hackers can easily use a program to bind a malware trojan, that is not easily detectable, onto anything, even a normal image file or an mp3.
Once you have downloaded and open that image or mp3, your PC will be infected immediately with that trojan. Your PC may be compromised, without you knowing. Besides all that, it is also possible that hackers can hack into your account using brute force software and a password list so pay attention when a system says that your password is not strong enough.
3. Online Stores Calling About Goods You Didn't Order
If you like to shop online, you probably have your credit card credentials linked to your shopping account. The event of someone hacking into your account and using this data to buy something online these days is not impossible. Although online stores like Amazon have put in place security features to prevent such a thing from happening, the best security still comes from being mindful of your own account.
Shopping online is easy and convenient, not only for you but also for hackers who want take advantage of shoppers who are careless with their shopping habits. Do all your online shopping behind a secured router connection (public Wi-Fi and even hotel Wi-Fi are not considered secure) to prevent man-in-the-middle attacks, and check your credit card statements for irregular activities.
4. Fake Antivirus Message
It's fairly common to receive a fake antivirus message on an unprotected PC. This kind of message will alert you that your PC is already infected with a virus via a legitimate-looking scan result list on their software. The software will advise you to install its full version for protection but what will happen if you do is that you will be actively installing the malware itself. It is best to ignore such heart attack inducing messages.
Sometimes, instead of it being an antivirus message, you might also receive pop-ups that ask you to download their free software to boost your PC performance. It's best to ignore these as well, and if possible, including those that pop up when none of your browsers are even open.
5. Random Website Popups
So you're browsing your Facebook news feed and suddenly a random popup appears on top of your current page showing a message that you've won a prize and you need to click on the pop-ups to claim it. Right, everyone's lucky on the Internet that way. Again, ignore these pop-ups and while you're at it, change your browser settings to not allow pop-ups while you're browsing.
By not allowing pop-ups, you help prevent your PC from being exposed to adware invasions, thus saving you from being infected with malware too. Note that nowadays your PC can end up being infected even when you do not allow or see any of those adware popups. That is because they can now hijack your browser simply after you have visited a harmful website, so watch where you surf.
6. Your PC Gets Locked For Ransom
Ransomware is a virus that is used to take over and hold your PC for ransom. If your PC is infected with a ransomware, you will receive a notice along this lines of "Your computer has been locked due to suspicion of illegal content downloading and distribution." And there is nothing you can do, except pay to regain control of your PC.
(Image Source: Ars Technica)
The behaviors of these ransomware may vary, some lock all your files with encryption, unless you pay the amount they are asking for. If you don't pay within the allotted time, they destroy the decription key. Even if you do, there is still a chance that the hacker may just walk away without releasing your PC. Prevention is better than cure in this situation.
7. Your Webcam Light Turns On On Its Own
Another form of intrusion comes from rats. A popular malware program, Remote Administration Tools (RAT) allows the hacker to take control of your PC remotely, usually to enable and capture what your PC webcam sees. This tool is the origin of the many webcam videos that are available in some parts of the Internet, even on YouTube.
It also contains features to scare the victim. The hacker could open a notepad, type a message and let the voice speech feature read the messages to the victim. RAT can also be used to listen to your microphone, steal your stored passwords, modify/view/stream your files, log your keystrokes and many other activities. In most cases, you could get infected from not being careful with the downloaded files you open.
8. Unwanted Browser Toolbars
Many toolbars are often included together with the installation of a certain software. In the past, you have the option to tick to install the toolbar if you ever want to. But nowadays, those options are automatically enabled the moment you run the setup.
If you skip through the installation options, you might end up with a few unwanted browser toolbars. These toolbars could track your browsing habits, automatically redirect you to a different website while searching, and will ultimately slow down your PC.
9. PC Always Loading But Not Moving
Your PC acting real sluggish, always loading but never loads? There could be malware running in the background, collecting data from your PC already. The data is being sent out frequently too, consuming both your internet bandwidth and your PC performance.
This action can greatly reduce your PC performance if there is a lot of them running at once in the background. Some also come in a form of bitcoin miner, where it runs in the background and use all your PC performance to mine bitcoins silently.
10. Internet Gets Disconnected Frequently
The origin of this problem can be from two sources: your PC or your Internet Service Provider (ISP). If you think your ISP is not the reason why this happen, then you may have a live-in malware that is stealing your bandwidth. It can do this by making a separate connection on your PC that can render your original session useless.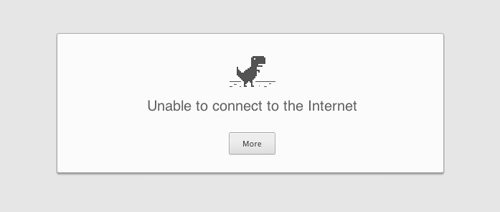 Thanks to that, sometimes even though you can load any website fine, you might not be able to connect to your internet messenger like Skype. Hackers often use their victims' PC as proxies, for their own benefit.