40+ Online Tools to Generate Random or Pronounceable Passwords
Random password generators
MyPWD.net has a sleek interface and comes with preset profiles to create passwords according to your need. You can use strength profiles such as easy, strong, harder or insane to generate a strong password. You can also manually adjust setting to generate a password.
You can generate up to 50 random passwords with Norton password Generator. You have all the options like the ability to adjust case, use letters, numbers, and characters. However, I noticed it doesn't extensively use characters and letters, which does make it a little easy to remember but I guess it's less secure as well.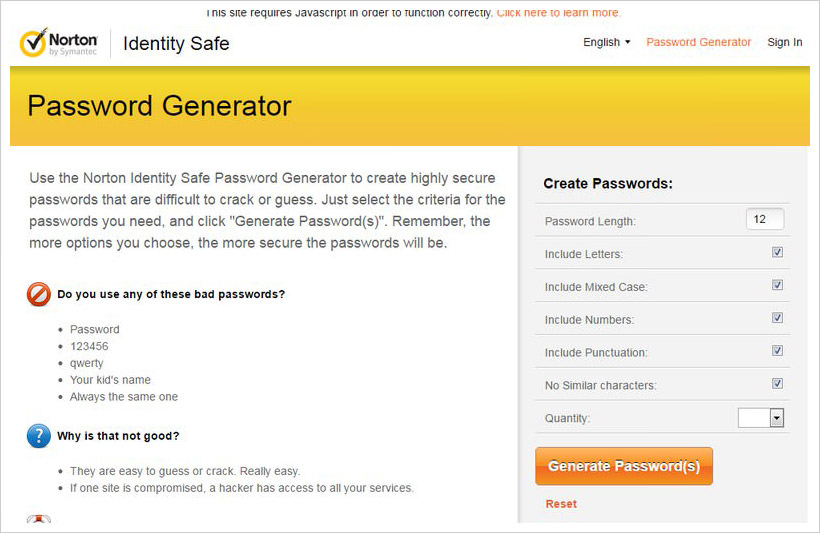 The popular IP address checking tool also has an extensive password generator. You can use letters, numbers, adjust case, use special characters, similar characters and adjust password length. You can generate up to 999 passwords at a time, and there is an "All Unique Characters" option to don't repeat characters in a password.
This offering by SecureSafe Pro offers all the options to create a strong password. However, there is an option of "Exclude Dubious Symbols" to omit all the common special characters that are easy to guess.
With an interactive interface, TechZoom Password Generator makes it easy to create lists of random passwords with up to 40 characters per password. Interestingly, it lets you specify what type of special characters should be used in your passwords.
A reliable password generator that offers a handy option to personalize your password. Although it will create a strong random password, but you have the option to omit specific characters, number or letters from the password if you don't want them in the password.
Not one of the most beautiful password generators, but definitely one of the most customizable ones. Make Password lets you create up to 2500 passwords of 64 character length, exclude similar characters, add hash values and export passwords in different formats.
True to its name, Strong Password Generator does a great job of creating a really strong password. However, it also has a great feature to help you memorize that password. You will see an explanation of how to remember a specific password right below it.
Random uses simple language to help novice users easily understand and generate required passwords. There is also a section for the advanced user that let them select the output format and configure how random the password should be. A great tool for both novice and advanced users.
MIStupid.com can generate random passwords using similar configurations as others in this list. But it has an interesting feature that allows you to specify what letters, numbers or characters should be used for creating the password.
All the words you enter in the box will only be used for generating the password.