5 Apps to Earn Passive Income with Your Phone (2023)
Start making some extra cash with your smartphone using these 5 apps today.
Our smartphones have become more than just a way to call or text friends. They've turned into do-it-all gadgets that keep us entertained and, believe it or not, can even help us make some extra cash.
With so many apps out there, it's easier than ever to use your phone to boost your income. Whether you're looking to make a bit more money on the side or start a small business, these five apps could be just what you need.
Swagbucks is a popular app known for rewarding its users for completing various tasks. It's a fun and engaging way to earn points, or "SB", which you can collect by taking part in surveys, watching videos, playing games, and even shopping online. Once you've gathered enough points, you can exchange them for gift cards or cash via PayPal.
What's more, Swagbucks has a referral program. This means you can earn extra SB by inviting your friends to join the app. With over 20 million users worldwide, Swagbucks has proven itself to be a trustworthy platform for earning rewards right from your mobile device.
The app itself is designed with the user in mind. It's easy to navigate and find tasks that suit your interests. The surveys cover a wide range of topics and are usually designed to be completed in 10-20 minutes.
But that's not all. You can also earn SB by watching videos from well-known brands and participating in daily polls. Swagbucks has partnerships with many online retailers, allowing users to earn SB when they shop through the platform. This feature makes Swagbucks an attractive option for frequent online shoppers who want to earn rewards at the same time.
Download: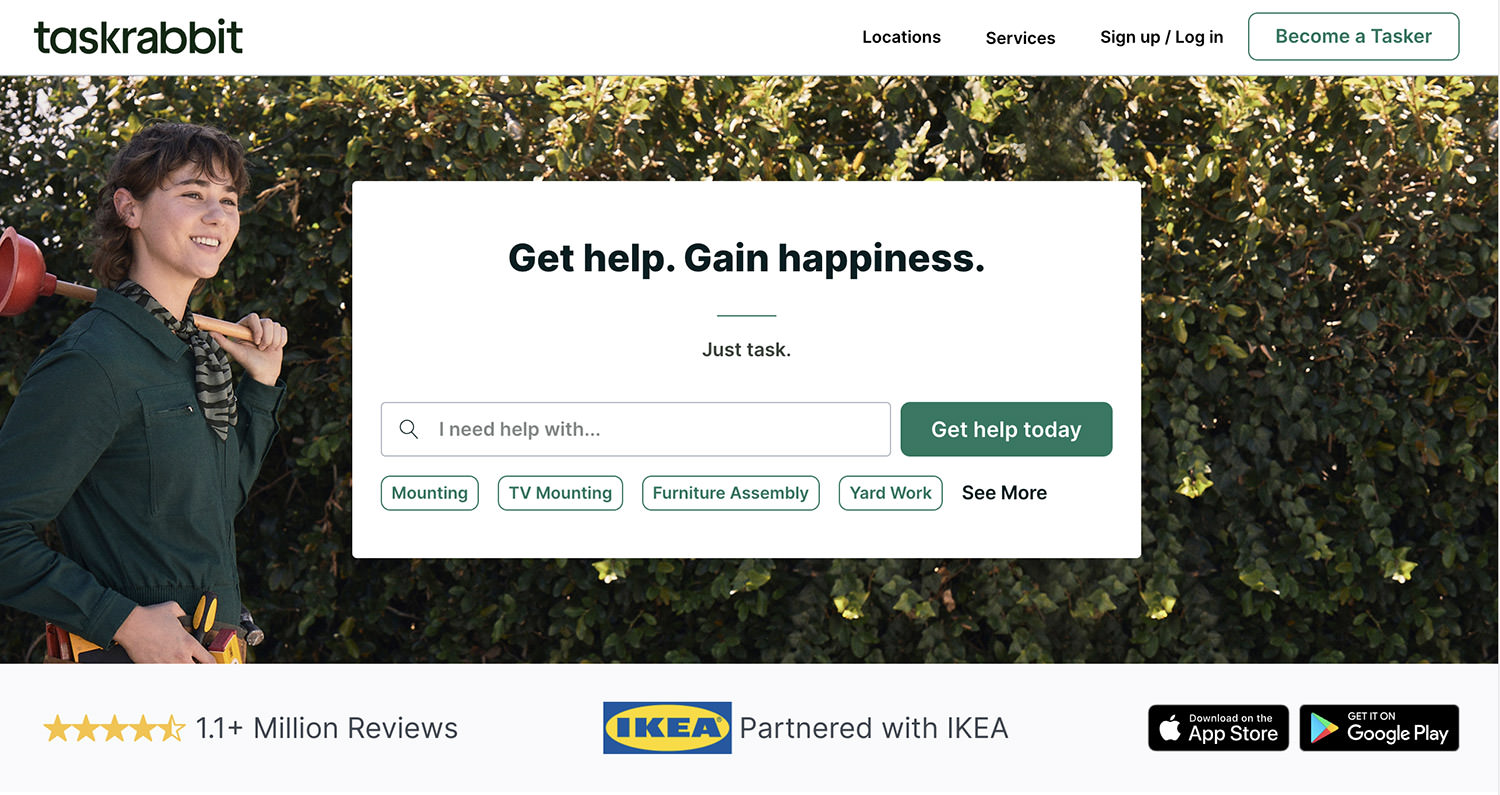 TaskRabbit is an online platform that serves as a convenient meeting point for people in need of help with various tasks and local freelancers ready to offer their services. Whether it's assembling furniture, cleaning, moving, or running errands, TaskRabbit presents a fantastic way to turn your skills and spare time into cash.
If you're a service provider, or as TaskRabbit likes to call it, a 'Tasker', you're in control. You have the liberty to set your own rates and pick tasks that suit your skills and fit into your schedule.
TaskRabbit places a high emphasis on trust and safety. They conduct thorough background checks on all Taskers. They also provide insurance for tasks and facilitate customer reviews. This ensures a dependable and secure environment for everyone involved.
If you're interested in joining the TaskRabbit community as a Tasker, the process is straightforward. You simply need to create a profile and list the services you offer. Once that's done, the platform will notify you about tasks in your area that align with your skills and availability. This way, you can easily find work that matches your expertise and schedule.
Download:
Uber has truly revolutionized the way we think about transportation. It's not just a taxi service – it's a platform that allows anyone with a car and a smartphone to earn money in their spare time.
If you have a car and some free time, you might want to consider joining the Uber driver program. It's a simple concept: the app connects you with people who need a ride, and you earn money by providing that service.
What sets Uber apart is its flexibility. You get to choose when you work and where you drive. Whether you're looking for a part-time gig to supplement your income or a full-time job, Uber could be a great fit for you.
Getting started with Uber is pretty straightforward. First, you'll need to sign up as a driver. There are a few requirements you'll need to meet, like having a valid driver's license and a car that meets Uber's quality standards. Once you're approved, you can start accepting ride requests through the app and driving passengers to their destinations.
One of the best things about driving for Uber is the transparent pricing model. You can see exactly how much you're earning right in the app. Payments are usually processed weekly, and if you provide great service, you might even earn tips from happy passengers. It's a unique and flexible way to earn money on your own terms.
Download:
Foap is a handy mobile app that's perfect for photography enthusiasts who want to earn from their passion. It's a global marketplace where photographers can sell their top-notch photos to individuals and businesses. To start making money, all you need to do is upload your photos, tag them correctly, and set your price.
In addition to this, Foap hosts 'photo missions' that are sponsored by different companies. These missions offer photographers the opportunity to win cash prizes, adding an exciting element to the platform.
Foap is more than just a marketplace, it's a vibrant platform where photographers can showcase their work and connect with potential buyers. It caters to a wide range of users, from individuals to businesses and brands, all of whom are in search of authentic, high-quality photos.
One of the great things about Foap is that it ensures photographers retain their rights while making a profit from their work. It offers a variety of licensing options to suit different needs. The app itself is user-friendly, with features like image tagging and portfolio management. Plus, it keeps you updated with in-app notifications for sales and missions.
Download:
Imagine making money from your smartphone without lifting a finger. That's what Honeygain offers – a unique, passive income app that turns your unused internet bandwidth into a money-making tool.
Once you've got Honeygain installed on your phone, it quietly works in the background, using your internet connection to carry out a variety of online tasks. These tasks range from market research and ad verification to content delivery and web optimization. The best part? Honeygain rewards you for simply sharing your unused bandwidth and being a part of these activities.
One of the standout features of Honeygain is its passive nature. After the initial setup, the app subtly operates in the background, letting you go about your day and use your phone as you normally would, all while it's diligently working to generate some extra income for you.
Ending Thoughs
Just to give you a taste, these are a handful of mobile apps that open up avenues for earning a little extra on the side. But remember, the amount you can make from these apps isn't set in stone. It can swing depending on where you live, how much time you can dedicate, and of course, the amount of effort you put in.