20 Cool Mouse Designs You Don't See Often
Laptops with their trackpads have conquered the world these days, but there are some people who still use desktop computers with the mouse. The way we use the mouse has not changed much since its conception, but when it comes to design and style, there are massive upgrades everywhere.
If you're into gadgets and innovations of any kind, you'll enjoy viewing today's collection of mouse designs. Industrial designers do their best to design mice for playing games or comfortable everyday usage – they also make them look really cool.
Recommended Reading: Unusual Computer Mice You Probably Haven't Seen Before
Some of these mice are just concepts, while others are already available for sale.
This mouse design is just a concept, but the stylish and sleek concave back and the white-and-red combination will make this mouse a delightful addition to the work desk.
GoodMood Mouse for Microsoft by Evgeni Leonov
In addition to eco-friendly materials and an ergonomic design, this mouse is equipped with an Activity Sensor. When you spend more than an hour on it, the mouse sends a vibration signal to your arm to tell you to take a break.
This mouse is an alternative option in a greener sense. The main goal behind this product is to get the maximum out of natural materials and extend the lifetime warranty.
Woody | PC Mouse by Joana Ferreira do Amaral
This mouse design is based on the tree leaf form. Plus, it is made from organic materials and serves as a great example of biological design.
Microsoft Arc Touch Mouse by Donn Koh
Microsoft found a way to get a mouse to flatten for travel and storage while being ergonomically shaped for use. It was engineered with the bend-and-snap principle.
Bean by Rene Lee
Bean is a universal ergonomic mouse. It has only one touch-sensitive bottom that clicks on both edges. Its lateral symmetry makes it a comfortable fit for both right and left-hand users.
This mouse has a pure and smooth surface design plus a hollowed-out design in the middle to keep it lightweight for constant use.
Express Mouse Limited Edition by Microsoft
Microsoft Express Mouse tracks on almost any surface with BlueTrack technology, works for both right hand and/or left hand, is available in a variety of colors and just looks so cute.
This mouse is built to pivot in four directions, left and right, front and back, allowing users to extend, flex, and relax their wrists for minimal fatigue while using the mouse.
CAMEL TOE by Matthieu Nollet
It is still a concept but just look at it!. The lack of the scrolling wheel is replaced by optical detection. Hey, you can dream, right?
Look at the curve on those mice. Check out the design process at the original link for a backstage look into how mice are made.
XEN: faceted mouse design by Zhenhui Ng
From curves to corners, this Xen mouse had some body work done to give it an alien version of what a mouse would look like.
Megalan Speed Mouse by Adept and Petya Savova
Fancy sports cars? Then maybe this Megalan Speed Mouse is right up your alley.
Float – Minimal Mouse by Patrick Mulcahy
Material reduction comes to play but not at the expense of ergonomics. The soft-touch black with a teal accent makes this one a classy act.
Jailed mouse – PC peripheral by Jang WooSeok
If you hate it that your mouse becomes greasy from extended use, this jailed mouse design keeps the surface dry with steel bars.
Intelligent Design – Titanium mouse by Zlatan Menkovic
This Titanium perfection at your fingertips comes with high quality-plastic resin and a neodymium scroll wheel.
Want more to grip on? The ovoid design here will fit perfectly in your palm. Its variety of colors will also be a great addition to a not so white-and-black workdesk.
Really Cool Washable Mouse from Belkin
Finally, they made a washable, water-resistant mouse that can survive spills on the table and can get back to work after a quick wash under running water.
SWAROVSKI MOUSE by by Jeremy Doherty, Simon Doherty and Dareen Doherty
This mouse design is a play on the Swarovski logo. The body of the Swan becomes the body of the mouse and the two buttons are placed alongside the crystal.
Here's one for the foot. It is designed for people with upper limb disabilities and is inspired by flip-flop beach sandals.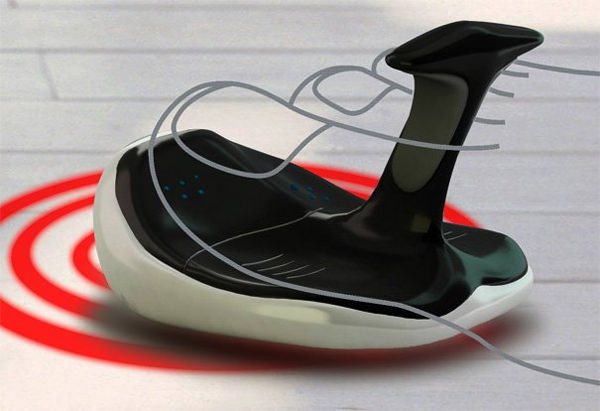 Which mouse design do you like best and why? Share your ideas and thoughts in the comment field below.