Group and Monitor All Your Analytics In One Place With Cyfe
You may have a lot of social media pages to take care of, in addition to a WordPress blog, a Gmail account you need to keep on top of, and who knows what else. If you've ever hoped that you could bring most, or all of these accounts, together and track them all in one place, now you can: say hello to Cyfe.
Cyfe is a cloud based, freemium application that lets you track and monitor a lot of different web sites and services in one place. If you constantly have to keep track of multiple metrics on a day-to-day basis, Cyfe might just be the app that will save you a lot of time and headaches.
Recommended Reading: Real Time Web Analytics Services – Best Of
Getting Started With Cyfe
There's really nothing out of the ordinary about getting started using Cyfe. Just make your way to the website and register. Cyfe doesn't have any integration with social network accounts, so you're going to have to create a new Cyfe account.
Once you've registered and activated your account, you'll be taken directly to your Cyfe dashboard.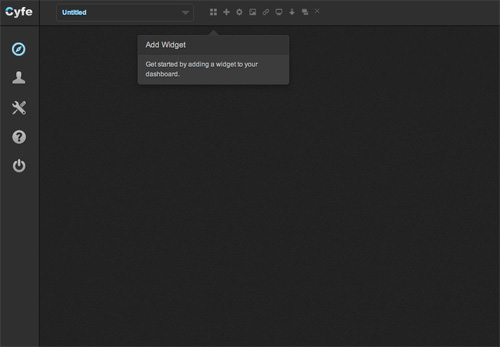 Using Cyfe
Even though Cyfe is quite a powerful app, it's not that hard to use. The two most important features are the widgets and the dashboards, so that's what we'll mainly be looking at. Let's start off with the widgets.
Adding And Using Widgets
Just click on the Add Widget button in the top bar and you'll be provided with a list of all the widgets Cyfe supports, grouped into different categories such as Advertising, Monitoring, Email and Social Media.
Once you've found a widget you want to use, just click on the Add button to the right of the widget name. This will add the widget to your dashboard, although it'll be blank; you're going to have to click on the Configure Widget button to set the widget up.
Clicking the Configure Widget button will open the Configure Widget window. What you'll see here will depend on the widget. Here's what the Configure Widget window looks like for the Facebook widget:
As you can see, there's not really a lot to it. Once you've filled in all the required information, widgets will begin showing and tracking information. The information displayed by widgets differs according to widget, and can be seen in the Add Widget window.
A couple of things to note: firstly, you're free to move and resize widgets as you see fit. Secondly, deleting widgets will also delete all historical data associated with the widget. Now, let's head on to Cyfe's dashboard features.
Cyfe Dashboards
You also have the option to create multiple Dashboards, which might come in handy if you want to monitor pages and sites related to different businesses or projects. Just click on the New Dashboard button, and you'll be asked to name the new dashboard.
Cyfe will automatically change your view to the new Dashboard. You can switch between Dashboards using the drop-down menu, as well as rename your Dashboard by clicking on the Edit Dashboard button.
You also have a number of other Dashboard options accessible from the top bar. You can change the Dashboard's background – Cyfe provides a few background options, but you can also upload your own background – as well as Export, Duplicate and Delete your Dashboard. You can also generate Public URLs that allow you to share your Dashboards, although this is a Premium-only feature.
Users And Settings
Let's move on to the left-sided sidebar. From here, you can access the Users and Settings screens, as well as access Cyfe's help form, go back to your Dashboards or logout.
The Users view lists all the users associated with the account. It shows information such as name, email address and last login, and you also have a quick shortcut to account settings. This is where you can Add Users, although, again, this is a Premium feature.
There are a fair bit of options you can access from Cyfe's Settings screen. This includes personal and account settings, Dashboard settings such as currency and AdWords Margin, your Cyfe membership plan as well as custom branding of your Cyfe account.
Conclusion
All in all, Cyfe is a very useful dashboard application that lets you monitor and track sites and services in one place, helping you get a grip on all the important information that's essential to your business or project. Cyfe even looks good on mobile, although you're limited to viewing widgets on mobile, and can't add widgets, dashboards or access any of the other features. Cyfe is a freemium service: you're limited to five widgets with a free account, and Premium membership costs $19 a month or $168 per year.