Top 8 Free Web Statistics Tools
A web analytics tool is mandatory for every website to keep track of traffic and create strategies according to it. Thankfully, there are many web statistics tools available that you can use on your website to track traffic count, type and behavior, etc.
In this article, we will list down 8 website analytics tools that can be easily used for free, just choose the one that fits your needs best.
Google Analytics is one of the most used free analytics tools that offers powerful features that are perfect for most web developers. Google analytics allow you to track web traffic source, count, on-site behavior, clicks, acquisition, conversions and more.
Apart from tracking visitors, it also helps you optimize your website for better ranking and turning visitors into customers. For this purpose, it offers tips on speeding up website, managing content, insight on visitors behavior and benchmarking tools.
Google Analytics now offers a basic real-time report showing total time spent on each page, the number of visitors as soon as they arrive or leave and content they click on.
Unfortunately, when it comes to real-time traffic analytics and deeper analysis of traffic, Google Analytics is still lacking.
Read Also: 10 Google Analytics Alternatives You Can Try
GoingUp combines web analytics and SEO tools together to offer an all-in-one solution to manage your website and create strategies. It will let you track traffic behavior on individual pages and dissect problems by comparing the performance of each page. Along with that, you can also see from where the visitors are coming and where they go next.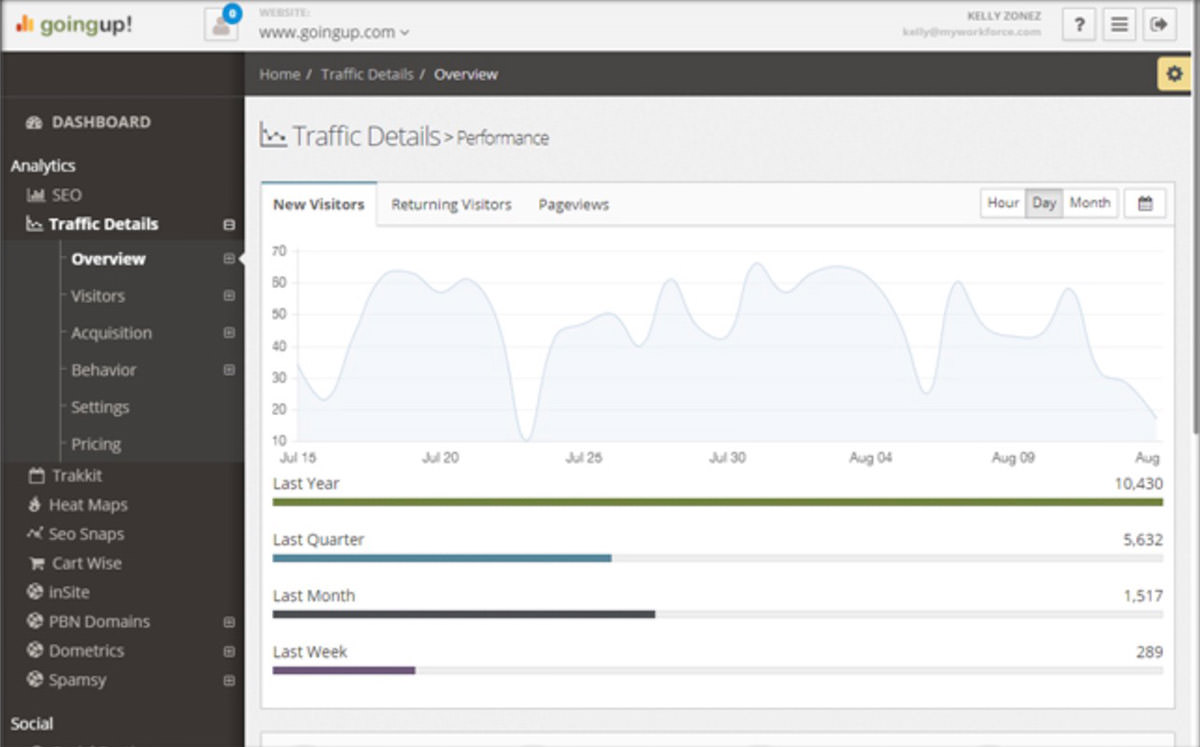 Apart from traffic tracking it also includes the following features:
Shows keywords that are bringing in traffic
Create custom profiles of visitors
Create goals and custom actions to track
Research for keywords
Track Google page rank for individual pages
See heat maps
Optimize pages for better SEO
Track Alexa ranking,
and more.
Although GoingUp is free for tracking a single website, but you will have to upgrade to pro version if you need to track multiple websites and create more keyword campaigns and goals.
StatCounter offers reliable features and tracking for up to 250,000 visitors per month for free. This makes it a good free analytics tool if you are selling a product/service or have a medium size blog.
It offers invisible counter, activity of visitors before and after visiting your website, heat maps, search engine comparison, see what visitors are doing in real-time, track HTTPS websites, share access with team members, show website stats publicly, check JavaScript Stats and all other basic tracking features.
You can also configure StatCounter to send custom summaries every week via email to get quick glance at how things are going.
An open-source analytics tool that works on server side instead of the website, AWStats can read multiple types of log files and analyze multiple websites running on the same server. Although, it still offers basic tracking features, but it's a great free option if you want a tool that works server side and is open-source.
It's tracking features include visits count, time spent on the website, bandwidth usage, entry/exit pages, OS and bandwidth used for each, "bot visit" tracking, protection against worms attack, keyword tracking and bookmark tracking. To use AWStats, your web host must log web data to a file that AWStat could read from.
A very powerful analytics tool that is open source and self hosted. As it is self hosted, all the data about your visitors is stored in your own servers instead of a third-party company. If you are looking to keep information of your visitors private, then Piwik might be the best option. Apart from being self hosted, Piwik is also incredibly powerful and offers almost all the features Google Analytics can offer.
It can create groups of people based on different factors to better understand visitor needs, and you will get complete details of their browser usage; including flash and JavaScript usage. Some of its other features include, real-time page views and behavior tracking, create goals, track web page elements (widgets/banners/videos), unsampled data if required, track events, email summaries, stats of individual users and whole lot more. Piwik also has a paid enterprise version for bigger companies.
Another open-source analytics tool, Open Web Analytics offers similar features as Google Analytics but it removes all types of third-party tracking. You can either integrate its PHP API in your application API or use its WordPress plugin if you have a WordPress website.
Its features include, traffic count, multiple website analytics support, monitor individual visitor behavior, track clicks, view heat maps, track subscriptions, repeated visitors activity over time, track entry/exits and more.
It also has specific features for WordPress websites, including ability to track users by given email, track pages by different categories and track comments by specific visitors. Do keep in mind that Open Web Analytics has not been updated for a while now, although it still works fine.
This is basically an advanced survey tool that integrates well with Google Analytics to offer real experience of the visitors. It compliments your current analytics solution if you are using Google Analytics.
iPerceptions offers tools to create on-site surveys to answer 4 basic questions. The questions include, who are they? Why are they here? How is your website working for them? And what you should fix in your website?
It uses different strategies to ask these questions and make it comfortable for the visitors to answer them. You can combine the real experience data with your stats from Google Analytics to get in-depth view of visitor needs. iPerceptions is a paid service, but you can sign-up for a free account that allows you to create surveys and integrate them with Google Analytics.
If you have a WordPress website, then there is a good chance you might be already using the popular JetPack plugin. JetPack can do many things and one of them is web analytics. It offers basic websites statistics, but it's no-brainer interface makes it perfect for beginners. You can see total visits of individual posts, popular pages, track keyword, track subscriptions, track clicks, visitor location, on-site behavior and more.
You can see complete picture of traffic over time and get recommendations on how to increase it. If you are a beginner, then JetPack is perfect for you as it is easy to install and offers almost all the required information about visitors.
Conclusion
Google Analytics is still the most comprehensive and easy to use free web analytics tool. However if you want more in-depth stats, then give Open Web Analytics a try. It might be a little hard to use, but its real-time tracking features are far better than Google Analytics and it comes without third-party tracking.
I will also recommend you to try out JetPack plugin first if you are new with web analytics tools, it's dead simple to use.